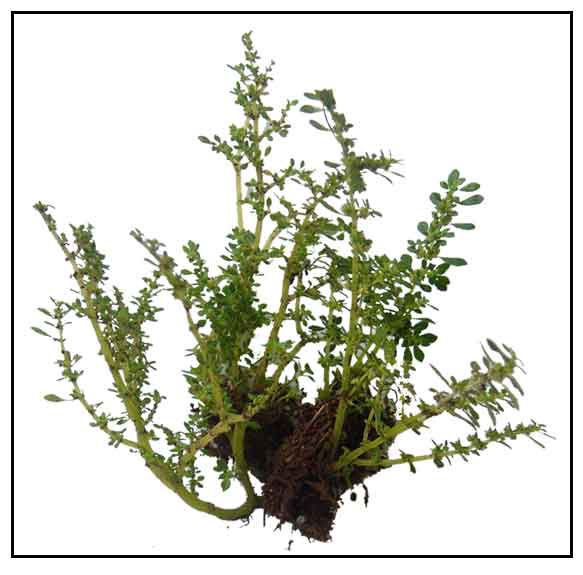 Botany
Alabong is a small, soft, smooth herb, 10 cm or less in height. Stems are slender, angular, green with a tint of purple. Leaves occur in two rows, petioled, somewhat elliptical in shape, 2 to 5 mm in length. Flowers are very small and crowded in small inflorescences (cymes), greenish or tinged with red and less than 1 mm in length.
Distribution
- In and about towns, on damp walls, etc., throughout the Philippines.
- Native of tropical America; now found in most tropical countries.
Parts utilized
Entire plant.
Uses
Folkloric
Entire plant infusion is used as a diuretic.
Used for diarrhea and asthma.
In the Antilles, sweetened decoction of roots used as diuretic.
In Jamaica, entire plant used for women in labour; used for infertility and inflammation. source
In Brazil, used as a diuretic.
In Guatemala, used for urinary problems.
In western Panama, stem decoction drunk for diarrhea.

Studies
• Antioxidant / Radioprotective: An ethanolic extract of Pilea microphylla was found inhibit iron-induced lipid peroxidation. In screening for in vivo radioprotection in Swiss albino mice, it showed 80% protecion. The fraction also protected livers of irradiated mice from depletion of endogenous antioxidant enzymes, provided general protection to the intestine from acute radiation effects.
• Non-Phenolic Antioxidant Activity: Results indicated that the antioxidant activity was not correlated with phenolic content and suggests that non-phenolic compounds may be responsible for the free radical scavenging activity.
• Antibacterial: (1) Study found PM active against Staphylococcus aureus. (2) In one study, P. microphylla exhibited a variety of antimicrobial activity against pathogenic microorganisms. The majority of crude extracts were active against Gram-positive bacteria such as B. cereus, B. subtilis, and methicillin-resistant Staph aureus.
• Antioxidant: Screening study demonstrated P. microphylla contained different levels of total phenolic, total flavonoid and possessed diverse antioxidant properties. It was most potent when subjected to detailed free radical scavenging.
• Antidiabetic: Screening in alloxan-induced diabetic rats showed that Pilea microphylla had beneficial benefits on blood glucose levels in normal and diabetic rats and also demonstrated significant protection from other metabolic aberrations cause by alloxan.

Availability
Wildcrafted.
Occasionally cultivated as a dish garden plant or cover plant.