Gen info
- Bauhinia is a genus of more than 200 species. The genus was named after the Bauhin brothers, Swiss-French botanists. The species share the 'butterfly' configuration of the leaves.
- Alibangbang is an Ilongo word for butterfly.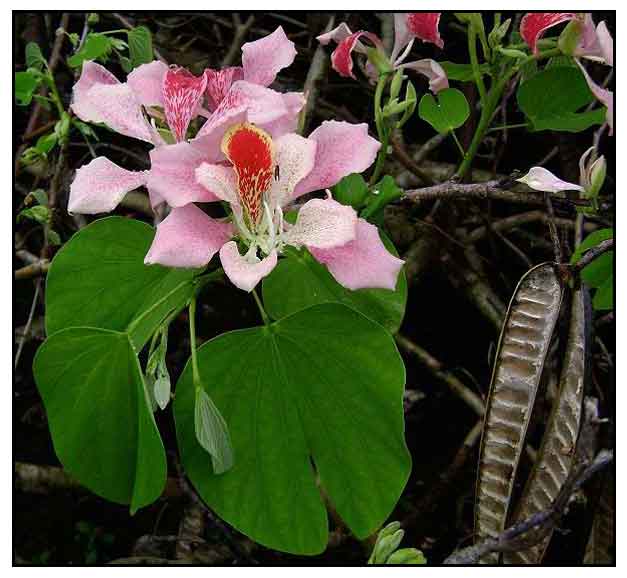 Botany
Similar to Bauhinia acuminata but grows only to medium size. Flowers are showy and about 10 centimeters across; petals spreading, pink, purplish, the middle petal with numerous, small red-purple dots. Fertile stamen is only one.
Distribution
- Widely cultivated in cities and towns in the Philippines.
- Native to Borneo.
- Naturalized in tropical America.
Constituents
• Butanol fraction of a methanol extract of dried leaves yielded quercetin-3-rutinoside.
• Aqueous extract yielded a flavonoid: 3,7-di-O-α-
rhamnopyranosylquercetin.
• Study on nutritional content of seeds showed: Lipids 28.7%, protein 33.09%, carbohydrate 21.45%, fiber 3.25%, phytate 11.5 mg/100g, hydrogen cyanide 0.32 mg/100g, tannins 6%, and saponins 2.05%.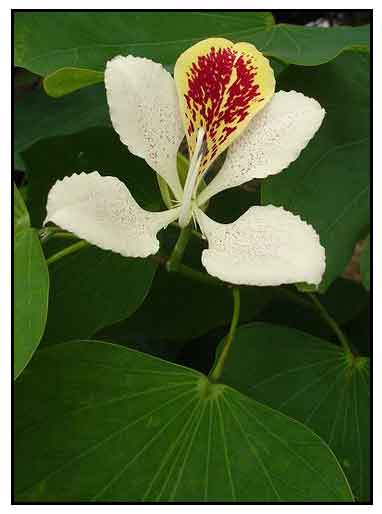 Properties
Astringent, febrifuge, laxative.
Parts used
Bark, pods.

Uses
Edibility
- Leaves and pods eaten as vegetable in China.
Folkloric
- No recorded folkloric medicinal use in the Philippines.
- In Brazil, used for diabetes.
- In Africa, pods are pounded and boiled in water to provide a laxative drink.
- In India pod is used as astringent for diarrhea, dysentery and as cure for fever. Decoction of root and bark used for leprosy and small pox. Leaf extracts used for eye ailments.
- An anti-inflammatory ointment is made from the bark.
Others
- Dyes: In Africa, pods and seeds are sources of black and blue dyes.
- Fiber: In Eastern Sudan, crumble bark is a source of fiber for cordage.
Studies
• Toxicity Study: Acute and subacute toxicity study in rats of a methanolic leaf extract of Bauhinia showed relatively low toxicity on acute administration but advises caution when used subacutely as anti-diabetic remedy.
• Anti-Diabetic: (1) Study of methanol extract of dried leaves of B. monandra in alloxan-induced diabetic rats showed significant blood glucose reduction. A water fraction had hypoglycemic activity comparable to glibenclamide. (2) Study of aqueous extract showed hypoglycemic activity.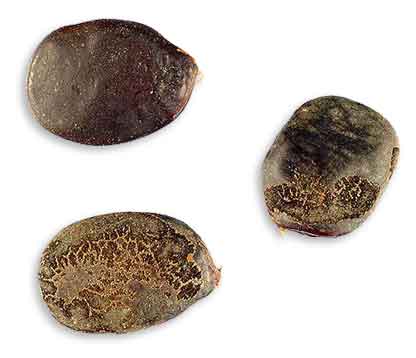 • Non-Genotoxic / Non-Cytotoxic / Antioxidative Potential: BmoLL is a galactose-specific lectin purified from the leaves of Bauhinia monandra with a hypoglycemic potential demonstrated in rats. Study showed the lectin Bmoll did not produce any genotoxicity and cytotoxicity in all assays used. A significant decrease in spontaneous mutation frequency was noted in E coli strains, especially in the repair-deficient strain, suggesting an anti-oxidative potential.
• Antioxidant: In a DPPH assay, leaf extracts exhibited very potent antioxidant activity, compared with pure catechins used as positive controls.
•Flavonoids / Antioxidant: Study of ethyl acetate extract of leaves isolated 2 active compounds: quercetin-3-O-rutinoside and quercetin. Compound 2 had higher antioxidant activity while compound 1 had lower activity than L-ascorbic acid.
• Reproductive Benefits: Study of aqueous and ethanol extracts of dried leaves on pregnant Wistar rats showed no evidence of maternal or fetal toxicities and the aqueous extract promoted increased implantation and decreased post-implantation loss in pregnant rats.
• Seeds / Nutritional Study / Potential Nutrient Source: Protein content was 33.09%, comparing fairly with soya beans (Glycine max) and groundnuts (Arachis hypogaea). Seeds also yield 21.45% soluble carbohydrates, comparing favorably with soybean 20.7% and peanut 24.6%. It also yields 3.25% fiber. The hydrogen cyanide content was 0.32 mg/100g; chronic exposure has been reported to cause neurological, respiratory, cardiovascular and thyroid debilities. Study concludes BM seeds are rich in nutrient and low in anti-nutritional compounds. If popularized, the plant may serve as a complimentary source of essential nutrients to man and livestock provided toxicants are removed.
• Nephrotoxic Effect: Study of leaf extract in alloxan-induced diabetic rats showed significant elevation of creatinine at higher dose of B. monandra. Although it showed an ability to reduce blood sugar levels in diabetic rats, it may be toxic to the kidney at high doses.
• Hepatoprotective / Antidiabetic: Study evaluated the effects of a leaf extract in the liver of alloxan-induced diabetic rats. Results showed significant reduction of blood sugar level in diabetic rats as well as a hepatoprotective effect.

Availability
Wild-crafted.