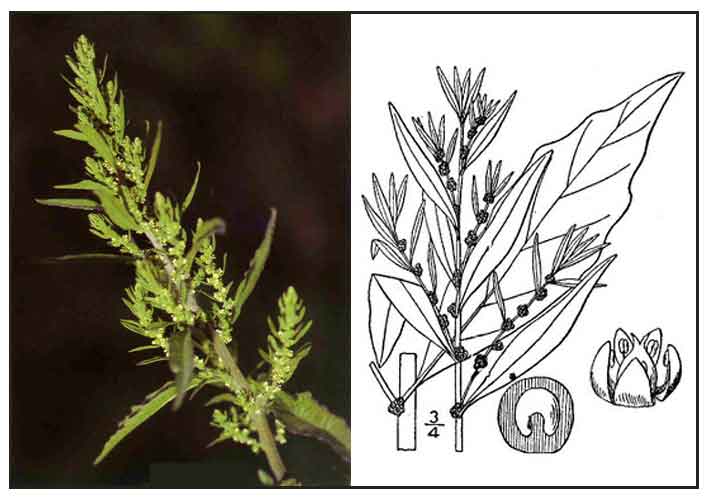 Gen info
Chenopodium ambrosioides originated in Central American, long used as an anthelmintic in many parts of the world. Once referred to as Baltimore Oil for that Maryland city's large oil extraction facility. Although Chenopodium has been replaced by more effective and less toxic anthelmintics, it is still used in many indigenous traditional systems for the treatment of worm infections in both humans and livestock.
Botany
Alpasotis is an erect or ascending, branched, glandular herb, often nearly 1 meter high. Stems are angled, smooth or glandular-pubescent. Leaves are oblong to oblong-lanceolate 3 to 10 centimeters in length, with lobed margins, and with a rank aromatic odor when crushed. Flowers are small and spicate, regular and perfect. Sepals are 5, sometimes only 3, enclosing the utricle, which is less than 1 millimeter long. Stamens are as many as sepals, hypogynous or somewhat perigynous, filaments distinct. Ovary is 1-celled, free, usually depressed, styles are 2 or 3. Fruits are utricles, the seed horizontal, smooth and shining.
Distribution
- In the settled areas throughout the Philippines, cultivated and spontaneous, at medium and higher altitudes, like Benguet, often very abundant.
- Native of Mexico; now, pantropic.
Parts utilized
· Entire plant.
· Collect during the months of May to October.
· Rinse, dry under the sun and compress.
Constituents
- The compound considered to be the active ingredient is ascaridole, a monoterpene. The major component of chenopodium oil are: ascaridole (60-80%), isoascaridole, p-cymene, limonene, and x-terpinene. The levels of the compounds vary according to age, part, and whether fresh or dried. (22)
- Oil from Chenopodium ambrosioides var. anthelminticum, yielded cymene and terpinene in addition to ascaridol.
- Plant yields anthraglycosides, cinnamic acid derivatives, mucins and pectins, saponins, amygdalin, volatile oils ascaridol and geraniol, cymene, terpenine.
- Oil is chiefly distilled from the fruit, stored in the hairs in the surface. Pharmacognostical study distinguishes two types of hairs, and the sac type contains the oil.
- Contains oxalic acid which is reduced by cooking. Should be used with caution in patients with gout, kidney stones, rheumatism.
- Main constituents of leaf essential oil were ascaridole 51.12%, p-cymene 19.88%, neral 8.70%, and geraniol 7.55%. (See study below).
Properties
- Analgesic, anti-asthmatic, anti-fungal, carminative, diuretic, emmenagogue, stomachic, sudorific, vermifuge.
- Bruised leaves emit a somewhat foetid odor.
- Fruit well known for its vermifuge properties.
- The characteristic smell of the plant is attributed to ascaridol.
Caution / Toxicity
- The essential oil in the seed and flowering plant is highly toxic. It can cause dizziness, vomiting, salivation, increased heart rate and respirations, convulsions and death. Inhalation is dangerous.
- Oil of chenopodium can cause skin reactions.
- The toxicity in animals vary from no adverse reactions to severe toxicity.
- Oil of chenopodium has caused death or adverse reactions at various doses: goats, 0.2 ml/kbw; sheep, 0.1 ml/kbw; cats, 0.2 ml/kbw; dogs o.2 ml/kbw (vomiting), rabbits, 0.5 ml. These doses are close to efficacious doses, so caution is advised in use of the oil in animals. (22)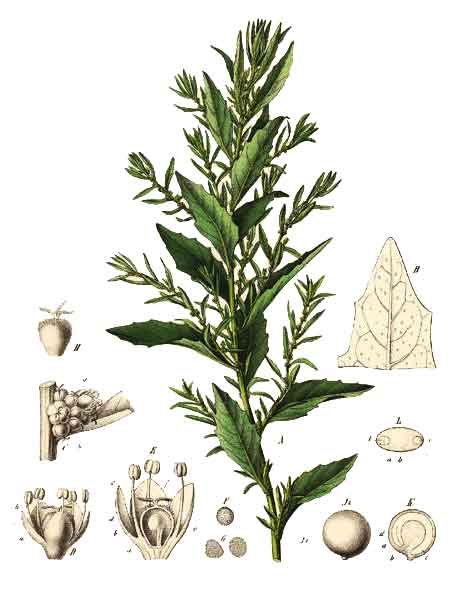 Uses
Edibility
• Tender leaves sometimes used as potherb.
• Contains oxalic acid which is reduced by cooking. Should be used with caution in patients with gout, kidney stones, rheumatism.
Folkloric
• Fruit well known for its vermifuge use; as bruised fruit in small doses, or juice expressed from the plant, taken straight or as a decoction in milk or water.
• Hookworms (Ankylostoma duodenale) and the amoeba which cause dysentery are destroyed by the oil.
• Oil sometimes applied to tropical ulcers.
• Hookworm infections and hookworm inflammatory disease: dose for adults - 2.6 to 3 gms of dried powdered material every morning and every night daily for 3 to 6 consecutive days.
• Decoction may be used as wash for various skin diseases of the lower limbs, eczema, ulcers.
• Prepared drug is sharp and bitter tasting.
• Infusion taken as digestive remedy, for colic and stomach pains.
• Leaves and tops, crushed and mixed with cooked rice, used as carminative in poultices applied to abdomen of children suffering from dyspepsia.
• Used as a wash for hemorrhoids.
• Poultice for snake bites and other poisons.
• Used for wound healing.
• Anecdotal reports of cures in use for uterine fibroids and certain cancers.
• In Mexico, used as emmenagogue and vermifuge.
• Used as abortifacient.
• In the Antilles, used as antispasmodic; decoction as internal hemostatic; the bruised plant for ulcers.
• In southern Africa, Sutos and Zulus use an infusion for colds and stomach aches; as an enema for intestinal ulceration and as sudorific.
• In Mexico, used as emmenagogue and vermifuge.
• Infusion used as diuretic and sudorific.
• Oil used for pectoral complaints and nervous affections. Also used as abortifacient.
• In Martinique, oil is used as stomachic.
• In the Yucatan, indigenous tribes have used epazote for intestinal parasites, asthma, chorea and other nervous afflictions.
• In Peru, plant soaks used topically for arthritis.
Others
• Dye
• Insecticide
• Used as fumigant against mosquitoes and added to fertilizers to inhibit insect larvae.
• In Latin America, plant is used to treat worms in livestock.

Studies
• Genotoxic: Study on human lymphocyte cell cultures showed a possible genotoxic effect. (3)
• Antitumor: Study on Swiss mice concluded that Chenopodium ambrosioides has potent anti-tumoral effect attributed to its anti-oxidant properties. (4)
• Anthelmintic: Although the study did not reduce the number of nematode adults or eggs on short-term treatment, in in-vitro testing, the oil reduced the viability of eggs and suggested a long-term strategy for reduction of parasite loads at a whole farm level. (5)
• Anthelmintic / Nematocidal Infusion: Study suggests the traditional use of CA infusions as vermifuge is safer than use of the herb's essential oil. (6)
• Antimycotic: The essential oil from the leaves exhibited antimycotic activity against dermatophytes Trychophyton mentagrophytes and Microsporum audouinii. Petroleum jelly oil showed to control established ringworm infection in guinea-pigs in preliminary trials. (7)
• Trypanocidal: Study yielded four monoterpene hydroperoxides and ascaridole and exhibited trypanocidal activity against T cruzi. (8)
• Anti-Leishmaniasis / Essential Oil: Study showed the essential oil of CA had potent inhibitory effect against promastigote and amastigote forms of Leishmania amazonensis and presents a potential source of a drug to combat leishmaniasis. (9)
• Anti-Leishmaniasis: Study clearly demonstrated that the essential oil of CA could be an alternative for the development of a new drug against cutaneous leishmaniasis.
• Analgesic / Antipyretic: Moroccan study of fresh leaf aqueous extract exhibited marked analgesic effect. Also, the extract produced a significant inhibition of yeast-induced pyrexia in rats, confirming its traditional use as a remedy for fever. (12)
• Antidiabetic / Antipyretic: Study evaluating its hypoglycemic effect in STZ-induced diabetic mice showed significant hypoglycemic effect. (14)
• Subchronic Toxicity Study: Study of subchronic treatment hydroalcoholic extract did not induce toxic alterations using the therapeutic dose. Results suggest that it is safe to use the product in the adequate dose. (15)
• Reproductive Study / Safety: Study showed the aqueous extract did not have any maternal or fetal toxicity nor did it impair reproductive performance in rat dams. The extract administered during gestation to rats did not impair fertility or negatively impact gestation in rats.
• Nematicidal: Study of a hexane and ethanolic extract of C. ambrosioides had a negative effect of embryos, hatching rate and larval survival of H. bakeri. Data show both extracts possess nematicidal activity justifying its use as worm medicine all over the world. (16)
• Intralesional Treatment of Leishmaniasis: Study showed intralesional hydroalcoholic extract treatment was more efficient than oral HCE treatment probably through a direct leishmanicidal effect or improvement in the NO production by HCE-stimulated macrophages. Results could justify the topical use of CA leaves in the treatment of ulcers caused by leishmaniasis. (17)
• Cytotoxicity / Antifungal: Extracts from C. ambrosioides showed high bioactivity against A. salina, which may be associated with cytotoxic activity against cancer cells. Extracts also showed activity against Candida krusei. (18)
• Leaf Essential Oil / Cytotoxicity: Main constituents of leaf essential oil were ascaridole 51.12%, p-cymene 19.88%, neral 8.70%, and geraniol 7.55%. The essential oil showed moderate toxicity on in vitro cytotoxicity bioassays on human cell line HaCaT. (19)
• Chronic Toxicity Study: An aqueous leaf extract given ad libitum for six weeks showed a decrease in weight of the treated animals whereas body weight of en-treated animals rose progressively. Phytochemicals yielded saponins, alkaloids, and volatile oils. Pathologic features included lung congestion, metaplastic changes in the stomach mucosal surface, and necroses of kidney tubules. (20)
• Antibacterial / Roots: Study evaluated a crude methanolic extract of roots and fractions for antimicrobial activity against five bacterial and five fungal strains. The n-hexane fraction showed good to low activities against all bacterial strains and good activity against S. epidermis. (23)
• Acute and Sub-Chronic Toxicity Studies / Leaves: Study evaluated the toxicity of aqueous extract of C. ambrosioides leaves in rats through oral gavage. Results showed slight hepatotoxic lesions in rats. (24)
• Digestive Effects / and Sub-Chronic Toxicity Studies / Leaves: Study of aqueous extract of leaves for digestive effects in goats showed good laxative properties and digestive benefits. It increases the digestibility of dry matter without degrading assimilation of nitrogenous matter. Results suggest a potential as functional food for the species. (25)
• Analgesic / Anti-Inflammatory / Leaves: Study evaluated a methanol extract of dried leaves of CA for anti-inflammatory and analgesic activities. Results showed anti-inflammatory effect with dose related inhibition of carrageenan-induced paw edema and cotton pellet induced granuloma in rats. It showed analgesic effect in the hot plate and formalin induced paw licking in rats. (26)
• Anti-Helicobacter pylori: Chenopodium ambrosioides demonstrated effective bactericidal activity against Helicobacter pylori both in vitro and in vivo. The conclusion that the effect rivals triple therapy should be made prudently because of the small sample size. (27)
• Hypotensive / Leaves: Study evaluated various extracts of leaves of C. ambrosioides for hypotensive effect in anesthetized normotensive rats. Intravenous administration of AqE of leaves induced a dose-dependent hypotension. Results suggest the presence of cholinomimetic-muscarinic component in the fractions. (28)
• Biosynthesis of Silver Nanoparticles: Biosynthesis of silver nanoparticles (AgNPs) was achieved using an aqueous extract of Chenopodium ambrosioides as reducer and coating agent. Results suggest a promising potential to produce a large amount of small particles (<10 nm) in an ecofriendly protocol.   (29)
• Ascaridole / Caryophyllene Oxide / Essential Oil: Study evaluated the toxic mechanism of essential oil and its major pure ingredients viz., carvacrol, caryophyllene oxide and ascaridole. Results showed the toxicity of essential oil of CA is partially related to the inhibition of the respiratory chair preferably by caryophyllene oxide while the toxicity of the antiparasitic agent ascaridole is dependent on the availability of redox-active iron. (30)
• Analgesic / CNS Depressant Effect of Homeopathic Formulations: Study of homeopathic formulations (3X, 6X, 12X, and 30X potencies) of CA were evaluated for analgesic and behavioral effects The homeopathic formulations showed analgesic effects and CNS depressant property. (31)
• Larvicidal / Repellent / Essential Oil / Anopheles gambiae: Study of essential oil from seeds and leaves of Chenopodium ambrosioides showed larvicidal and repellent effects against the larvae and adults of Anopheles gambiae s.s. mosquitoes. Results suggest a potential to explore in combating malaria through anti-vector intervention. (32)

Availability
Wild-crafted.
Seeds, tinctures, herb supplements in the cybermarket.