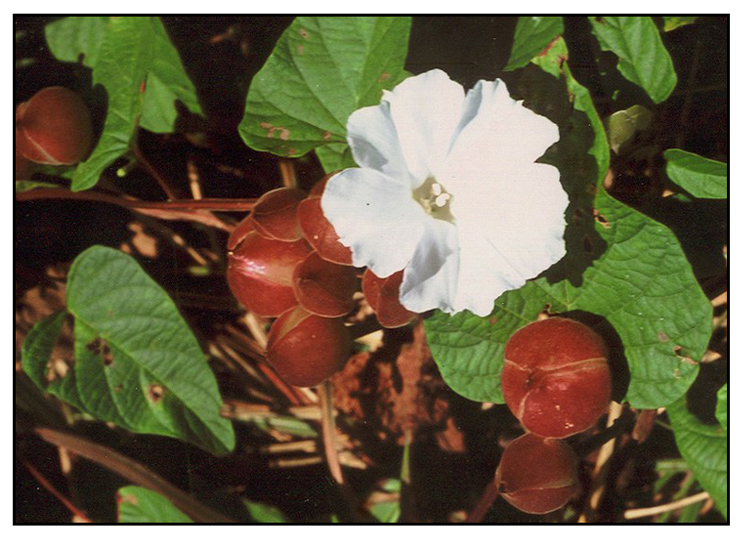 Botany
Bangbañgau is an herbaceous, somewhat hairy vine reaching a length of 5 meters or more. The stems are often purplish, prominently 2- to 4-angled, and narrowly winged. Leaves are entire, ovate, 5 to 15 centimeters long, narrowing to a pointed tip, broad and somewhat heart-shaped or straight at the base. The inflorescences have few straight flowers and are borne in the axils of the leaves. Sepals are green, and are ovate to oblong-ovate, the outer two are 2 to 3 centimeters long, larger than the inner three, hairy and somewhat fleshy and about 4 centimeters long, with the limb 4 centimeters wide. Capsule is rounded, about 1 to 1.5 centimeter in diameter, usually containing 4 black, smooth seeds.
Distribution
- Found in the Batan Islands; in Ilocos Norte, Bontoc, Lepanto, La Union, Rizal, Laguna, and Batangas Provinces in Luzon; in Balabac, Culion, Palawan, Cebu, Ticao, and Mindanao, in waste places and thickets at low and medium altitudes.
- Pantropic.
- Widely grown throughout India; occasionally cultivated as an ornamental.
Constituents
• Roots contain turpethin resin, 4 to 10 percent, that yields a glucoside, turpethin, analogous to jalapin.
• Study isolated a glucoside, turpethin made up of l-tur-penthein and f-turpenthein.
• Root, bark, and seeds contain cardio-active glycosides - neriodorin, neriodorein, and karabin.
• Plant yields ß-sitosterol, a- and ß-turpethin, coumarin, scopoletin, lupeol, betiulin.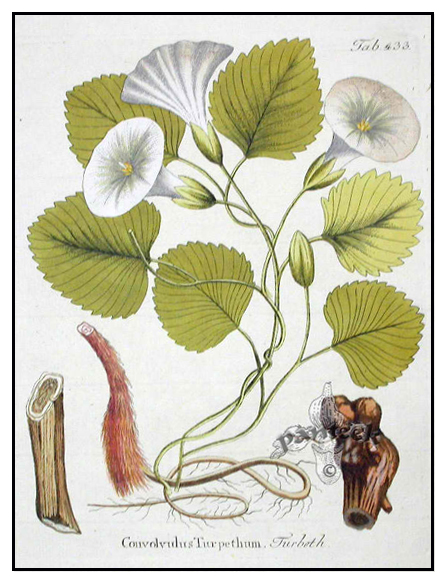 Properties
• Root considered a purgative.
• Root has been used as anti-inflammatory, immuno-modulatory, purgative, hepato-protective.
Parts utilized
Rhizomes, roots, bark, leaves.

Uses
Folkloric
• In the Philippines, the root, pulverized or in an alcoholic tincture, used as a drastic purgative.
• Dried and powdered root-bark considered cathartic and laxative, resembling jalap in its action.
• With ginger, used for rheumatic and paralytic affections.
• In many countries, used as folk medicine to treat constipation, jaundice, rheumatism, chronic gout, piles and tumors.
• In India, the fresh bark of the root is rubbed with milk and used as purgative; used for jaundice.
• In Ayurveda, root is used as chief ingredient for treatment of gastric ulcer and gastrointestinal maladies.
• Paste of the root is applied to hemorrhoids, chancres and ulcerations.
• Oil from the root bark used for dermatologic scaly diseases.
• Fresh juice of leaves used as eye drops to induce lacrimation in ophthalmic.

Studies
• Antioxidant / Anticancer: Study showed the methanolic extract of Operculina turpethum stems on induced breast cancer in female rats showed decreased lipid peroxidation activity and increased antioxidant level in drug treated animals and significant decrease in tumor weight. Results suggest MEOT shows antioxidant activity and a protective role against induced breast cancer.
• Hepatoprotective / Anticlastogenic: Study examined the hepatoprotective effects of O turpethum extract against NDMA-induced hepatotoxicity and clastogenicity in rats. Results showed that OTE has hepatoprotective and anti-clastogenic effects against N-nitrosodimethylamine-induced hepatic fibrosis and suggests OTE may be used as a hepatoprotetive agent against various hepatic diseases including toxic liver injury.
• Hepatoprotective: Study of ethanol extract on paracetamol-induced liver damage showed a significant hepatoprotective activity with lowering of SGOT, SGPT, alkaline phosphatase and bilirubin, supplemented by histopath evidence on liver sections.
• Anti-Ulcer / Anti-Inflammatory / Anti-Diarrheal: Study of root powder of Operculina turpethum and its formulations showed a reduction of gastric hyperacidity, reduced edema volume in formalin induced inflammation and significantly reducing charcoal movement in charcoal meal test in rat models.
• Antimicrobial: A petroleum ether and ethanol extract of leaves showed potential antimicrobial properties against several human pathogenic bacteria.

Availability
Wild-crafted.