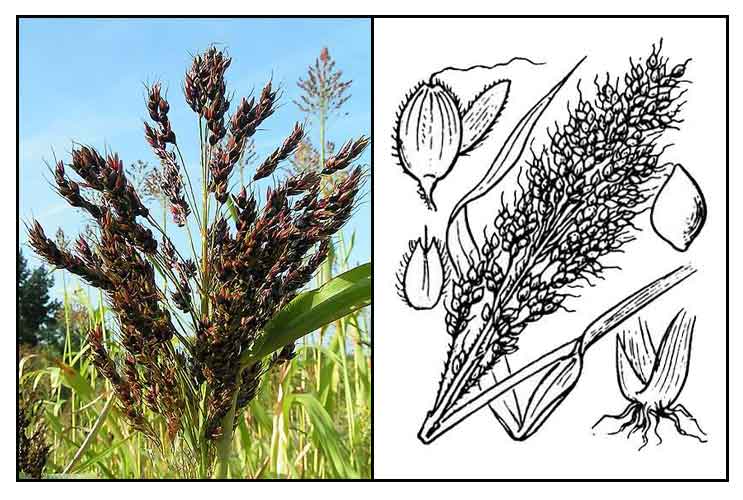 Botany
Batad is a stout, erect, annual, usually about 2 meters high. Stem is solid, about 1 centimeters or more in diameter. Leaves are 20 to 50 centimeters long, 2 to 5 centimeters wide. Panicles are dense, 15 to 30 centimeters long, compound and erect. Spikelets are ovoid, more or less pubescent, about 5 millimeters long, pale, purplish, or nearly black, the first glume hard and shining, the fourth awnless or sometimes awned.
Distribution
- Several varieties grown in the Philippines.
- Cultivated, but not extensively, for forage.
- Native of Asia or Africa, now cultivated in all warm countries.

Constituents
- Leaves contain a glucoside, dhurrin; enzyme, emulsin, among others.
- Young plant rich in hydrocyanic acid.
- Fruits contain sorghin.
Properties
- Considered astringent, demulcent, diuretic, hemostatic.
- Inflorescence is astringent and hemostatic.

Parts used
Seeds.

Uses
Edibility
- Seeds, raw or cooked; sprouted seeds can be eaten raw; sometimes added to salads.
- Sweet juicy stems used for forage and silage or to produce syrup.
- In southern Africa the juicy stems are often chewed as a snack.
- Sap, raw or cooked, is quite sweet and can be made into syrup.
- A staple food in some regions, where it is often fermented before consumption.
- Used as whole grain like rice; ground into flour.
- Fruit of the vulgaris variety yield a decoction similar to that of barley.
- Stems, cooked. (Caution: reports of cyanide content).
- Sorghum bicolor is the dominant cereal crop in the Guinea and Sudan regions of West Africa.
Folkloric
- Decoction of seed is demulcent and diuretic; used for kidney and urinary tract complaints.
- In India, used as an aphrodisiac.
- Used for gastrointestinal related problems: diarrhea, fluxe, stomachaches.
- In South Western Nigeria, used for headaches, sickle-cell anemia, leukemia, multiple myeloma, heart and blood-related problems.
- In Lagos, Nigeria, used for anemia, pain and inflammation. Also, used as abortifacient: (1) infusion of leaf of S. bicolor with slice root of R lucida, soaked in potash water. (2) 24-hour gin Infusion of leaf of S bicolor, slice root of B nitidia, wood of Pterocarpus osun. As contraceptive: Infusion of soaked leaf of S. bicolor with fruits of X aethiopica and seeds of A melegueta.
Others
- Cultivated for forage and seed.
- Developed for the production of grain and sweet stalk.
- In China, sugar is produced from sweet sorghum.
- In Brazil, sweet sorghum is used as a source crop for ethanol production.
- Panicles used for making brushes, brooms and whisks.
- The bagasse is more suitable for paper pulp and used to manufacture kraft paper, newsprint, and fiber board.
- Stems used for making mats and wattle fences.
- Makes an excellent biomass.
- Sweet sorghum is grown as feed stalk for ethanol production.
Toxicity
• Cyanide: Immature plant, especially when wilted, is poisonous because of the cyanide and alkaloid hordenine. These toxins are destroyed when dried or made into silage.

Studies
• Anti-Anemic: (1) Aqueous extract of Sorghum bicolor stem bark yielded alkaloids and saponins. Extract administration in rats produced significant increase in hemoglobin, packed red cell volume and red blood cells in iron sufficient and iron deficient groups. Results support its use in folkloric medicine in the management of anemia. (2) In albino rats, extract of leaf sheath increased Hb in a dose-dependent manner.
• Sickle Cell Disease: Drug Nicosa, a produce of extracts of four different plants - P guineenses seeds, P osum stem, E caryophyllum fruit and S bicolor leaves was shown to possess anti-sickling properties, significantly reducing the number of painful episodes in SCD patients.
• Antibacterial: N-butanol purified saponin extract showed an inhibitory effect on tthe growth of S aureus but not on E coli and C albicans.
• Antidiarrhea / Decreased Intestinal Motility: Aqueous methanolic extract of leaf bvase of Sorghum bicolor significantly decreased intestinal motility, inhibited castor oil-induced diarrhea.
• Neuropharmacologic Sedating Effects: Study suggests leaf base extracts of S. bicolor contains sedative substances that act via centrally mediciated pathways rather than peripheral neuromuscular blockade. Results showed a significant reduction in spontaneous motor activity in rats, reduction in exploratory behavior and prolongation of pentobarbitone-inducedd sleep.
• Protein Glycation Inhibition: Protein (albumin) glycation is a non-enzymatice process believed to be important in the pathogenesis of many diabetic complications. Sorghum brans with a high phenolic content and high antioxidant properties inhibit protein glycation. A high phenolic sorghum bran variety (sumac) inhibited protein glycation by almost 60%. Results suggest certain varieties of sorghum bran may affect critical biological processes involved in diabetes and insulin resistance.
• Antioxidant: Study of ethanol fraction of stems of S bicolor yielded five major compounds. Among them, methyl ferulate, exhibited strong, free radical scavenging activity. All five compounds showed anti-lipid peroxidation activity.
• Toxicity Study: Study suggests S. bicolor leaf extract is relatively safe. It showed incidental significant lowering of uric acid, a significant reduction of triglycerides and no effect on cholesterol.
• Hemopoietic Effect: Study evaluated the effect of an aqueous extract of the leaf sheath of Sorghum bicolor on hematologic parameters in 50 albino rats. Results showed a hemopoietic effect and supports the tradtional used of sorghum bicolor as a remedy for anemia.

Availability
Wild-crafted.
Extracts, seeds in the cybermarket.