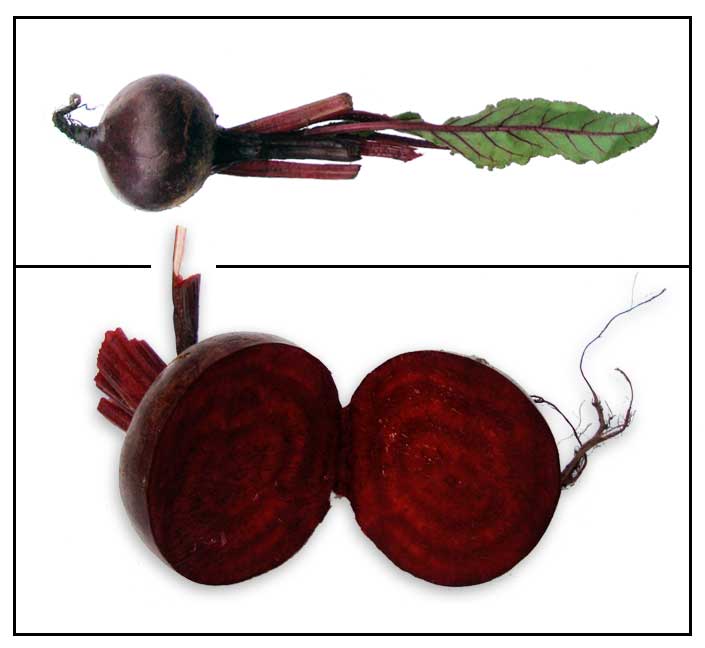 Botany
Beet is a succulent, smooth herb. Erect stem is 30 to 90 centimeters long. Lower or root leaves are ovate or oblong-obtuse, often trowel-shaped, up to 25 centimeters long. Upper leaves are rhombic-ovate, oblong-ovate or lanceolate. Flowers are greenish, stalkless, solitary or 2- to 3-adnate, in axillary spikes or corymbose clusters. Spikes are slender, 15 to 45 centimeters long. Utricle is adnate to the disk and base of the perianth. Seed is horizontal with thin testa, floury albumen and annular embryo.
Distribution
- Grown in many places in the Philippines, especially Baguio.
- Native to the Mediterranean.
- Widely cultivated in America, Europe, and throughout India.
Constituents
• Herb contains saponin, betaine phytosterine, ash, calcium, iron, vitamins A, B and C.
• Root contain saponin, isoleucin, leucine, tyrosine, betaine, lysin, arginine, histidine, phenylalanine, urease and tyrosinase.
• Root has yielded flavonoids, carbohydrates, betain, neobetain and anthocyanin pigments.
• Root yields betanins, used industrially as a red food colorants.
• Phytochemical screening has yielded flavonoids, carbohydrates, pentose, amino acids, saponins, tannins and steroids.
Properties
• Roots traditionally used as expectorant, diuretic, and cure for mental and hepatic diseases.
• Leaves considered tonic, diuretic, anti-inflammatory.
Parts utilized
Roots and leaves.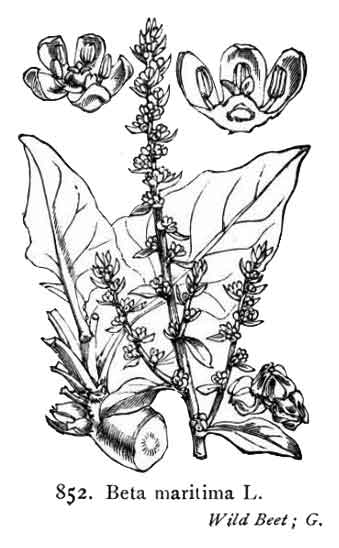 Uses
Edibility / Culinary
• Highly prized for their large, red, edible roots.
• Succulent fleshy roots are cooked and eaten in salads and as vegetables.
• Leaves are also boiled and eaten as a vegetable; used as substitute for spinach.
• A traditional food for Jewish Rosh Hashana (New Year.)
• A good source of calcium and iron.
Folkloric
• Red beet used as an emmenagogue.
• White beet is used as laxative and diuretic.
• Decoction, with a little vinegar added, used for itching, cleans scurf and dandruff. Also used for all ulcerous and running sores.
• Seeds have cooling and diaphoretic properties.
• Fresh leaves applied to burns and bruises.
• Hippocrates suggested the use of beet leaves as binding for wounds.
• In Roman times, used as aphrodisiac.
• In Turkey, used for diabetes.
Others
• Colorant: Betanins from the roots used industrially as red food colorant, e.g., to intensify the color of tomato paste, desserts, jams, jellies, etc.

Studies
• Hepatoprotective / CCl4-Induced Hepatotoxicity: Ethanolic extract of Beta vulgaris roots exhibited significant dose-dependent hepatoprotective activity against carbon tetrachloride-induced hepatotoxicity in rats. (1)
• Antidiabetic: Chard (B vulgaris L var. cicla) is used as a hypoglycemic agent in diabetic patients in Turkey. The study showed the plant extract when administered by gavage may reduce blood sugar by regeneration of beta cells. (2) Study evaluated chard extracts on its effect on the liver.
• Anti-Adhesion Activity: Study showed B vulgaris (beet) root has the potential of interfering with adhesion of bacteria to host epithelial surfaces. (3)
• Cytotoxicity Reduction: A crude extract of leaves of Indian spinach (B vulgaris L var. benghalensis) was observed to modify significantly the cytotoxic effects of a known carcinogen, lead subacetate, in mice in vivo (4).
• Antioxidant / Duodenal Protecting Effect: Study concludes table beet can protect the entire body from oxidative damage caused by ischemia-reperfusion of the liver but the effects on gut mucosa needs further investigation. (5)
• Anti-Inflammatory: Study of aqueous extract showed anti-inflammatory activity in the carrageenan-induced rat paw edema, closely resembling indomethacin. (6)
• Betanine / Natural Red Dye: Beetroot is the main source for the natural red dye. (FDA approved E162) The main component of the extracted "beetroot red" is betanine. Studies have shown betanines have antioxidant, antimicrobial, and antiviral activities. The study is on the development of a statistical method for optimizing extraction conditions. (9)
• Cytotoxicity / Anti-Cancer: Study evaluated the cytotoxic effect of red beetroot extract with anticancer drug, doxorubicin (adriamycin) in human prostate cancer cells and human breast cancer cells. Results showed betanin, the major betacyanin constituent, may play a role in the cytotoxicity exhibited by the red beetroot extract. (10)
• Hepatoprotective / Ethanol-Medicated Hepatotoxicity: Study showed an n-butanol fraction of Beta vulgaris to possess potent hepatoprotective effect against ethanol-induced hepatic toxicity, with a potential role in the management of alcoholic liver disease. Silymarin was the reference drug. (11)
• Peroxidase Source / Production: Peroxidase is an enzyme that plays a crucial role in scavenging free radicals within the plant system. Commercially they are components in chemical diagnostics and laboratory experiments. Study showed the red beet hairy root system is a promising source for the production of this expensive enzyme. (12)
• Hematopoietic Benefits / Anemia Remedy: Study in experimental rat models showed a methanolic root extract produced dose-dependent increase in packed cell volume, hemoglobin concentration, RBC counts, and total lymphocyte counts. (13)
• Phenolics Content: Total phenolic contents in roots parts were found to decrease in the order peel, crown, flesh. Cold storage produced significant differences. (14)
• Pharmaceutical Excipient / Disintegrating Agent: Study showed Beta vulgaris pulp powder is a good pharmaceutical adjuvant, specifically as a disintegrating agent. (15)
• Radiotherapy and Benefits of Beta vulgaris Supplementation: Study showed supplementation of Beta vulgaris in irradiated patients did not worsen survival time. There was reduction of acute radiation reactions, and level markers of oxidative stress/DNA damage were not influenced. Results suggest supplementation of Beta vulgaris in irradiated patients is safe. (16)
• Anti-Inflammatory / Roots: An ethanolic extract of B. vulgaris roots showed good anti-inflammatory activity on carrageenan-induced rat paw edema method. (17)
• Hepatoprotective in Diabetes: Study evaluated chard extracts on its effect on the liver of diabetic rats. In the diabetic group given chard, serum enzymes, total lipid level, sialic and uric acid levels, blood glucose and liver LPO and NEG levels decreased. Results conclude the extract has a protective effect on liver in diabetes mellitus. (18)
• Chemical Composition of Leaves during Developmental Stages: Study showed beetroot leaves are an excellent source of omega-3, in addition to having significant antioxidant activity and total phenolic compounds and minerals. Chemical constituents changed during developmental stages, with the 100-day leaves showing the greatest amount of omega 3 and 6 and TPC. Results the food uses and nutritional value of in natura and dehydrated beetroot leaves. (19)
• Antiproliferative / Immunomodulatory: Study evaluated the various concentrations of methanolic extracts of roots for in vitro anti-proliferative and in-vivo immunomodulatory activity of Beta vulgaris against MCF7 breast cancer cell line. Results showed in vitro inhibition of tumor cell growth. It showed immunomodulatory effects in-vivo via assessment of humoral antibody response and delayed-type hypersensitivity response. (20)
• Antiproliferative / Immunomodulatory: In the study of STZ-induced diabetic rats, the augmented triglyceride and cholesterol due to diabetes were significantly decreased by the Beta vulgaris plant extract. (21)
• Review / Benefit of Supplementation in Health and Disease: Review discusses beetroot's biological activity and evaluates evidence from studies that specifically investigated the effect of supplementation on inflammation, oxidative stress, cognition and endothelial function. (23)
• Nephroprotective / Amelioration of Gentamicin-Induced Nephrotoxiity: Study evaluated the protective effect of beetroot ethanolic extract on gentamicin-induced nephrotoxicity. Results suggest beetroot extract treatment attenuates renal dysfunction and structural damage through reduction of oxidative stress, inflammation, and apoptosis in the kidney. (24)
• Chemical Compositional Study of Leaves in Various Developmental Stages: Study evaluated beetroot leaves in natura and dehydrated form in terms of fatty acid composition, proximate composition, minerals, total phenolic compounds and antioxidant activity. Results showed significant levels of protein and lipids in all developmental stages. All proximate composition nutrients decreased during the maturation stages. Antioxidant activity and chemical constituents, mainly the ω-3fatty acid, increased during the stages of development. Results suggest that in natura and dehydrated leaves can be used in the preparation of broths, meals, or added to other foods. Dehydrated leaves showed the greatest nutritional value. (25)
• Study for Use as Natual Coloring Agent for Foods and Cosmetics: Study evaluated beet as coloring agent in food and cosmetic. The juice showed good antioxidant and antimicrobial qualities. The juice augmented Henna color, with the best results obtained with 50:50 mixture. When added to homemade cakes, it was acceptable to many volunteers in color and taste questionnaires. Study suggests further study of plants in the formulation of natural plant pigments. (26)
• Antimicrobial / Roots: Study of an ethanolic root extract of B. vulgaris showed antimicrobial activity against gram negative and gram positive bacteria. Streptomycin was used as reference control. (27)
• Effect on Oxidative Injury in Aorta and Heart of Streptozotocin-Diabetic Rats: Study evaluated the effect of feed chard (B. vulgaris var. cicla) on diabetes-induced free radical-mediated injury in rat aorta and heart tissues of female Swiss albino rats. Results showed treatment reversed the effects of diabetes on blood glucose and tissue lipid peroxidation and glutathione levels. (28)
• Prevention of HIgh Blood Pressure: Study evaluated the efficacy of natural sources vs medications in the prevention of high blood pressure. Results suggest natural sources, especially a combination of garlic and beet roots, gave good results. (29)

Availability
Cultivated.