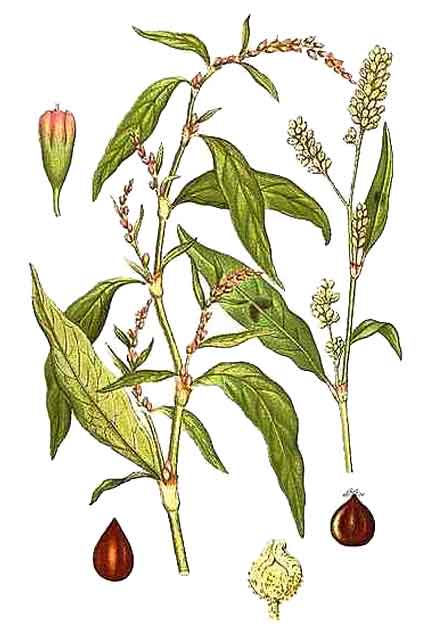 Botany
Buding is a smooth, rather robust annual, with tufted or shortly creeping roots. Stems are erect, while the branches are ascending, rather stout and leafy, 30 to 45 cm high, often glandular. Nodes are often swollen. Leaves are lanceolate or oblong-lanceolate, up to 7.5 cm long. Racemes are flexuous, leafy at the base, threadlike, decurved and interrupted. Flowers are pinkish. Nuts are usually three-sided.
Distribution
- In the Benguet Province of Luzon, in open wet places, along streams, in old rice paddies, etc., at altitudes of 1,200 to 2000 meters.
- Occurs in warmer parts of the world.
Constituents
- Seed contains polygonic acid and tannin.
- Leaves contain an essential oil, malic acid and phytosterine.
- Rootstock yield an essential oil, oxymethyl-anthraquinone.
Properties
- Juice considered diuretic, carminative and anthelmintic.
- Root is bitter, tonic, and stimulating.

Parts used
Roots, leaves.

Uses
Folkloric
In China, juice is used for itches; also as diuretic, carminative and anthelmintic.
Root used as tonic and stimulant.
Bruised leaves used as poultice and cure for toothache.
Among Russian peasant, used as hemostatic.
Used in all cases of intestinal hemorrhage (pulmonary, gastric, hemorrhoidal, uterine) and used as sedative.
In the United States, once used as an emmenagogue.
In Assam, women used the roots for fertility control.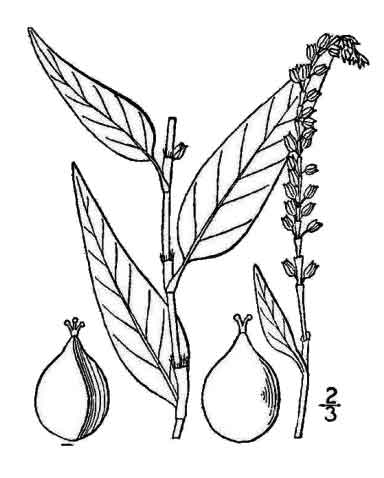 Studies
• Hydropiperoside / Antiferility Activity: Study of methanol extract yielded a novel coumaryl glycoside, hydropiperoside, with other known compounds and an unidentified lactone possessing antifertility activity.
• Antioxidant Flavonoids: Study isolated ten flavonoid compounds from the dried leaves of P. hydropiper. The isolated flavonoids were shown to possess strong antioxidative capabilities. The most powerful was galloyl quercitrin.
• Antibacterial / Antifungal: Study of root extract showed significant antibacterial activities against four gram-positive (B subtilis, B megaterium, S aureus and E aerogenes) and four gram-negative (E coli, P aeruginosa, S typhi and S sonnei) bacteria, with antifungal activity against A fumigatus, A niger, A flavus, C albicans, Rizopus oryzae and T rubrum.
• Lens Aldose Reductase Inhibition: Sulfated flavonoids in Polygonum hydropiper showed potent inhibition against lens aldose reductase. Amont the flavonoids, the most potent was isorhamnetin 3,7-disulfate.
• Antifertility: Study of the methanolic extract of root showed anti-fertility activity in female albino rats.
The estrous cycle of the extract treated rats became irregular resulting in failure of gestation. Results suggest the root of PH contains steroidal / estrogenic compounds which affect female reproduction in rats.
• Insecticidal: Study of 5 kinds of Polygonum hydropiper organic solvent extracts showed the ethyl ether extract to have the strongest insecticidal effect. The insecticidal substance was identified as eugenol. Eugenol showed to have stomach toxicity and contact action; it suppressed AchE and GST activity.
• Tyrosinase Activity Inhibitor: Study isolated taxifolin, a tyrosinase inhibitor from the sprout of Polygonum hydropiper. Compared to cosmetic agents arbutin and kojic acid, taxifolin's tyrosinase inhibitory effect was equal to the latter, more than the former.
Availability
Wild-crafted.