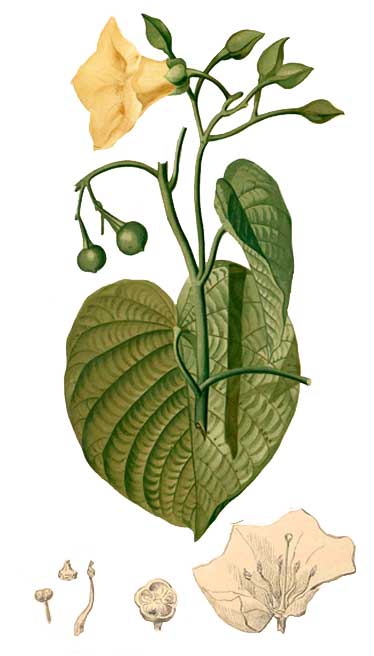 Botany
Bulakan is a coarse and widely spreading woody vine. Stems are 5 or more centimeters thick, and porous. Leaves are alternate, smooth, somewhat rounded, about 20 centimeters wide, those toward the ends of the branchlets being much smaller, heart-shaped at the base, pointed at the tip. Peduncle grows solitary from each of the upper leaf axils, erect and longer than the leaves. Flowers are large, golden-yellow, few to many, or clustered. Sepals are smooth, thick, oblong, 2 centimeters long. Corolla has a wide limb.
Distribution
- Common in secondary forests at low and medium altitudes in the Babuyan Islands (Camiguin); Laguna, Quezon, Camarines, Sorsogon Provinces in Luzon; in Mindoro, Palawan, Balabac, Samar, Leyte, Panay, and Mindanao.
- Also occurs in southwestern Asia to tropical Australia and Polynesia.
Constituents
Stems, leaves, juice.

Parts used
Stems, leaves, juice.

Uses
Culinary
- In Malaya, tubers reported to be edible, but may cause purging.
Folkloric
- In the Philippines, sap from the stem taken as anthelmintic. Infusion of roots used for chills. Tubers used to treat uterine hemorrhage.
- Juice of the stems taken for coughs and diarrhea; also used for sore eyes.
- Leaves used for washing the hair.
- Leaves applied as poultices for superficial ulcers and wounds.
- Leaves applied as maturative for inflammation of the breasts.
- In Fiji, leaf decoction used to treat boils, infections, and appendicitis. Decoction of roots used to treat stomach muscle rigidity. Drink made from the juice of leaves used for hernias.
- In Papua, New Guinea, leaf, stem and sap used on wounds, sores and swellings.
- In Fiji and India, diluted sap from the young leaves used as eye or ear drops
- Sundanese use the extract for stomachaches.
- To facilitate childbirth, Vanatu women drink juice squeezed out of ten leaves each of M. odorata and m peltata, and to improve lactation, sap of the leaves added on to coconut milk.
Others
- In the Philippines, stems sometimes used for tying.

Availability
Wild-crafted.