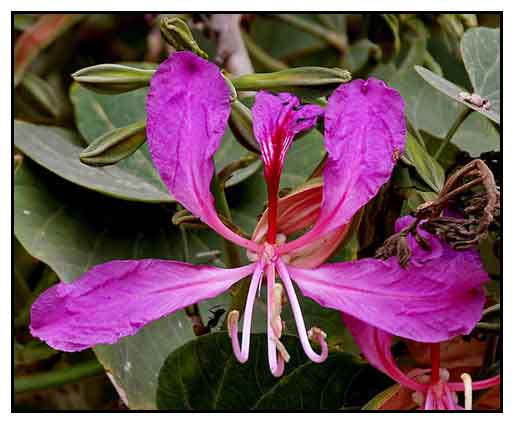 Gen info
Bauhinia is a genus of more than 200 species. The genus was named after the Bauhin brothers, Swiss-French botanists. The leaves share the double-leaf configuration of a heart, or more popularly, that of a butterfly. (Also see: Alibangbang / Bauhinia malabarica)
The Hongkong orchid tree (Bauhinia blakeana is named after one of the British Governors of Hongkong, Sir Henry Blake, 1898-1903) and is now the floral emblem of Hongkong. The flower looks like an orchid, and thus has earned the name "Orchid Tree." It is usually sterile, and debated as of hybrid origin between Bauhinia variegata and Bauhinia purpurea.
Botany
Bauhinia purpurea is a small to medium-sized deciduous fast-growing tree or shrub. Crown is round, symmetrical, moderately dense. Bark is pale grey, smooth to slightly fissured and scaly. Young branches are glabrous or glabrescent. Twigs are slender, light green, slightly hairy, and angled. Heartwood is brown, hard, and durable. Leaves are simple, alternate, base rounded to shallow-cordate, up to 12 centimeters long and wide, deeply 2-lobed at the apex. Inflorescences are 6- to 10-flowered raceme in terminal panicles. Flowers are showy and fragrant, numerous, hypanthium, turbinate, purple, nearly white or purple-marked. Fruit is brown, strap-shaped, about 15 to 20 centimeters long, 1.5 to 2.5 centimeters wide, with 10 to 15 shiny brown, glabrous, dehiscent, rounded, flat seeds, twisting as it opens. Seeds are orbicular, 14 to 16 millimeters in diameter, 1 to 2 millimeters thick. (17)
Botanically, very similar to and often confused with B. variegata but the petals are narrower, oblanceolate, and do not overlap. Stamens are 3 to 4.
Distribution
- Popular ornamental tree in towns and cities in the Philippines.
- Native to India.
- Found throughout subtropical India, North and South America, Nepal, Australia, Africa and the United Kingdom.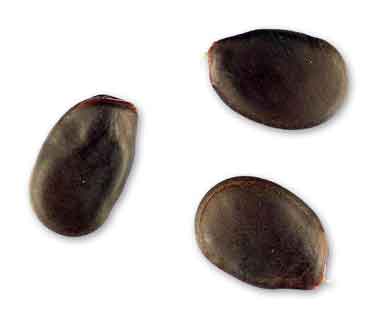 Constituents
- Phytochemical screening yielded glycosides, saponins, phenolic compounds and tannins, flavanoids, fixed oils and fats, phytosterols.
- Seeds and leaves yield phenolics, flavonoids, saponins, glycosides and tannins.
- Yielded amino acids lysine, phenylalanine, methionine and leucine.
- A study of ethanol extract of stems yielded a flavone glycoside, 5,6-dihydroxy-7-methoxy flavone 6-O-beta-Dxylopyranoside.
- Seed study yielded a new flavone glycoside, 6,4' dihydroxy 3- prenyl 3,5,7,5' tetra methoxy flavone-6-O-a-Lrhamnopyranoside.
- Fatty acid composition of seed oil yielded linolein (55.34%) and oleic (11.84%) acids as predominant unsaturated fats, while palmitic (17.4%) and stearic acid (11.40%) were the major saturated fatty acids. Three tocopherols and six phytosterols were also identified.
- Phytochemical screening of flowers yielded terpenoid, flavonoid, tannins, phlobatannins, cardiac glycosides. (16)
- Phytochemical screening of leaf and flower yielded carbohydrates, alkaloids, steroid and sterol, glycoside, saponin, flavonoid, tannins and phenolic compounds, protein, and fixed oil. (22)
- Phytonutrient analysis of leaf yielded total carbohydrate 50.3 ±3.46 mg/g, total protein 05.19 ±0.23, amino acids 05.95 ±0.88; flowers yielded total carbohydrate 43.33 ±2.30, total protein 13.99 ±0.23, amino acids 00.59±0.17. (22)
Properties
- Flowers considered laxative, anthelmintic.
- Root considered carminative.
- Stem considered astringent.
- Seeds are rich in calcium and iron.
- Studies have shown antioxidant, anti-hyperlipidemic, antiproliferative, wound healing properties.

Parts used
Flowers, stems.

Uses
Edibility
- Flower buds eaten as vegetable.
- In Pakistan, fresh and dried flower buds are used as food material.
- Young leaves and flowers eaten as a side dish with rice; used to flavor meat and fish. (17)
Folkloric
- No recorded medicinal use in the Philippines.
- Stem bark astringent in diarrhea.
- Flower buds used for bloody dysentery and piles.
- Bark decoction used for washing ulcers.
- A mixture of bark, root, and flowers in rice water used as maturant for boils and abscesses. (17)
- Used for dropsy, anasarca, rheumatic pains and swelling, convulsions, febrile delirium, animal bites, datura intoxication.
- In Pakistan, leaves, stems, and root are used to treat infections, pain, diabetes, jaundice, leprosy and cough. (15)
Others
- Fodder: In Nepal, found to increase milk production in lactating buffaloes. Leaves used as fodder by sheep, goats, and cattle. (17)
- Fuel: Used as firewood; calorific value is 4,800 kcal/kg.
- Wood: Used for making agricultural implements.


Studies
• Anti-Inflammatory / Antipyretic / Antinociceptive: Study of aqueous extract on animal models showed antinociceptive, antipyretic and anti-inflammatory activities. (1)
• Nephroprotective: Study showed the unripe pods and ethanol extract of leaves of BP significantly protected rat kidneys from gentamicin-induced histopathological changes, with normalization of gentamicin-induced increases in serum creatinine, uric acid and BUN. (4)
• Wound Healing: Study of methanol and chloroform extracts prepared in carbopol and simple ointment base and applied to wounds showed dose-dependent and significant reduction in epithelization and wound contraction time. The methanol extract exhibited more activity. Results indicated BP leaves had wound healing property. (5)
• Antiproliferative / Antioxidant: Study showed Bauhinia purpurea leaf possesses potential antiproliferative and concentration-dependent antioxidant activities. (6)
• Antioxidant: Study of different extracts bark and leaves of B. purpurea showed significant inhibition of superoxide radicals in a dose-dependent manner. (7)
• Seed Oil: Extracted oil showed a reasonable ration of saturated and unsaturated acids. After oil extraction, the seed residue presents as a source of protein in the manufacture of poultry and animal feeds. (9)
• Anti-Ulcer: Aqueous extract of BP exhibited antiulcer activity which could be due to the presence of saponins or sugar-free polyphenols. (10)
• Antihyperlipidemic / Antiatherogenic: Study showed BP extracts significantly suppressed a cholesterol-high fat diet-induced hyperlipidemia in rats, suggesting antihyperlipidemic and anthiatherogenic potential. The activity may be due to polyphenolic compounds flavonoids, tannins, and proanthocyanidines. (11)
• Bauhiniastatins / Cancer Cell Growth Inhibitors: Study isolated four cancer cell growth inhibitors designated Bauhiniastatins 1-4 and pacharin. Bauhiniastatin 1 exhibited significant growth inhibition of P388 cancer cell line. (12)
• Antilipidemic / Anti-Obesity: Study of methanolic extract showed significant decreases in serum triglycerides, total cholesterol and LDL, with significant increases in HDL in obese rats. The body weight of the HFD induced obese rats was reduced by 30% when administered with sibutramine. The antilipidemic effect of MEBP was found to be more effective than Sibutramine. (13)
• Hepatoprotective / Paracetamol Induced Toxicity: Study investigated the hepatoprotective potential of a methanol extract of Bauhinia purpurea leaves in paracetamol-induced liver toxicity in rats. Results showed potential hepatoprotective activity attributed to its antioxidant activity and high phenolic content. (14)
• Comparative Antioxidant Activity of Different Parts of B. purpurea: Study investigated the antioxidant activity of various extracts of leaves and bark of B. purpurea using DPPH and NO scavenging capacity. All extracts showed potent antioxidant capacity. The ethyl acetate bark extract showed highest activity in DPPH assay. An EA extract of leaves showed highest activity in in NO scavenging activity. (15)
• Antioxidant / Flowers: Study investigated the antioxidant activity of Bauhinia purpurea flowers. Results showed free radical scavenging activity, in decreasing order of activities: nitric oxide scavenging —reducing power activity—total antioxidant activity—metal chelating activity. (16)
• Antidiabetic / Stem Bark: Study investigated various extracts of stem bark of Bauhinia purpurea for antidiabetic activity in alloxan-induced diabetic mice. At higher doses, the extracts showed significant antidiabetic activity, with significant P values. The methanol extract showed the most potent antidiabetic activity. (18 )
• Antimicrobial / Stem Bark: Study screened an n-hexane extract of stem bark for phytochemicals and antimicrobial activity. Phytochemical screening yielded fatty acids, triterpenoids, steroids, alkaloids and phytol esters. Extract showed antimicrobial activity against all 6 bacterial strains (B. subtilis, E. coli, P. aeruginosa, S. typhimurium, Klebsiella spp) and 2 fungal strains (A. niger and Claviceps purpurea). (19 )
• Anthelmintic / Stem Bark: Study evaluated petroleum ether and aqueous extracts of stem bark of BP against Indian earthworm Pheretima posthuma. The petroleum ether extract significantly demonstrated paralysis, and also death in shorter time compared to reference drug piperazine citrate. (20)
• Cytotoxic Activity / Leaves and Bark: Study evaluated different plant parts for cytotoxic activity using brine shrimp lethality bioassay. Results showed all extracts of both leaves and bark showed promising cytotoxic activity, the highest in the methanol bark extract and n-hexane fractions of leaves. Results suggest a promising source for novel anticancer agents. (21)
• Antidiabetic Activity: Study evaluated ethanol extracts of various plant parts (stem, root, leaf, and flowers) for anti-diabetic activity in diabetic Wistar rats induced by intraperitoneal STZ injection. All the extracts exhibited significant antidiabetic activity—the methanol extract was most active. (23)
• Anti-Obesity Effect: Study evaluated the effects of an ethanolic extract of BP on parameters of body weight, lean mass, fat free mass fat percent, tissue and plasma lipid profile, plasma glucose, insulin, and insulin resistance, and activity on amylase, lipase, leptin and adiponectin levels in high calorie diet induced obese rats. Results suggest EEB suppresses high-calorie-diet-induced obesity, with a potential for treatment of obesity and associated complications. (24)
Availability
Wild-crafted.