Botany
Camphor is a large evergreen tree growing to a height of 20 to 30 meters. Bark is pale, very rough, and fissured vertically. Leaves are green and glossy, with a waxy appearance, emitting the smell of camphor when crushed. In season, it produces a bright green foliage with masses of small white flowers. Fruits are berry-like, about 1 centimeter in diameter.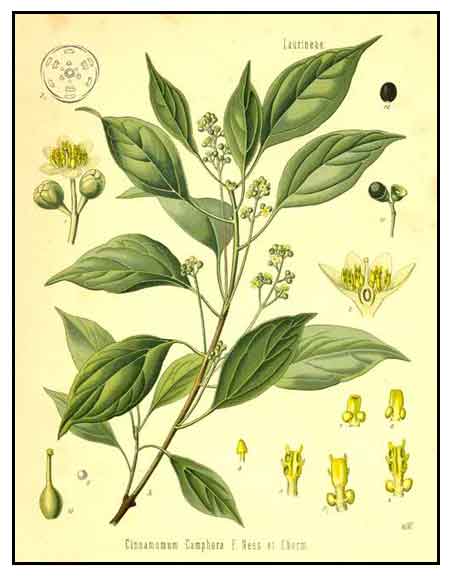 Distribution
- Grows in subtropical countries, especially in East Asia.
- Native to Taiwan, southern Japan, southeast China and Indo-China.
Constituents
- Yields a colorless crystalline translucent mass.
- Camphor is obtained by passing steam through the chipped wood. The distillate contains camphor, which is separated and re-sublimed, yielding the essential oil of camphor.
- Roots, trunk, leaves, branches and fruits yield volatile oils.
Properties
- Considered aphrodisiac, contraceptive, aborttifacient, antiseptic, lactation suppressing.
- Also considered uterotrophic, antitussive, anticonvulsant, anti-implantation.

Parts used
Gum, chopped wood.

Uses
Culinary
- Centuries of use as a culinary spice.
- In ancient and medieval Middle East and Europe, used as an ingredient for sweets.
- In China, used as confections flavoring during the Tang dynasty.
- In India, still used in cooking, especially dessert dishes.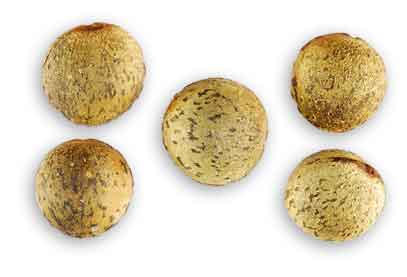 Folkloric
- Used for colds, chills, diarrhea associated with colds, inflammatory affections, fevers, and hysterical complaints.
- Beneficial for gout, rheumatic pains, neuralgia, and irritations of the sexual organs.
- Externally, applied to inflammed affections, bruises, sprains, etc.
- In Iranian folk medicine, used as both aphrodisiac and anti-aphrodisiac: In small doses, aphrodisiac in exciting the reproductive organs, causing urethral heat and nocturnal emissions; in large doses, antiaphrodisiac in diminishing urino-genital irritation, and possibly decreasing libido and sexual performance.
Others
- Timber: In Japan, Taiwan, China and Indo-China, cultivated for camphor and its timber.
- Used as an important ingredient in the production of smokeless gunpowder and celluloid.
- Rituals: Burned in Hindu poojas and ceremonies.

Studies
• Anti-Inflammatory / Chemotype Diffrerences: Study of C. camphora showed an anti-inflammatory effect on the rat arthritis induced by Freund's adjuvant. The different chemotypes showed different pharmacologic activity and mechanisms of action. Results suggest that the difference be considered in clinical applications.
• Essential Oils / Antimicrobial: Study investigated the inhibitory effects of CC on various inflammatory phenomenon. Results showed the anti-inflammatory actions of CC may be due to its modulation of cytokine, NO, and PGE2 production and oxidative stress.
• Sperm Motility Effects: Study indicate camphor has an effect on motility and viability of the human sperm and suggests a potential for the use of camphor as a local contraceptive.
• Antimicrobial: Study of methanolic extracts of four plants, including C. camphora, showed potent antibacterial activity against six bacteria (E coli, Citrobacter, Shigella flexneri, S. aureus, P. aeruginosa and Yersinia aldovae) and significant to moderate antifungal activity against six fungal strains.
• Effects on Sexual Behaviors: Study on the effects of camphor on sexual behavior in male rats showed sexual desire and sexual performance enhancing properties.
Availability
Wild-crafted.