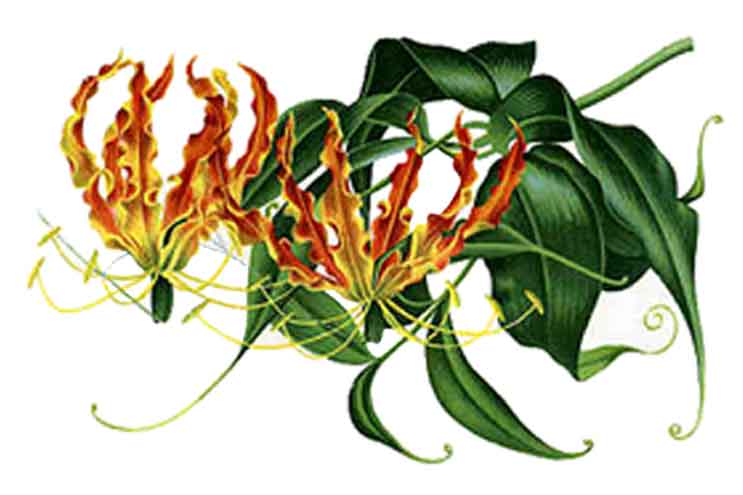 Botany
Climbing lily is a striking tuberous climbing plant. Rootstock is a chain of fleshy arched tubers, budding from the convexity above, cylindrical, flattened, often 15 to 20 centimeters long. Stem grows to 3 meters or more. Leaves are 15 to 20 centimeters long, variable in width, 3 to 5 centimeters across. Flowers are solitary or subcorymbose, towards the ends of the branches, 8 to 10 centimeters across. Petals are linear-lanceolate, spirally twisted, greenish when young, yellowish-orange as they mature, and reddish when fully mature. Filaments are stout and golden yellow, the connective being green. Capsules are about 5 centimeters long.
Distribution
- A recent introduction in the Philippines.
- Cultivated as ornamental.
- Native of Africa.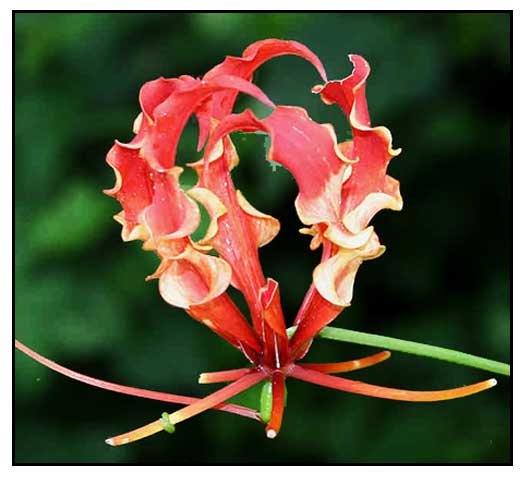 Constituents
- Phytochemical analysis yielded flavonoids, tannins, alkaloids and glycosides in an aqueous extract.
- Study of ethanol and aqueous extracts yielded carbohydrates, alkaloids, phytosterols, fixed oil, fats, saponins, gum, mucilage, phenolic compounds, and tannin-like phytoconstituents.
- Root yields a neutral bitter principle, superbine, which is toxic.
- Root yields three resins, a fluorescent principle, and salicylic acid.
- Seeds and tubers contain alkaloids viz., colchicine and colchicoside as major constituents.
- A 1991 Sri Lankan analytical study on different plant parts showed the seeds with the highest content of total alkaloids and colchicene. The yams, leaves, and pericarp also yielded alkaloids.
- Alcoholic extract of the dried tuber yielded organic acid, choline, dextrose, a hydrocarbon, a fatty alcohol, a mixture of phytosterolins, a mixture of alkaloids, chiefly colchicine (0.3% of the tubers), and small amounts of two other crystalline bases.
- Tubers and dried roots yield colchicines, benzoic and salicylic acid, sterols and resinous
substances-colchicines, 3-demethyl colchicine, 1,2-didemethyl colchicine, 2,3- didemethyl colchicine, N-formyl, N-deacetyl colchicines, colchicocide, gloriosine, tannins and superbine.
- Study describes two important alkaloids--colchicene and gloriosine--in the seeds and tubers.
- Colchicene: It is the conventional drugs for the treatment of gout obtained from the corms of Gloriosa superba and Colchicum autumnale. Colchicene derives from the area Colchis near the black sea.

Properties
- Pharmacologic action of the main alkaloid, colchicine, is identical with that of colchicene from Colchicum autumnale.
- Root is tonic, antiperiodic, alterative, purgative, and anthelmintic.
- Tubers are covered with a brown epidermis, except at the point which is tapering and nearly white, like the growing part of a young kidney potato. Internally, they are juicy, white, farinaceous, with a faint acrid odor; the taste mucilaginous, feebly bitter and a little acrid.

Parts used
Tuber roots, seeds.

Uses
Folkloric
- In Ceylon root is used to treat bruises and sprains.
- In India used in blood diseases, swellings, wounds, abscesses, pains and for treatment of gonorrhea. Also used as a tonic.
- Tuberous root stocks boiled with Sesamum oil is applied twice daily to painful arthritic joints. Also used to treat intestinal worms, bruises, infertility, skin problems and impotence.
- Sap from leaf tip used as smoothening agent for pimples and skin eruptions.
- Tuberous roots used for scrofula, baldness, intermittent fever and debility.
- Used in promoting labor and expulsion of the placenta.
- Seeds used to relieve rheumatic pain and as muscle relaxant.
- Tubers used in the treatment of cancer, malaria, stomachaches, piles and leprosy.
- Tubers used as abortifacient; also, as antidote for snakebites and scorpion-stings.
- Leaves used for asthma.
- In Persia used in the treatment of nose bleeds and impotence.
- Root is used in leprosy, piles and colic.
- Root also used in form of paste as an application for parasitic skin diseases.
- White powder obtained by repeated washing and grinding is given in gonorrhea, up to 12 grains, mixed with honey.
Others
- In Burma, reported use of roots by lovelorn girls to commit suicide.
Toxicity
• Plant is a violent emetic, and the tubers, when eaten, can cause death within a few hours.
• Roots, stalks, and leaves act as an acrid narcotic poison, and reportedly frequently used in India for suicidal purposes.
• Case Report / Death Related to Gloriosa Superba Poisoning: A case report is made of an elderly woman who consumed tubers of G. superba for treatment of joint pains and who died of its toxicity. Colchicine, the major active alkaloid, is assumed to be the cause of toxicity. The usual presenting toxicity complaints are perioral numbness and tingling and throat burning, 2 to 6 hours after ingestion. Acute poisoning usually present as acute and severe gastroenteritis, with nausea, vomiting and bloody diarrhea, dehydration, shock and acute renal failure.
• Colchicene Cardiotoxicity Report: Report of colchicene toxicity following ingestion of tubers described gastroenteritis, acute renal failure, cardiotoxicity, and hematological abnormalities as main manifestations.

Studies
• Anti-Inflammatory / Colchicene: Study in carrageenan-induced animal models showed the methanol and aqueous extracts of tubers of Gloriosa superb possessed good anti-inflammatory activity in a dose-dependent manner. Further screening of the extracts confirmed the presence of colchicines.
• Oxytoxic / Abortifacient: Study of aqueous extract showed oxytoxic activity and early abortifacient activity which may be due to the presence of alkaloids such as colchicine.
• Antimicrobial: Study has showed excellent antifungal activity against C. albicans and C. glabrata.
• Antithrombotic / Anticoagulant: Methanol and aqueous extracts have exhibited anticoagulant property which may be due to inhibition of thrombin-induced clotting.
• Antivenom: Various fractions have shown potent neutralizing activity on rattlesnake venom in mice.
• Anthelmintic: Ethanol and aqueous extracts of the whole plant of GS were evaluated for activity against Indian earthworms Pheretima posthuma. Both extracts exhibited significant anthelmintic activity when compared with piperazine citrate.
• Antimicrobial / Mutagenic: Study showed the petroleum ether extracts to be highly active against Gram-negative bacteria (E Coli, Proteus vulgaris and Salmonella typhi) and against Gram-positive bacteria. All extracts showed strong inhibition of Aspergillus niger and Mucor. Tubers exhibited mutagenic properties by Ames Salmonella mutagenicity test due to the presence of colchicines.
• Hepatoprotective: Study showed Gloriosa superba tuber extracts to possess hepatoprotective activity against paracetamol-induced hepatotoxicity.
Availability
Wild-crafted.
Seeds in the cybermarket.