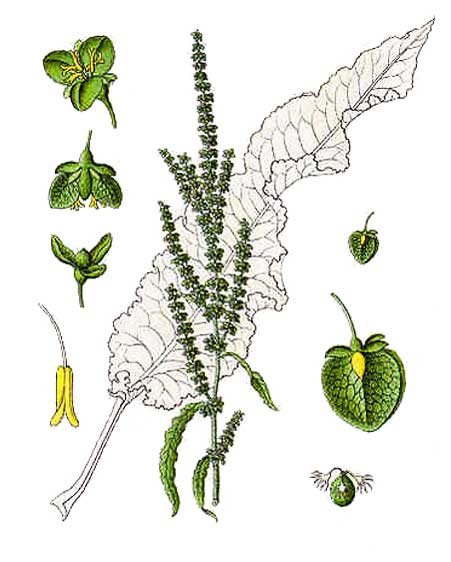 Botany
Curly dock is an erect, simple and sparingly branched plant growing to a height of 30 to 90 cms. Leaves are variable in shape, the lower leaves, oblong to oblong-lanceolate, 1.5 to 30 cm long, the upper leaves narrowly oblong or lanceolate, 8 to 16 cm long, with either sharp or obtuse apex, and rounded at the base. Panicles are rather dense and not leafy. Valves are entire, usually tubercles number 3. Achene is oblong-ovoid, 2 mm long.
Distribution
- Recently introduced to the Benguet area; sparingly naturalized at altitudes of 1,400 to 2,200 meters.
- Native of Europe and now a widely distributed weed in temperate countries.
Constituents
Roots contain 0.2% and the twigs a trace of oxymethyl-anthraquinone.
- Dried root yields 0.1% of emodin, and slightly less of chrysophanic acid.
- Plant has yielded tannic acid.
- Also yields oxalic acid and rumicin, a tasteless, golden-yellow substance, which is irritant and has been used to destroy skin parasites.
- Root yields anthraquinone and calcium oxalate; the leaves yield emodin and brassidinic acid.
- Anthraquinones identified include: nepodin, chrysophanol, physcion, emodin, chrysophanic acid, and rhein.
- Flavanoid compounds identified: quercitrin and quercetin.
- Yields minerals: iron, sodium, potassium, magnesium and calcium.
- Study yielded 15 compounds: beta-sitosterol, hexadecanoic acid chrysophanol, physcion, emodin, gallic acid, (+)-catechin, kaemferol, quercetin, among others.
Properties
Root is mildly purgative and astringent, tonic and febrifuge.
Plant traditionally used as 'blood purifier,' tonic and astringent.
Alterative, antiscorbutic, depurative, laxative, tonic.
Parts utilized
Leaves, roots and rhizome.
Uses
Edibility
Young leaves used as vegetable.
Folkloric
Root decoction used for fevers.
Fresh bruised roots for skin ailments, dermatitis and skin rashes.
Root decoction used for jaundice, constipation, psoriasis; laxative effect attributed to anthraquinone.
Also used to stimulate bile production.
Liver problems and arthritis.
Used for acute and chronic inflammation of nasal passages.
Used as treatment for tapeworms and roundworms.
For vascualr disorders and internal bleeding.
Applied externally to ulcers, boils and tumors.
Decoction of roots for purgative effect and liver problems.
Others
Sometimes referred to as "poor man's ginseng."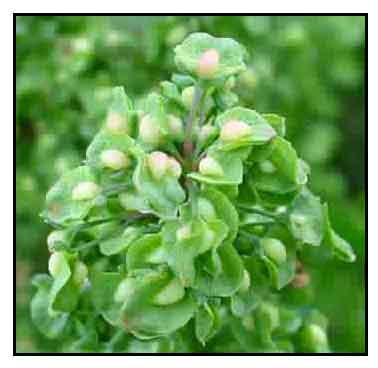 Studies
• Antioxidant / Antimicrobial: Study of Rumex crispus showed highest antioxidant activities with the extracts of leaves and seeds. The ether extracts of both leaves and seeds and the ethanol extract of leaves showed antimicrobial activities against S aureus and B subtilis.
• Antimicrobial: In an evaluation of four medicinal plants for antimicrobial activities, the acetone extracts of the roots of Rumex crispus and A rotundifolius demonstrated significant inhibitory effects against most of the test microorganisms ( S aureus, B subtilis, A hydrophylla, K pneumonia, P aeruginosa and C albicans).
• Phenolic Content / Antioxidant / Antibacterial: (1) Study showed the aerial part to have a high phenolic content and antioxidant activity. The methanolic extract possessed strong antibacterial activity against Agrogacterium tumefaciens, B cereus, B subtilis, Pseudomonas corrugate, Pseudomonas syringae, Salmonella typhimurium, Serratia liquefaciens, V cholera, among others. Study suggests the aerial part of RC can be used as an effective and safe source of antioxidants and antibacterial agent. (2) Study showed the antioxidant activities increased with increasing amount of extracts. The water extracts showed of the leaves and seeds showed the highest antioxidant activities. The ether extracts of leaves and seeds and the ethanol extract of leaves showed antimicrobial activity against S aureus and B subtilis.
• Anti-Leishmanial / Antimicrobial Activity: Six plants with known antimicrobial activity, including Rumex crispus,were screened for inhibition of the protozoal parasite, Leishmania mexicana. The ethanol and DMSO extracts exhibited varying degrees of inhibition against L mexicana. They also caused growth inhibition of several food-borne pathogens and bacteria.
• Anticancer Compounds: Study showed evidence of toxic compounds in the root of Rumex crispus with the potential to have anti-cancer activity.

Caution !
• Because of high oxalic content, leaves should not be eaten in large amounts.
• Young leaves must be boiled to remove the oxalate content; deaths have been reported (LINK) after consuming uncooked leaves for medicinal purposes.
• Because of oxalate content, should be avoided in those with kidney stones, rheumatism, gout.
• Probably unsafe in pregnancy because of anthraquinone content.
• Anthraquinone is secreted in breast milk, and therefore a concern for breastfeeding mothers.
Availability
Wild-crafted.
Supplements, extracts, teas, oils and pellets in the cybermarkets.