Botany
Dalanghita is a small tree. Leaves are smooth, oblong to broadly lanceolate, 4 to 10 centimeters long, with narrowly winged short petioles of about 1 centimeter long. Flowers are white, short-pedicelled and mostly solitary.. Fruits are hesperidums, with a loose skin and leathery pericarp, with a sweet pulp that is only fairly juicy. Green fruit turns to yellow, greenish yellow or orange.Of many varieties, the large ones attain a size of about 10 centimeters in diameter and about 9 centimeters thick. Pulp is sweet and only fairly juicy.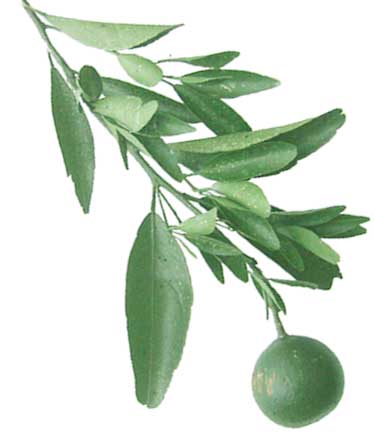 Distribution
- Widely scattered in cultivation in the Philippines.
- Large scale cultivation in the Batangas Province in Luzon.
- Probably a native of southern China
Constituents
- Rind: Volatile oil, 14-19.33%-limonene, 92% and methylanthranillic acid, methyl ester.
- Juice: Citric acid, 0.35% - 1.2%; vitamins A, B, and C; hesperidin.

Parts used and preparation
· Fruit, rind and seeds.
· Rind preparation: gather the rind of any ripe citrus fruit and sun-dry, either whole or cut into thin slices.
· Seed preparation: place the seed in a container, add an amount of water equal to one fiftieth of the total weight of the seeds, store for a short time and put into a dry kettle. Heat with a weak fire until the materials turn light yellow and smell fragrant. Sundry the material. Crush before using.
Drug Characteristics and Pharmacological Effects
The seed preparation has pain relieving effect. In Malaya, a decoction of the roots is used in dysentery. Powdered leaves with leaves of Areca catechu may be drunk for stomach ache. An infusion of the fresh juice is used as a cleanser or stimulant of wound surfaces. A lotion of the boiled leaves is used hot on painful places and swelling in Malaya. Seed preparation tastes bitter with pain relieving effect. Rind preparation tastes bitter, with mild nature. The fibers of the rind tastes bitter-sweet, neutral natured.

Uses
Nutritional
· Fruit: Food and source of vitamin C.
· Flavor: Rind.
Folkloric
· Nausea and fainting: Squeeze rind near nostril for irritant inhalation.
· Decoction of roots used for cough and fever.
· For cough: boil a concentrated decoction of the rind and drink.
· For anorexia and vomiting: add fresh rhizome of ginger to a concentrated decoction of the rind and drink.
· Decoction of dried flowers used for diarrhea.
· Decoction of rind or peel used to regulate menses.
· Leg bath of boiled leaves used for rheumatism, and painful and swollen legs.
· Oil from rind used for stomach problems; and as liniment for gout, rheumatism and other painful swellings.
Note: The folkloric applications are similar for all Citrus species.

Studies
· Phytochemical: The volatile compounds in three selected Asian citrus fruits (C. nobilis, C. sinensis, C reticulata) were characterized. A total of 51 compounds were detected in C. nobilis, 41 in Dalandan: terpenes, carbonyls, alcohols, esters and hydrocarbons, with limonene as the main compound.
· Radioprotective / Naringin Citrus Flavonone: Naringin, a prominent bioflavonoids in grapefruit and other citrus fruits, is present in C. nobilis. Study on the free radical scavenging of naringin revealed a dose-dependent scavenging and demonstrates it can protect mouse bone marrow cells against radiation-induced chromosomal damage.
· Nobiletin / Sebum Reduction / Acne: Nobiletin, a flavonoid present in the peel of many citrus fruits, especially prevalent in C nobilis, in a mixture with ethanol and glycerol, applied to the ears of hamsters, once daily for 14 days, showed a decrease in the amount of triacylglycerol on the skin surface, reduced the sizeof and amount of oil produced by the sebaceous glands. Triacylglycerol is the main constituent of mammalian fat and a major component of sebum. Results suggest a potential in the treatment of acne.
Also see: Dalandan
Availability
Widely cultivated.
Commercial fruiting.