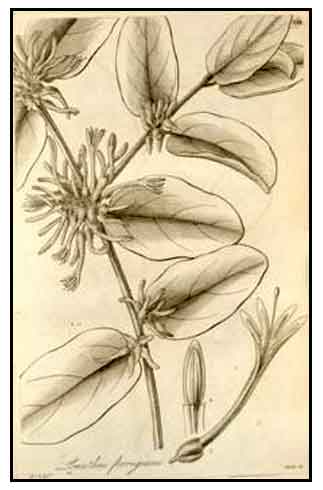 Botany
Dapong-kahoi is a bushy parasitic shrub. Branchlets and leaves beneath are densely covered with a tomentum of long- and short-branched hairs. Leaves are opposite, and shortly petioled, usually roundish-elliptical, 5 to 10 cm long, 2 to 5 cm wide, and smooth above when old. Inflorescence is usually 2- to 5-flowered. Flowers are 1.2 to 2.5 cm long, in axillary, stalkless or short-peduncled fascicles. Calyx tube is obovate or pear-shaped, 2.5 to 3.5 mm long, with the limb entire. Corolla is slender, 7 to 17 mm long, with the tube split, and with 4 lobes. Fruit is clavate, 8 to 10 mm long, 3 to 4 mm thick, and hairy.
Distribution
- A parasitic on miscellaneous trees in many islands, in open forests only a low altitudes in Palawan.
- Occurs in the Malay Peninsula, Sumatra, Java, Borneo, and India.

Parts used
Leaves.

Uses
Folkloric
Plant decoction used for malaria.
Poultice of leaves used for wounds and snake bites.
Decoction of leaves used as protective medicine after childbirth.

Studies
• Vascular Relaxation / Anti-Hypertensive: Study of n-butanol fraction of methanol extract of Loranthus ferrugineus showed it induced vascular relaxation by stimulating muscarinic receptors, activating the endothelium-derived nitric oxide-cGMP-relaxant pathway, promoting prostacyclin release. Results support its traditional use as anti-hypertensive agent.
• Cholinomimetic Effect: Study of a methanol extract of L. ferrugineus in isolated guinea pig ileum showed a spasmogenic effect probably mediated through a direct action on intestinal muscaric receptors.
• Antihypertensive / Vasocontriction Modulation: Study investigated the mode by which LF methanol extract antagonizes or modulates norepinephrine-induced vasoconstriction in rat aortic rings. Results showed LF ME exerted its vascular effect by reversible noncompetitive antagonism of norepinephrine-induced vasoconstriction, providing a mechanism for its antihypertensive effect.

Availability
Wild-crafted.