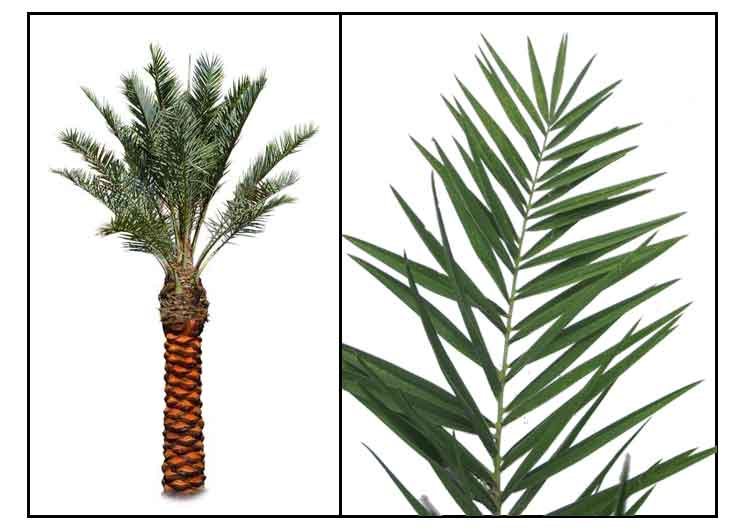 Botany
Date palm is a tree growing up to 30 meters high. Trunk is slender, with distinct petiolar scars. Leaves are erect-ascending at the upper part of the crown, down-descending at the lower part of the crown, and long-petioled. Leaflets are narrow-lanceolate, stiff and grayish-glaucous. Inflorescence is produced among the leaves, with a single bract at the base. Flowers are small, yellowish and borne singly. Fruit is cylindrical or oblong-ellipsoid, with edible flesh.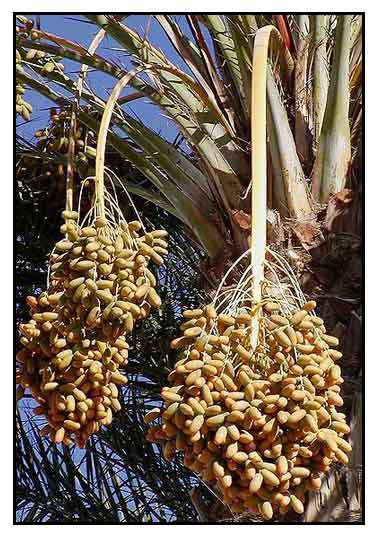 Distribution
- Planted as an ornamental in the Philippines.
- Native to West Asia and North Africa.
Constituents
- High caloric content with more essential minerals and vitamins than most other fruits.
- Date palm fruits yield a high percentage of carbohydrates (total sugars, 44-88%), fat, 0.2-0.5%; protein, 2.3-5.6%; 15 kinds of salts and minerals, vitamins, and a high percentage of dietary fiber, 6.4-11.5%.
- Flesh of fruit yields 0.2-0.5% oil; seeds yield 7.7-9.7% oil.
- Yields various minerals: boron, calcium, cobalt, copper, fluorine, iron, magnesium, manganese, potassium, phosphorus, sodium, and zinc. Also contains elemental fluorine and selenium.
- Contains at least six vitamins, including C, B1 (thiamine), B2 (riboflavin), nicotinic acid (niacin), and vitamin A.
- Yield phenolic compounds, mainly cinnamic acids, and flavonoids (flavones, flavonols, and flavanones).
- Phytochemical screening yielded flavonoids, carbohydrates, and/or glycosides, sterols and/or triterpenes. In addition, other active constituents such as tannins, saponins, sterols and/or triterpenes, alkaloids and coumarins were present in date palm tissues (shoot tip, pollen grain, leaves, fruits, callus).
Properties
- Considered tonic, aphrodisiac, antioxidant, purgative.

Parts used
Fruits, pits, flowers, pollen.

Uses
Edibility / Nutritional
- Fruits are edible.
- High caloric content with more essential minerals and vitamins than most other fruits.
Folkloric
- No reported folkloric medicinal use in the Philippines.
- In other medicinal practices, used as a tonic.
- Flowers used as a purgative.
- Used as aphrodisiac.
- Egyptians have been reported to have used pollen grains to improve fertility in women.
- Middle Easterners consume the date in the morning on an empty stomach to reverse toxicity exposures.
Others
- Animal Feeds: Date pits have been included in animal feed to enhance growth, an action attributed to an increase in plasma levels of estrogen or testosterone.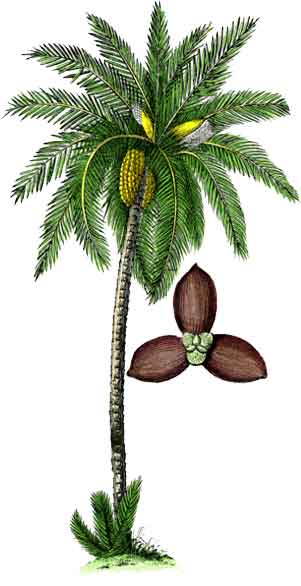 Studies
• Hepatoprotective: (1) Study of aqueous extracts of the flesh and pits of dates (Phoenix dactylifera) showed significant reduction of CCl4-induced elevation in plasma enzyme and bilirubin concentration and ameliorated morphological and histological liver damage in rats. (2) Study showed the thioacetamide-induced liver damage in rats can be ameliorated by administration of extract of date flesh and ascorbic acid.
• Storage Effect on Antioxidants: Study evaluated the antioxidant activities of the edible parts of the date palm fruits from Iran. Dry date variety had the highest antioxidant activity (AA), total phenolic content (TPC), and total flavonoid content (TFC). Antioxidant compounds (phenolics and flavonoids) of dates increased following storage.
• Male Fertility: Study of Phoenix dactylifera date palm pollen (DPP) on Sprague-Dawley rats showed consumption of a pollen suspension improved the sperm count, motility, and morphology, and DNA quality with increase in weights of the testis and epididymis. Results suggest DPP seems to cure male infertility by improving the quality of sperm parameters.
• Neurobehavioral Effects: Study of neurobehavioral effects of methanolic extract of fruits in mice showed considerable reduction in exploration time, increased discrimination index, potentiation of haloperidol-induced catalepsy, and reduced onset of death in sodium nitrite-induced respiratory arrest. Results suggest a wide range of CNS activities.
• Antioxidant Effects: Study showed a hydromethanolic extract of PD fruit showed good antioxidant activity, reducing power, free radical scavenging activity and hepatic protection. The antioxidant potential was attributed to phytoconstituents (flavonoids, saponins, tannins, steroids) and vitamin C.
• Neuro-Activity Effects: Study of a methanolic extract of fruits and pits showed effectiveness with inhibition of selective serotonin reuptake, prevention of the immune system hyperactivity, oxidative stress profile, with lipid effects, and improved the sucrose consumption, which play a role in improving the etiology of depression.
Availability
Wild-crafted.