Botany
An annual plant cultivated for culinary spice use. It grows to a meter in height. The leaves are filiform leaflets. The flat umbels yield yellow flowers producing oval dill seeds.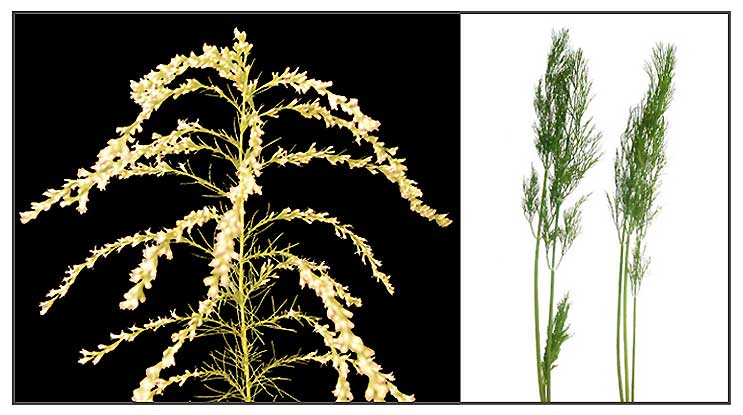 Parts used
Seeds
Properties and constituents
- Has the medicinal value of caraway and aniseed.
- Antihalitosis, antispasmodic, diuretic, carminative, galactagogue, and stomachic.
- Constituents: essential oils, fatty oil, proteins, carbohydrates, fiber, and mineral elements (calcium, potassium, magnesium, phosphorus, sodium, vit a and niacin.
- Fruits contain essential oils (carvone, limonene, phellandrene including pinene, diterpene, cineole, myrcene, myristin, apiol among others.
Uses
Culinary
A preferred kitchen spice.
Folkloric
Infusion of the seed used for insomina.
Infusion also used for stomach acidity, flatulence, dyspepsia, colic.
The seed boiled in olive oil and applied warm over furuncles hastens suppuration and provides pain relief.
Nursing mothers use the dill to increase milk flow.
Chewing of the seeds helpful in halitosis.
Decoction of the herb used for colic in babies. Seed decoctions are more potent and should be adjusted accordingly.
Prepared> 5 to 10 grams in 1 liter of water, 4 to 5 cups daily.
Others
• Some compounds, d-carvone for example, is added to insecticides to increase effectivity.
Seed contains up to 4% essential oils used in perfuming soaps, medicines and food flavoring.


Studies
• Hypolipidemic: (1) Often touted as antihyperlipidemic, a study showed Anethum graveolens had no significant effect on lipid profile. (2) In contrast to the above study, an Iranian study concluded that Anethum graveolens has significant lipid lowering effects and is a promising cardioprotective agent.
• Antibacterial / Phytochemical: Phytochemical screening showed alkaloids, flavonoids, tannins, saponins and cardiac glycosides. Hot water and acetone seed extracts showed good antibacterial activity against all bacteria except K pneumoniae and one strain of P aeruginosa.
• Antispasmodic: Study showed that dill fruit extract is a potent relaxant of contractions induced by various spasmogens. The spasmolytic effect may be through calcium channels. Study supports its traditional use for gastrointestinal disorders.
• Antifertility / Menstrual Regulation: The study suggests dill can be used as a regulatory agent of the menstrual cycle or as an antifertility agent.
• Gastric Mucosal Protective / Antisecretory: Study suggests that A. graveolens seed extracts have significant mucosal protective and antisecretory effects of the gastric mucosa in mice.
• Genotoxicity: Essential oils from dill herb and seeds induced dose-dependent CA (chromosomal aberration and sister chromatid exchange tests (SCE). All essential oils studied were cytotoxic to human lymphocytes. In the SMART test, the essential oil from dill seeds was almost inactive.
• Repellant: Seed or fruit extract of A. graveolens exhibited varying degrees of biologic effect on the adults of S oryzae and T confusum.
• Antimycobacterial: Study isolated a new furanocoumarin and three known compounds, oxypeucedanin, oxypeucedanin hydrate and falcarindiol, from the whole herb of A. graveolens. The three known compounds exhibited antibacterial activity against a panel of mycobacteria.
• Antibacterial / Antiulcer / Anti-H pylori: Study showed A graveolens with moderately potent anti-H pylori activity and suggests a potential as a curative anti-ulcer agent.

Availability
Cultivated