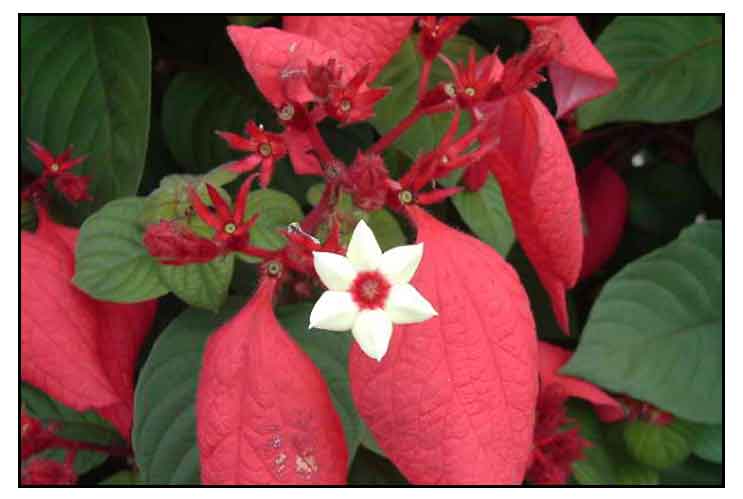 Botany
Mussaenda erythrophylla is a perennial, evergreen shrub with a branched tap root system. Flowers are big, creamy-white or yellow, orange, with reddish rings at the center. Leafy sepals are ovate, up to 9 centimeters long, rich vermillon-scarlet, with lighter colored veins.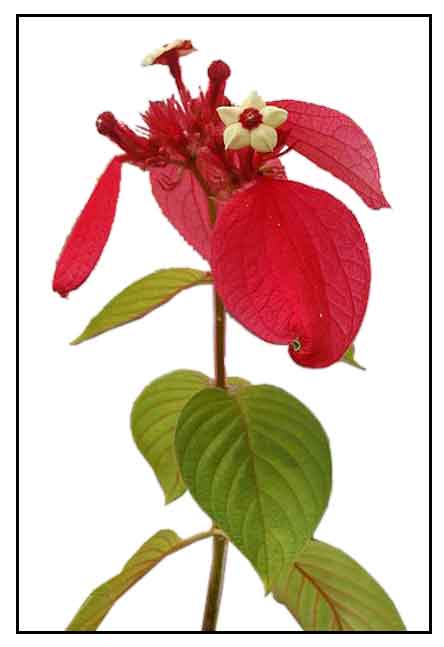 Distribution
- Introduced to the Philippines, probably after the Second World War.
- Cultivated in gardens in the Philippines.
- Cultivated as ornamental plant in India.
- Native to western tropical Africa.

Constituents
- Study of stems yielded β-sitosterol, 5 hydroxy-7, 4'-dimethoxy flavones, 3- iso cumaryloxy – cyclopropane-1-oic acid and 4 -hydroxy-3-methoxy cinnamic acid.
- Phytochemical screening yielded phytosterols, triterpenes, and flavonoids.
- Studies have previously isolated triterpenoids and glycosides, mussaendosides A-C, M and N with clyclolanostene type aglycone and aureusidin, iridoid glycosides.

Uses
Folkloric
- No reported folkloric medicinal use in the Philippines.
- Elsewhere, reported use for cough, jaundice, and when chewed, as appetizer.

Studies
• Anthelmintic: Extracts from A. leptopus roots and rhizomes and Mussaenda erythrophylla roots were tested for in vitro anthelmintic activity against earthworm Pheretima posthuma. Both plants showed potent activity. The ethyl acetate extract of M. erythrophylla was more potent than the methanol extract.
• Hepatoprotective: Study of ethyl acetate and methanol extracts of stems of ME against CCl4-induced liver damage in Wistar albino rats showed hepatoprotective effects with significant reduction of hepatic enzymes and reduction in pathologic changes (centrilobular necrosis and vacuolization).

Availability
Wild-crafted.