Botany
A tree that grows to 30 m or taller. Leaves are alternate, fernlike, pinnate, and dark green. Leaflets are lanceolate, with entire or lobed margins. The flowers are orange.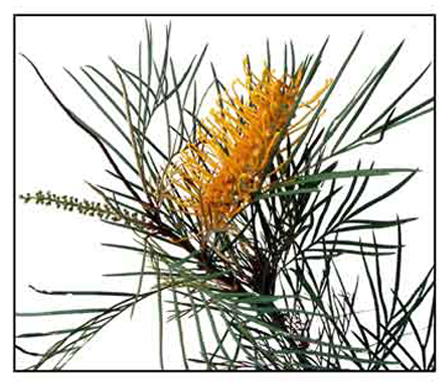 Distribution
Native to Australia.
Recently introduced to the Philippines.
Constituents and properties
• Study isolated six new 5-alkylresorcinals and eight known compounds.
• Leaves contain rutin.

Uses
Folkloric
No known folkloric medicinal use in the Philippines.
Others
• Flowers are a rich source of nectar.
• Yellow and green dye from the leaves; used for dyeing silk. source
• Wood is used for joinery, cabinetry and panelling.
Caution !
• Contatct dermatitis: A report on a case of severe acute dermatitis venenata due to exposure to sawdust of Grevillea robusta.
• Grevillol: Bracelets made from the wood of Grevellia were shown to be a source of allergic contact dermatitis. The responsible allergen was grevillol, a phenolic with a long side chain resembling the sensitizing uroshiols from poison ivy. source
Studies
• Cytoxicity: Study isolated 6 new 5-alkylresorcinols and 8 known compounds, all of which showed marginal toxicity against MCF-7 and other cell lines.
• Leishmanicidal: One of 75 Myanmar timber extracts examined for leishmanicidal activity. source
• Cardiovascular: Several his-resorcinols were isolated from Grevellia robusta, the most potent, striatol, exhibiting inhibitory activity on the Ca-ATPase system suggesting a potential for cardiovascular activity.

Availability
Recently for introduced.
Ornamental cultivation.