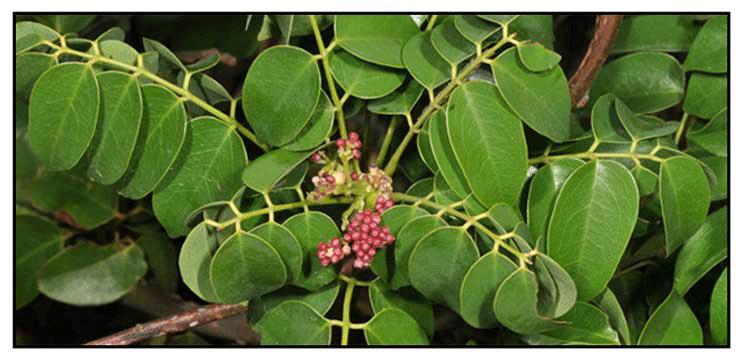 Botany
Kamagsa is a sprawling shrub or a suberect, woody, smooth vine attaining a height of 1 to 3 meters. Leaves are pinnately compound and 15 to 25 centimeters long. Leaflets are 12 to 20, oblong-ovate to oblong-lanceolate, 4 to 8 centimeters in length. Flowers are white or pink, very numerous, and 5 to 7 millimeters long, and grow on panicles 5 to 15 centimeters long which are borne at the axils of the leaves. Pods are red, about 1 centimeter long, somewhat curved, split down one side, and surrounded at the base by the calyx.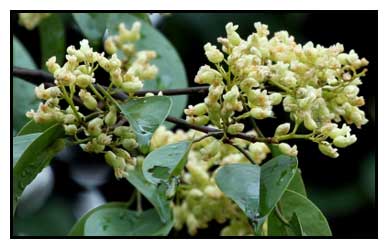 Distribution
- In dry thickets and second-growth forests at low and medium altitudes from northern to central Luzon, and in Lubang, Mindoro, Cuyo, Leyte, Panay, and Bantayan.
- Also occurs from tropical Africa, Madagascar, to Sri Lanka, Southeast Asia throughout Malaysia to northern Australia, New Caledonia, Fiji and Samoa.
Constituents
- Fruit contains an active poison. It has been found very poisonous to dogs but without any effects on guinea pigs. Study suggests the nonpoisonous character of the plant toward herbivora. A study found the poison to be glucosidal in nature.
- Bioassay-directed fractionation of the antimalarial active CHCl(3) extract of the dried stems of Rourea minor (Gaertn.) yielded two glycosides, rourinoside (1) and rouremin (2), as well as five known compounds, 1-(26-hydroxyhexacosanoyl)-glycerol (3), 1-O-beta-D-glucopyranosyl-(2S,3R,4E-8Z)-2-N-(2'-hydroxypalmitoyl)-octadecasphinga-4,8-dienine, 9S,12S,13S-trihydroxy-10E-octadecenoic acid, dihydrovomifoliol-9-beta-D-glucopyranoside, and beta-sitosterol glucoside. (see study below) (1)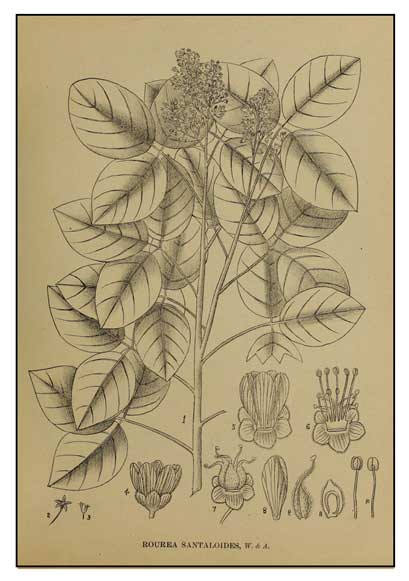 Properties
- Fruit considered poisonous.
- Plant considered aperient, emetic, depurative, tonic, sudorific and purgative.
- Studies have shown antidiabetic, antihyperlipidemic, antimalarial properties.

Parts used
Roots, leaves.

Uses
Folkloric
- Decoction of fresh or dried leaves used for gastralgia. Also, considered, absorbent.
- Plant considered sudorific and purgative.
- Decoction of roots used as uterine tonic and depurative.
- Roots and twigs used for rheumatism, scurvy, diabetes.
- Decoction of roots, at one teaspoon or less, used as emetic; exceeding this amount, it is poisonous.
- Wood of the root, pounded, boiled, and mixed with food, known to kill dogs who feed on it.
- In Peninsular Malaysia, plant used as an aperient. Decoction of wood taken for fever and as post-partum medicine. Root rubbed on sore places in the mouth of children with thrush.
- In Bangladesh, leaf infusion drunk to treat diarrhea.
- In Yunnan, China, the Hani ethnic tribe used mashed leaves as dressing in polio. (5)
- In Indo-China, stem bark and leaves used as tonic and diuretic; decoction used as post-partum tonic.   (6)
Others
- Poison: Decoction of roots, mixed with food, will kill dogs and hogs feeding on it. The animals become nauseated or swoon and die.

Studies
• Glycosides / Rourinoside and Rouremin / Antimalarial / Stems: Study of dried stems of Rourea minor (Gaertn.) isolated two glycosides, rourinoside and rouremin, as well as 5 known compounds. Compounds 1-3 showed weak in vitro activities against Plasmodium falcifarum. (see constituents above) (1)
• Antidiabetic / Hypolipidemic / Roots: Study evaluated the antihyperglycemic potential of Rourea minor root in normal and STZ-induced diabetic rats. Acute toxicity study showed good tolerance to single doses as high as 3 g/kg. Results showed significant reduction (p<0.001) in serum glucose level. The ethanol extract was more effective in reducing SG compared to the aqueous extract. Both extracts exhibited significant reduction (p<0.001) in all tested lipid parameters. (3)
• Antihyperglycemic / Roots: Study evaluated the anti-hyperglycemic and serum insulin augmentation property of a methanolic extract of R. minor roots on STZ-induced diabetic rats. Results showed significant (p<0.05) increment of serum insulin levels and higher reduction of hyperglycemia compared to diabetic control rats. (4)
• Antihyperglycemic / Antihyperlipidemic / Effect on Insulin Levels / Roots: Study evaluated a methanolic extract of roots of Rourea minor for effects on serum insulin augmentation and anti-hyperglycemic property on STZ-induced. The diabetes induced rats were feed plant extracts of increasing dosage of 100, 200, and 400 mg/kbw. Results showed a significant (p<0.05) increment of serum levels and higher reduction in hyperglycemic compared to control. (7)
Availability
Wild-crafted.