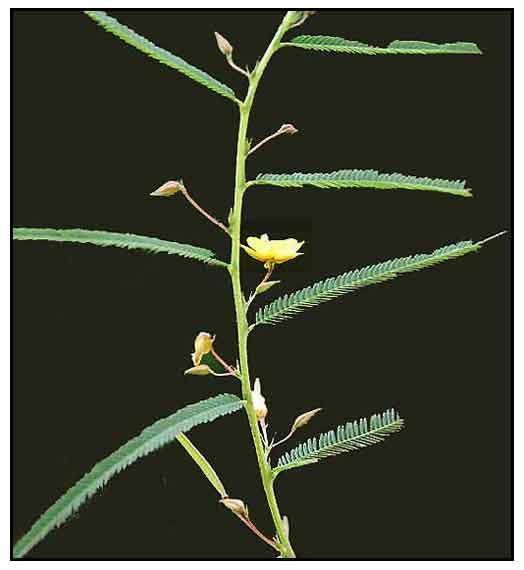 Botany
Karagain is a low, diffuse shrub, 15 to 30 centimeters or more in height. Leaves are 7 to 10 centimeters long, with 40 to 60 pairs of narrow leaflets, and a solitary, sessile gland on the rachis below the leaflets. Flowers grow one or two together in the axils of the leaves, shining, small and yellow. Pods are strap-shaped, flat, and about 5 centimeters long, containing rhomboid, dark-brown seeds.
Distribution
- In northern Luzon to Mindanao in open grasslands at low and medium altitudes.
In some areas, ascending to 1,500 meters.
- Also occurs in India to southern China, and southwardx through Malaya to Australia.
Properties
- Antidiarrheal, stomachic.

Parts used
Roots, stems, leaves.

Uses
Culinary
In Japan, young stems and leaves are dried and used as a subtitute for tea.
Folkloric
- Roots used as a cure for diarrhea.
- In tropical Africa, roots used for colic.
- Milk decoction used in dysentery.
- Entire plant used as remedy for facial eruptions.
- Roots given for stomach spasms.
In northwestern Tanzania, aerial parts of C. mimosoides are pounded and mixed with animal fat, applied topically or taken orally for fractures, cleaning of the uterus by pregnant women, as antibacterial. Also, aerial parts pounded with the leaves of Cassia polytricha and the paste tied around a fracture to promote healing.
New Age / Fat Burner Ingredient
Weight loss: Cassia mimosoides sold as extract or ingredient in diet pills and various weight-reducing products because of it possible lipase-inhibiting property, with consequent less fat being absorbed and stored. To date, there are no validating clinical data.

Studies
• Lipase Inhibitor / Fat Burning Potential: Studied as possible lipase inhibitor. Some studies in rats have shown fat loss; not demonstrated in humans.
• Nyctinasty: Novel and non-radioactive photoaffiity probes for the bioorganic study of nyctinasty are designed and synthesized based on potassium isolespedesate, a leaf-opening substance of Cassia mimosoides.
• Lipase Inhibitor / Anti-Obesity Effect: (1) In the course of screening lipase inhibitors among natural products, an extract from Nomame Herba (Cassia mimosoides L. var. nomame Makino) showed a remarkable inhibitory effect on lipase. CT-II inhibited lipase activity in vitro and suppressed body weight in a dose-dependent manner. Results suggest the lipase inhibitor CT-II was effective in preventing and ameliorating obesity, fatty liver and hypertriglyceridemia in rats feds a high-fat diet. (2) Study concluded that as a lipase inhibitor Cassia nomame extract reduced body weight and fat, reduced plasma triglyceride elevation and is an effective aid in preventing and ameliorating obesity, fatty liver and hypertriglyceridemia. Additionally, weight loss effect may be through enhanced thermogenic activity and diuretic effect.
• Hepatoprotective: Ethanol extract of Cassia mimosoides showed significant inhibitory effect on the dimethylnitrososamine-induced hepatic fibrosis in rats, and the inhibitory mechanism may be related to the protection of hepatic cells and the inhibition on collagen fiber synthesis.
• Suppression of Mitomycin Cytotoxicity: Study showed extract from Cassia nomame pods, leaves and stems can prevent the physiological damage in Chinese hamster ovary K1 cells treated with MMC (mitomycin C).
• Anticlastogenic Effects: Study evaluated the suppressing effect of a hot-water extract of C. nomame on the frequency of chromosomal aberrations in Chinese hamster ovary K1 cells. The frequency of chromosome aberrations in100 metaphase cells was significantly lower with the extract than without the extract.
Availability
Wild-crafted.
Raw materials and extracts in the cybermarket.