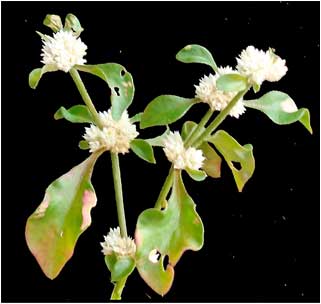 Gen info
Alternanthera, also called "joy weeds" is a genus of about 80 herbaceous species belonging to the amaranth family. A study showed the leaves to be lighy sensitive, ie, the darker the place, the greener the color. A. ficoidea lea ves tend to curl in full sun. source
Botany
Low and fleshy herb, with oval to broad-lanceolate leaves, variegated, in reddish-brown, orange, pink, green, or white colors. Flowers are in small heads, white or straw-colored, borne at the axils of leaves.
Distribution
Widely distributed in the Philippines.
Grows well in warm and sunny locations, although some bleaching may occur under full summer's sun.
Parts utilized
Leaves

Uses
Folkloric
No reported folkloric medicinal use in the Philippines.
Elsewhere, used for herpes.

Availability
Wild-crafted.