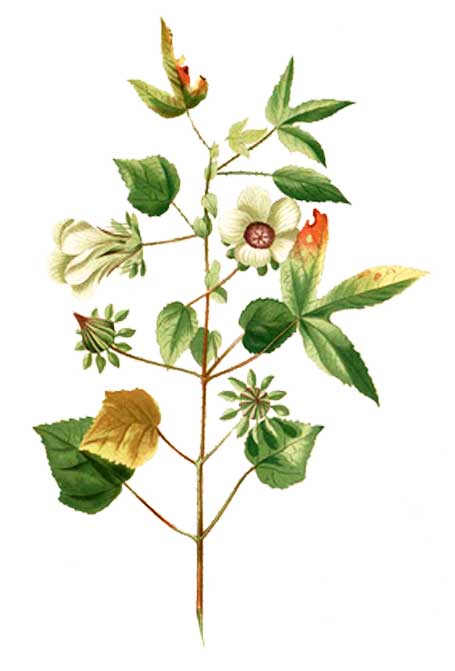 Botany
Labuag is a weak-stemmed trailing plant covered with soft hairs and scattered prickles. Leaves are rounded, toothed, and deeply and palmately 3- or 5-lobed. Flowers are yellow with a dark red center. Capsules are hairy and ovoid. Seeds are downy.
Distribution
- Most islands and provinces throughout the Philippines in open grasslands, at low and medium altitudes.
- Certainly introduced.
- Also occurs in tropical Africa, Asia, and Malaya.
Constituents
Seeds yield: oil, 13-17%, with a predominance of linoleic acid in the fatty acid component of the oil, followed by palmitic and oleic acids, and small concentrations of malvalic acid, sterculic, dihydrosterculic and epoxy acids.
Properties
- Rich in mucilage.
- Considered emollient, febrifuge, laxative, abortifacient.
Parts used
Leaves, stems and roots.
Uses
Edibility / Culinary
- Acid leaves used for salads or as a pot-herb.
- In India, fruit used in curries.
Folkloric
- In Senegal, plant used as an emollient.
Leaves used for cough.
- Zulus use a lotion or ointment of the stem and leaf as treatment for penile irritation; including venereal sores and urethritis. Infusion used as injection into the urethra and vagina for gonorrhea and other urethral inflammations.
- Decoction of leaves or roots used for skin complaints.
- In other traditional systems, used for paralysis, epilepsy, convulsions, pregnancy; as abortifacient.
- Leaf, root and fruit juice used for cutaneous parasitic infections.
Roots used as febrifuge, laxative; for tumors and cancers.
- In India, among the folklore herbalists and Tripuri medical practitioners, curry is made from its tender leaves and given to patients with jaundice.
Others
Plant yields a fiber of good quality.
In Brazil, used as a substitute for jute.
Provides material for roof thatching.

Studies
• Fatty Acid Composition: In a study of the fatty acid composition of seed oils of seven Hibiscus species of malvaceae, all contained 13-17% oil. Linoleic acid predominated in the component fatty acids of all oils, followed by palmitic acid and oleic acid.

Availability
Wild-crafted.