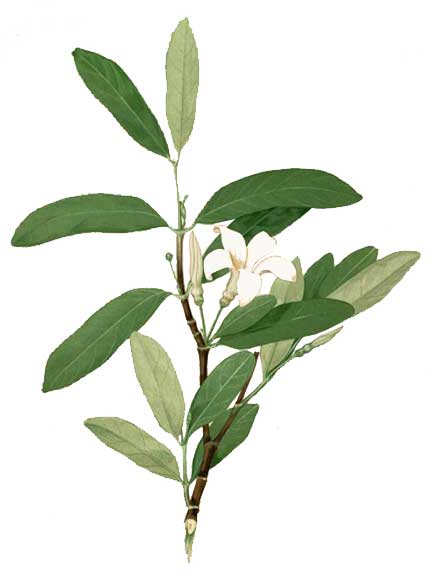 Botany
A tree growing to a height of 18 to 20 meters. Leaves are opposite, rather leathery, shiny, smooth, ovate, 7 to 12 cm long, 2 to 3.5 cm wide, pointed at both ends. Flowers are white or light green, showy and occuring in the axils of the leaves, singly or in pairs. Corolla is about 2.5 cm long, narrow below, wide above, with 5 lobes, each about 5 cm long and 1.3 cm wide. Fruit is a cylindrical follicle.
Distribution
Found in primary and secondary forests at low and medium altitudes.
Constituents
Bark contains alkaloids.
Properties
Bark and leaves may have progesterone like effects.
Parts used
Bark, roots, leaves.
Uses
Folkloric
Decoction of roots and bark used as abortifacient.
Leaves applied as head covering for headaches.
Others
Bark and leaves used as fish-poison.
Availability
Wildcrafted.