Botany
Lanting is a perennial herb with the leaves occurring in a rosette near the ground. Leaves are oblong or oblong-ovate, 5 to 10 centimeters long, with entire or toothed margins, usually 5-nerved, and borne on petiole often as long as the leaf blades. Flowers are usually in crowded on erect, slender spikes, 6 to 12 centimeters long. Corolla is small and smooth, with the lobes spreading or reflexed. Sepals are ciliated. Fruits are capsules, ovoid, about 3 millimeters long and containing 2 cells. Each cell has 4 to 8 angular, very minute, black seeds.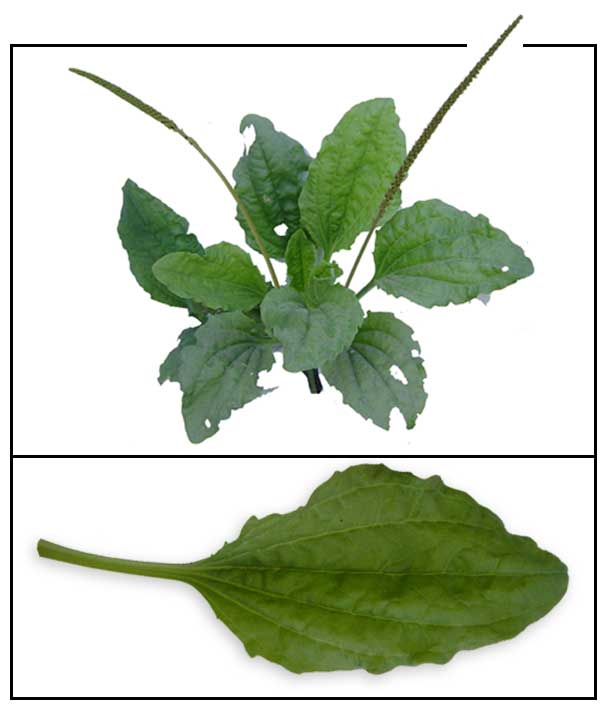 Distribution
- Occasionally in wastelands in and about towns, at medium altitudes, thoroughly naturalized.
- Probably introduced from Europe.
- Now a weed in most or all warm countries.
Constituents
- Plant contains a large amount of potassium salts and citric acid.
- Seed yield 16.7 to 22.1% of fixed oil.
- Leaves, roots, and flowers yield a glucoside, aucubin, and enzymes invertin and emulsin.
- Seed yield aucubin, choline, and organic acids succinic and platenollic acids.
- Contains polysaccharides, lipids, caffeic acid derivatives, flavonoids, iridoid glycosides and terpenoides.
- Phytochemical studies have yielded apigenin, baicalein, benzoic acid, chlorogenic acid, citric acid ferulic acid, salicylic acid, ursolic acid.
- Studies have revealed Aucubin, a glycoside, reported as a powerful antitoxin.
- Methanol extract of Plantago major subsp. intermedia (Gilib.) Lange yielded 4 known compounds: isomartynoside, 10-hydroxymajoroside, β-sitosterol, and ursolic acid.

Properties
- Slightly sweet, cooling.
- Considered antidote, antipyretic, astringent, diuretic, laxative, lymph deobstruent, ophthalmic, stomachic, vermifuge.
- Leaves considered emollient.
- Leaves reported as saline, bitter, and acid; the root saline and sweetish to taste.
- Seeds considered pectoral, demulcent, antidysenteric, mucilaginous, diuretic and antirheumatic.

Parts utilized
· Seeds and leaves.
· Harvest the seeds when fruits are ripe, fully grown with a plump and shiny.
· Sun-dry.
Uses
Nutrition
Edible: Leaves, roots, seeds.
Young leaves, raw in salad or cooked as pot herb.
Rich in vitamin B1 and riboflavin.
Folkloric
· For boils, furuncles, and abscesses, lesions are covered with fresh crushed material.
· Anuria and dysuria due to beriberi: Concentrated decoction of the whole plant or seeds. Use 9 to 15 gms of the whole plant or 6 to 12 gms of seeds.
- Decoction of plant used for asthma.
- Decoction of leaves used as emollient.
- Severe cough with plenty of phlegm which cannot be smoothly expectorated: Concentrated decoction of the whole plant or seeds with bark of Morus alba
- Insomnia, bloody urine, urinary lithiasis, nephritic edema, beriberi edema, hypertension, bronchitis: Decoction of 30 to 60 gms of dried or 30 to 90 gms of fresh material.
- Reddening and swelling pain of the eye.
- For furuncles, eczema and various skin irritation: Poultice of pounded fresh material.
- Gum inflammation or gingivitis: Use decoction as mouth wash or as gargle.
- Skin irritation: Apply decoction over affected area. The powdered seeds may be mixed with oil for treatment of dermatitis.
- Used as antidote and diuretic. Also used as poultice for sores, particularly inflamed fingernails. A watery extract of the seeds is given for whooping cough. To purify blood, stomachaches, and malaria, the whole plant is boiled and the decoction is taken internally as a diuretic for stone in the bladder.
- Decoction of root reported to cause a natural aversion to tobacco and used as an ingredient in smoking-cessation preparations.
- Decoction of leaves used as antidysenteric and vulnerary; used in burns, contusions, and ulcers of the mouth.
- Roots and leaves used to relieve coughs and consumption.
- Used for wasting diseases in men and women; promotes secretion of semen and conducive to fertility.
- Used to nourish the liver, assist in difficult labor.
- Malays used a decoction leaves for dysentery and gonorrhea.
- Leaves used as poultices for sores, particularly for inflamed fingernails.
- In Japan, watery extract of seed used for whooping cough.
- Zulus squeezed the leaf juice into the mouth and ears. Europeans used fresh leaf juice as a remedy for malaria.
- Transvaal Europeans plug the ears with the leaf to relive earache.
- Mucilaginous leaves are roots used as astringent and febrifuge.
- In Java used for diuretic for bladder stones. Used in decoction for diabetes, worms, hemorrhoids, and to purify the blood.
- In Romania and Bulgaria, used for cuts and scratches.
- In Ayurveda, used for constipation, diarrhea, dysentery.
- In China, used for colds and viral hepatitis.
- In Malaysia, used for treating diabetes and to increase male fertility.
- In Taiwan, used for treating respiratory, urinary and digestive tract infectious diseases.

Studies
• Review: The traditional uses, chemical constituents and biological activities of Plantago major L. A review: Well known in traditional medicine as a wound healing remedy. Studies have yielded biologically active compounds and a range of biologic activities as wound healing, antiinflammatory, antioxidant, analgesic, antiulcerogenic activity.
• Anti-Urolithiatic: In Vitro Effects of Plantago Major Extract on Urolithiasis: PM extract was better than allopurinol and potassium citrate in inhibiting the size of calcium oxalate crystals in vivo.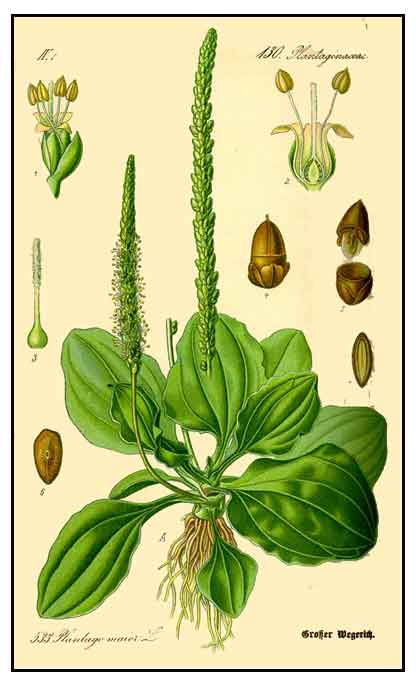 • Immunoenhancing: Plantago major leaves have been attributed antiinflammatory, antimicrobial, antitumor and wound healing properties. A methanol extract study of its leaves showed increases of nitric-oxide production, increase in TNF-a production. Study suggests the a regulation of immune parameters induced by plant extracts may be clinically involved in numerous diseases including chronic viral infections, TB, AIDS and cancer.
• Antibacterial: Effects of Methanol, Ethanol and Aqueous Extract of Plantago major on Gram Positive Bacteria, Gram Negative Bacteria and Yeast: The methanol and ethanol extracts of PM showed antibacterial activity against S. aureus and E col.
• Antiviral Activity: Study showed phenolic compounds to be responsible for PM antiviral activities against herpesvirus-2 and adenovirus-3.
• Smoking Cessation: (US Patent 6063401) - Plantago major and hypericum perforatum compound for use in treating a tobacco or nicotine habit – Patented claims on the use of P major and H perforatum as a smoking cessation preparation.
• Analgesic / Antiinflammatory: A study of the aqueous extract of dried ground leaves on rats showed effective antiinflammatory and analgesic activities.
• No Diuretic Effect: In a study of four traditional Vietnamese herbal remedies (Z mays, I cylindrica, Plantago major, O stamineus) claiming to increase diuresis, no diuretic effect was seen in a placebo-controlled double-blind crossover model.
• Hypoglycemic / Spermatogenic Effect: Study to evaluate its traditional use for diabetes and male fertility showed the aqueous leaf extract of PM could contain chemicals for treating diabetes and male infertility problems.
• Anti-Cancer: Study results showed that the PM extract had an inhibitory effect on Ehrlich ascites carcinoma and proposes an potential agent for cancer prevention.
• Antimicrobial: Study of several folk medicinal plants, including the ethanolic extract of PM, tested against several organisms, all showed higher antibacterial activity against E coli and S aureus.
• Anticancer / Antiviral / Immunmodulating: Study of the hot water extracts of P major and P asiatica showed a broad spectrum of anti-leukemic, anticarciboma and antiviral activities, as well as modulation of cell-mediated immunity.
• Ursolic Acid / COX-2 Inhibition: Study isolated a triterpenoid, ursolic acid, which showed significant COX-2 inhibitory effect, directly on enzyme activity.
• Hepatoprotective / Anti-Inflammatory: Study in carbon tetrachloride-induced hepatotoxicity, PM showed considerable anti-inflammatory and hepatoprotective activities.
• Hematopoietic Activity: Study of the extracts of the aerial parts (leaves and seeds) of PM, added to mice bone marrow and spleen cultures, E coli, B subtilis and C albicans cultures, showed bone marrow and spleen cell concentration and inhibition of the bacterial growths. Data demonstrates for the first time that PM has hematopoietic activity in vitro.
• Biochemical Studies: In an analysis for general chemical components, leaves yielded a high percentage of linolenic acid, 56.19% while seeds yielded 25.41%. Total phenols, flavonoids and tannin were highest in the Plantago leaves.
• Antioxidant: Study of P. major subsp. intermedia showed antioxidant activity, probably related to the presence of phenylpropanoid glycoside, isomartynoside.
• Anti-Urolithiatic Terpenoid: A methanol extract yielded an active terpenoid. The inhibition effect of the terpenoid of Plantago major extract on crystal size was much better than Zyloric and potassium citrate.
• Antitumoral / Ehrlich Ascites Tumor: Study of P. major extract in Ehrlich ascites tumor in mice showed a dose-dependent inhibitory effect on EAT.
• Wound Healing: Study of different leaf extracts from fresh and dried leaves in an in vitro scratch assay showed both water extracts and the more poly-phenol-rich ethanol extracts showed increased proliferation/migration of oral epithelial cells suggesting a wound healing effect.
• Anticarcinogenesis: Study in Swiss albino rats administered DMBA evaluated the effect of Pm extract on serum total sialic acid, lipid-bound SA and other trace elements. Results suggest PM may be partially effective in preventing carcinogenesis initiated by environmental carcinogen DMBA.

Availability
Wild-crafted.
Leaf extracts in the cybermarket.