Botany
Magdadakan is a low and spreading herb, up to 1 meter high, with slender twigs which are hairy when young. Leaves are smooth, except for the prominent midrib beneath, narrowly oblong, up to 9 centimeters long and 3.5 centimeters wide; the terminal ones much smaller, lanceolate, borne on 1-centimeter long petioles, acuminate and pointed on both ends. Flowers are axillary, white, crowded on heads in the axils of leaves. Calyx is bell-shaped. Corolla is a little longer than the calyx, and the limb separates into oblong, spreading segments. Fruit is green, smooth, somewhat rounded, 1.5 to 2 millimeters in diameter.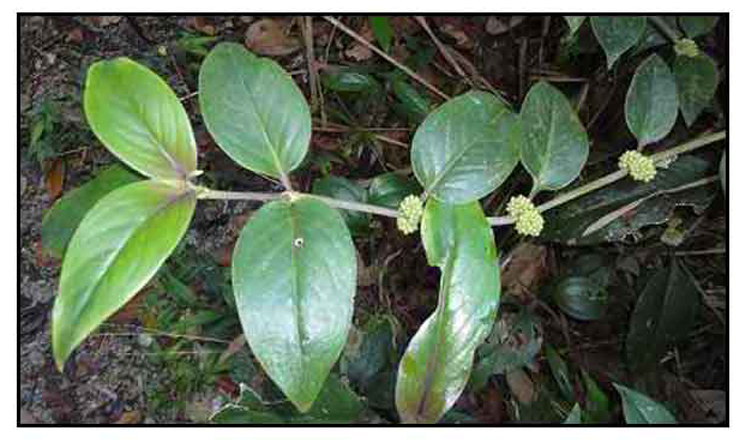 Distribution
- Commonly found In forests, chiefly at low and medium altitudes, from northern Luzon to Mindanao, and Basilan, in most islands and provinces.
- Also occurs in the Malay Peninsula and Archipelago.
Properties
Considered stomachic, anti-dysenteric.
Parts used
Roots.
Uses
Folkloric
- Roots used internally and externally.
- Decoction of roots used as a stomachic and for dysentery.
- Also used for gonorrhea.
- Poultice of roots applied to scalds and external body pain.
- Malays use a leaf infusion of H. congesta as baths for the infant made sickly by spirits.
Studies
• Smooth Muscle Activities: Of 27 plants studied, 48% demonstrated smooth muscle relaxant activity and 17% contraction. The bark of Hedyotis congesta demonstrated the most potent contraction.
• Antifungal: Methanol extract of bark and leaves showed activity against Candida albicans.

Availability
Wild-crafted.