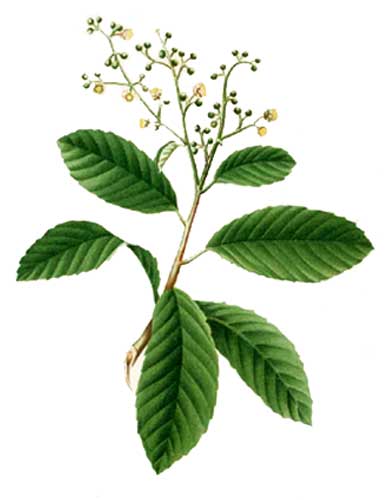 Botany
Malakatmon is a climbing vine growing about 3 to 4 meters in length. Leaves are leathery, harsh, oblong-ovate to oblong-elliptic, 6 to 12 cm long, toothed at the margins. Flowers are numerous, white, about 8 mm in diameter, and borne on terminal and axillary panicles, 10 to 25 cm long. Carpel is solitary. Fruit is oblong-ovoids, pointed, nearly 1 cm long, containing one hairy seed. Aril is cupular and toothed.
Distribution
Common in dry thickets, at low and medium altitudes.

Parts used
Leaves, bark.

Uses
Folkloric
Infusion taken internally for hemoptysis of consumptives.
Externally, used in treatment of sore throat, its action attributed to its large amount of tannins.
Others
Long ago, in KL, the finely abrasive leaf was used to polish pewter. source
Studies
• Anti-Hyperglycemic: Study on the crude aqueous and methanol extracts of the leaves of T. scandens, showed antidiabetic efficacy. There was significant reduction of fasting glucose in treated diabetic rats. The antidiabetic effect was comparable to glibenclamide.
• Xanthine Oxidase Inhibition: In a study of 288 extracts from 96 medicinal plants, the methanol extract of Tetracera scandens was among those that exhibited XO inhibitory activity.
• Increased Glucose Uptake: Study isolated five isoflavones of previously known structures: genistein, 3',5'-diprehylgenistein, 6,8-diprenylgenistein, derrone and alpinumisoflavone. Compounds 2 to 5 showed significant glucose-uptake activity. Results concluded that T scandens and its constituents exhibited highly desirable activities on T2 diabetes with significantly stimulated uptake of glucose in L6 myotubules.

Availability
Wild-crafted.