Botany
Malbas is a half-woody, branched, erect shrub, 0.5 to 2 meters high. Leaves are green and toothed, orbicular-ovate to broadly ovate, 5 to 12 centimeters long and nearly as wide, with a prominently heart-shaped base and pointed apex, the margins entire or irregularly toothed. Flowers are yellow, 2 to 2.5 centimeters, solitary, borne in the axils of the leaves, and opens in the evening. Fruits is a rounded capsule, 1.5 to 2 centimeters in diameter, with 15 to 20 somewhat hairy, shortly awned carpels.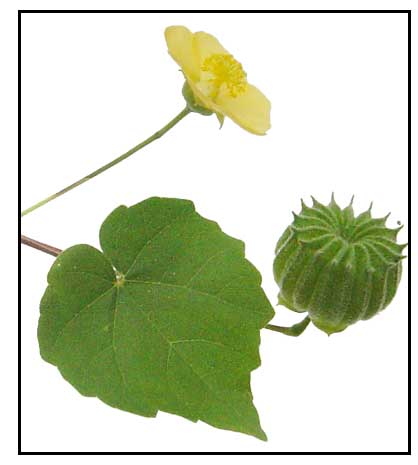 Distribution
- Throughout the Philippines in thickets and waste places in and about towns at low and medium altitudes.
- A common garden plant.
- Certainly introduced.
- Now pantropic.
Constituents
- Leaves contain a mucilage, tannin, organic acid, traces of asparagin, and ash which contains alkaline sulfates, chlorides, magnesium, phosphate, and calcium carbonate.
- Roots also contain asparagin.
- Study yielded two new compounds: abutilin A and (R)-N-(1'-methoxycarbonyl-2'-phenylethyl)-4-hydroxybenzamide plus 28 known compounds.
Properties
- Considered analgesic, anti-inflammatory, anthelmintic, aphrodisiac, astringent, demulcent, digestive, diuretic, expectorant, laxative.
- Leaves considered stomachic and antiperiodic.

Parts used
Whole plant.

Uses
Folkloric
- In the Philippines, decoction of leaves usd for cleansing wounds and ulcers.
- Decoction of leaves also used as enemas or vaginal injections.
- Leaves used as emollient decoction, used by Filipinos as demulcent, diuretic, sedative, and aphrodisiac.
- Plant leaves are demulcent; given as decoction for bronchitis, bilious diarrhea, gonorrhea, bladder inflammation, urethritis and fevers. Decoction also for fomentation over aching body parts for its emollient benefits.
- Bark is astringent and diuretic.
- Seeds are demulcent, laxative, expectorant and aphrodisiac; useful for gonorrhea and cystitis.
In China, used for tinnitus, deafness, earaches, fevers, hives, tuberculosis, weeping ulcers; as diuretic.
In India, used for coughs and fevers, body aches, hemorrhoids, gonorrhea, bronchitis, dysuria, diabetes, dysmenorrhea, diarrhea, boils and skin ulcers. Bark and root used as diuretic.
- Infusion of root used to relieve strangury and hematuria; also used for leprosy.
- Infusion of leaves and roots used as cooling medicine in fevers.
- Decoction of leaves used as mouthwash in toothache and tender gums; also used in gonorrhea and bladder inflammation.
- Flowers and leaves applied locally to boils and ulcers.
- Decoction of leaves yield a mucilage to hot water and used as fomentation for painful parts.
- Decoction of seeds used for piles and wounds. Also used for gonorrhea, gleet, and chronic cystitis.
- Seeds burnt on charcoal, and the recta of threadworm affected children are exposed to the smoke.
- In Indo-China, the young flowers and seeds are used as diuretic, emollient, and tonic.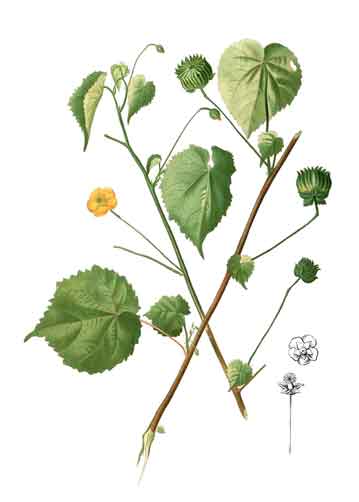 Studies
• Hepatoprotective: The aqueous extract of AI exhibited significant hepatoprotective activity by reducing CCL4 and paracetamol-induced changes. The extract may interfere with free-radical formation which may be responsible for the hepatoprotective action.
• Larvicidal: Isolation and identification of mosquito larvicidal compound from Abutilon indicum (Linn.) Sweet: Study showed the petroleum extract of A indicum may be a potent source of ß-sitosterol as a new natural mosquito larvicidal agent.
• Wound Healing: PHCOG MAG.: Research Article Wound Healing activity of Abutilon Indicum: Study showed wound healing activity which may be due to increase in collagenation deposition, better alignment and maturation.
• Diabetes: (1) Extracts of leaves showed significant hypoglycemic effect in rat study. (2) Study showed aqueous extract of A indicum has antidiabetic properties evidenced by inhibition of glucose absorption and stimulation of insulin secretion. Phytochemical studies yielded alkaloids, flavonoids, tannins, glycosides and saponins that could account for the pharmacologic effects.
• Analgesic: (1) Analgesic principle from Abutilon indicum: Eugenol, isolated from AI, was found to possess significant analgesic activity. (2) Study showed the extracts of A. indicum possess significant dose-dependent peripherally acting analgesic activity with a feeble centrally acting analgesic effect. (3) Study root extracts showed analgesic activity. The mechanism was attributed to a central mechanism or a peripheral analgesic mechanism.
• Antimycotic Activity: Methanolic extract of leaves of Abutilon indicum shows remarkable antifungal activity against Tricophyton rubrum and suggests further studies for possible therapeutic use.
• Lipid-Lowering Activity: The ethanolic and water extract of A indicum inhibited the elevation in serum cholesterol and triglyceride levels in rats and an increase in HDL lipoproteins in high-fat diet-induced hyperlipidemic rats. Comparatively, atorvastatin and gemfibrozil showed slightly better effects.
• Anti-Inflammatory Activity: Study of extracts of leaves of Abutilon indicum showed a biphasic effect on membrane stabilization, a measure of antiinflammatory activity comparable to standard drug diclofenac sodium.
• Anti-Diabetes / Insulin Resistance: Study results suggest that the extract of A. indicum may be beneficial for reducing insulin resistance through its potency in regulating adiposity differentiation and by increasing glucose utilization.
• Immunomodulatory: Study on the immunomodulatory activity of aqueous and ethanol extracts of leaves of AI on albino mice demonstrates it triggers both specific and non-specific immunological responses. Its immunostimulant effect could be attributed to the flavonoid content.
• Bronchial Asthma / Mast Cell Stabilizing Effect: Study showed A indicum's possible mechanism of action in the treatment of bronchial asthma may be due to its mast cell stabilizing and anti-inflammatory effect.
• Cytotoxic / Antimicrobial: Study of the crude methanolic extract of leaf of Abutilon indicum showed promising cytotoxic activity and the carbon tetrachloride extract showed mild to moderate antimicrobial activity.
• Antioxidant / Radical Scavenging Activity: Study showed dose-dependent antioxidant and radical scavenging activity in the extracts of both A indicum and A muticum.
• Analgesic / Antiinflammatory: Study showed both analgesic and anti-inflammatory activities. In both the activity of the methanol and aqueous extract was more than the other extracts.
• Antibacterial: Extracts of Abutilon indicum was tested against for antibacterial activity. The highest antibacterial potentials were observed against Staphylococcus aureus, Pseudomonas aeruginosa, and Klebsiella pneumonia.

Availability
Wild-crafted.
Powders and extracts in the cybermarket.