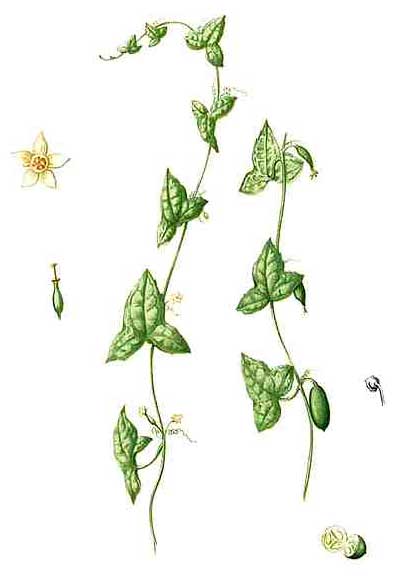 Botany
Melon-daga is a slender vine 1 to 2 meters long, with simple tendrils. Leaves are rough, triangular-ovate, 3 to 8 centimeters long, pointed at the tip, and heart-shaped at the base; the margins are subentire, irregularly toothed, or even slightly lobed. Flowers are somewhat straw-colored, solitary or few in each axil of the leaves, about 5 millimeters long, and borne on slender pedicels 1 to 2.5 centimeters long. Male and female flowers are often in the same axil. Fruit is ovoid or ellipsoid, pointed and about 2 centimeters long.
Distribution
- Along streams, old clearings, etc., at low and medium altitudes in the Batan Islands; Ifugao, Lepanto, and Benguet Subprovince; Bataan, Rizal, Laguna and Sorsogon Provinces in Luzon; and in Polillo, and Mindanao.
- Also occurs in India to China, and through Malaya to the Moluccas and Samoa.
Properties
Considered purgative.

Parts used
Leaves, fruit.

Uses
Folkloric
- Juice of leaves used to cure aphtha in children; also used for opacities of the cornea.
Fruit is used as purgative.
- In the Moluccas juice of leaves applied to sore places affected by thrush; used for eye affections.

Studies
• Apoptosis Induction / Cancer Cells: Invention describes a method of inducing apoptosis in cancer cells by administration of Melothria indica to cancer cells - leukemia cells or prostate cancer cells.
• Inhibition of TNF-a release: An extract from Melothria indica plant showed an effect on inhibiting the release of cytokines, including tumor necrosis factor alpha, by immune response cells, such as macrophages.
Availability
Wild-crafted.