Botany
Patolang-bilog is a climbing, hairy, smooth vine, reaching a length of 12 or more meters. Stems are four-angled. Leaves are rounded-ovate to kidney-shaped, 10 to 20 centimeters across, shallowly 5- to 7-angled or lobed, denticulate scabrous, with pointed tips and heart-shaped bases. Male flowers occur singly in the axils of the leaves on long-peduncled racemes, and are crowded at or near the apex of the peduncle. Calyx is green; lobes are ovate-lanceolate, about 1 centimeter long. Corolla is rotate, yellow, 5 to 7 centimeters in diameter. Female flowers are solitary and peduncled. Fruit is oblong, cylindric, smooth and green, 12 to 30 centimeters long. Seeds are black, about 1 centimeter long, very narrowly winged, smooth or very sparingly tubercled. Fruit is sweet and larger than the common and bitter wild form.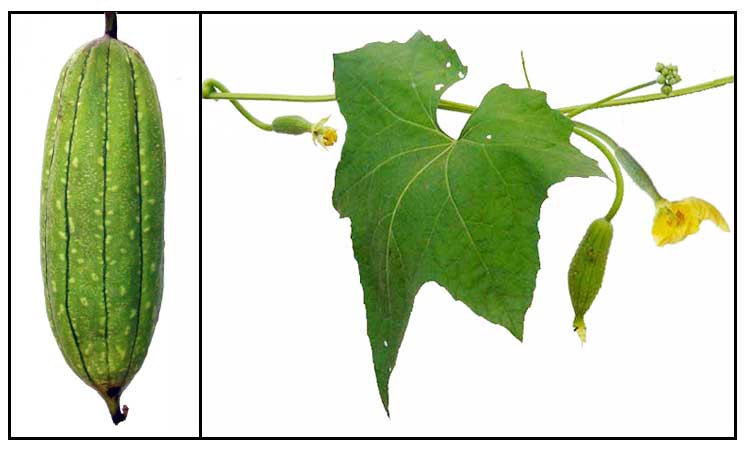 Distribution
Cultivated for its edible fruit.

Constituents
- Fruit contains abundant saponin.
- Luffa, the spongy fiber, contains cellulose, xylan, mannan, galactan, and lignin.
- Seeds contain a fixed oil (45%).
- Study confirmed the presence of a saponium, m.p. 268-270 C, which is crystalline, white, and bitter.

Properties
- Antiseptic, carminative, antitubercular, pectoral, cooling, antiseptic, galactagogue, emmenagogue.
- Root is hydragogue.
- Seeds are emetic and cathartic.
- Fruit considered anthelmintic, carminative, laxative, depurative, emollient, expectorant, diuretic, and lactagogue.



Parts utilized
Leaves, fruit.
Uses
Nutrition
· Fruits are edible, eaten as vegetable.
Folkloric
· Root is a hydragogue cathartic even in small doses.
· Liquid from steeped dried fruit used as emetic.
· Fruit of bitter form is a violent cathartic and emetic.
· Vine and root used for decaying teeth, ozoena, and parasitic infections.
· Leaves used for skin diseases and orchitis.
· In Java leaf juice used for amenorrhea.
· Infusion of seeds or an alcoholic emulsion is a drastic purgative and anthelmintic
· In Uganda, used to hasten childbirth.
· Seeds have been used in the treatment of asthma, sinusitis and fever.
· Tincture of seed oil used for various skin diseases.
· Fruit used in treatment of ascites, jaundice, biliary and intestinal colitis, fever, syphilis, tumors, bronchitis, splenomegaly and leprosy.
· Fruit used for bowel and bladder hemorrhage, hemorrhoids, toothache, smallpox, and scarlet fever.
· Fresh fruit considered cooling to the intestines, warming to the stomach, and tonic to the genital organs.
· Seeds used as emetic and cathartic.
· Infusion of seeds used as drastic purgative and anthelmintic.
Others
· Sponges: Cultivation is sometimes done for the ripe fruit for use in the manufacture of bath sponges.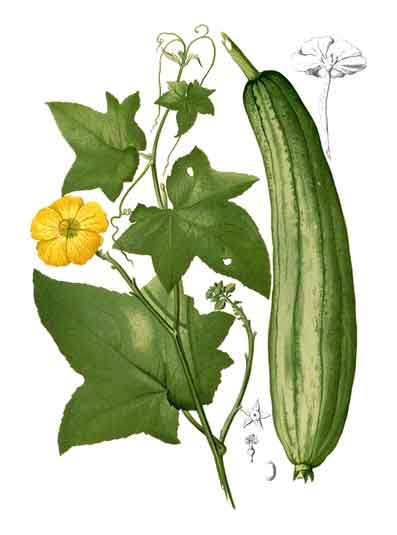 Studies
• Oxytoxicity: Study was done to validate the uses of Bidens pilosa and Luffa cylindrica in inducing labor in Western Uganda. Results showed the aqueous leafy extracts to be oxytocic, increasing rat uterine motility. Its bioactivity supports its therapeutic use as herbal remedies in childbirth.
• Antibacterial: (1) Study showed the seed extracts of LC to contain alkaloids, saponins and cardiac glycosides with antimicrobial activities against E coli, S aureus, S typhi and B subtilis. (2) Study of the aqueous extracts of seeds and fruits of Lc for its activity as drinking water disinfectant showed highly variable and dose-dependent inactivation of both faecal coliforms and total coliforms, the seed extract achieving higher coliform inactivation than the fruit extracts. Although the antimicrobial potential of fruits and seeds was demonstrated, the disinfection performance was less than required to be considered a reliable disinfectant for drinking water.
• Immunomodulatory: Isolated triterpenoids from LC showed immunostimulatory effect with significant dose-dependent activities in lymphocyte proliferation and phagocytic activity of macrophages.
• Cytotoxic / Abortifacient: Study isolated two proteins with ribosome-activating, cytotoxic, and abortifacient activities from the seed of L cylindrica.
• Antioxidant: Hydrophilic antioxidant constituents in the fruit of Lc yielded eight compounds. Results showed that consumption of sponge gourds can supply antioxidant constituents to the human body.
• Antitumor: Polysaccharides, aqueous extracts and proteins of M charantia, M balsamina and L cylindrica showed remarkable effects in reducing the number of viable Erlich Ascites tumor cells, as well as DNA, RNA and protein synthesis in the cells.
• Oxytocic: Study to validate the claimed uses of Bidens pilosa and Luffa cylindrica inducing labor during childbirth showed the aqueous leafy extracts of Bp and Lc increased rat uterine motility suggesting oxytocic activity and validates their therapeutic herbal uses in childbirth.
• Antihyperglycemic: Study of methanol extract of fruit in alloxan-induced diabetic Wistar rats showed remarkable dose-dependent antihyperglycemic activity.
• Antimicrobial: Study of extracts of whole plant of Lc showed significant antibacterial and antifungal activity in the chloroform extract.
• Anthelmintic: Leaf extracts of Lc were tested for anthelmintic activity against Indian earthworm Pheritima posthuma. Dose dependent activity was observed, with the methanolic extract showing more activity than the others.
• Hepatoprotective: Study evaluated the hepatoprotective activity of ethanol and aqueous extracts of the fruit of Lc in paracetamol-treated albino rats. Results showed significant hepatoprotective effect, with supporting histopathological studies.

Availability
Cultivated.
Common market vegetable.