Botany
Puso-puso is a small tree reaching a height of 10 to 15 meters. Younger parts are usually more or less softly hairy. Leaves are elliptical to oblong-elliptical, 9 to 20 centimeters long, broadly pointed at the base and tapering to a fine, pointed tip. Flowers are small and yellowish, crowded in umbels in the axis of the upper leaves. Fruits are rounded, about 8 millimeters in diameter.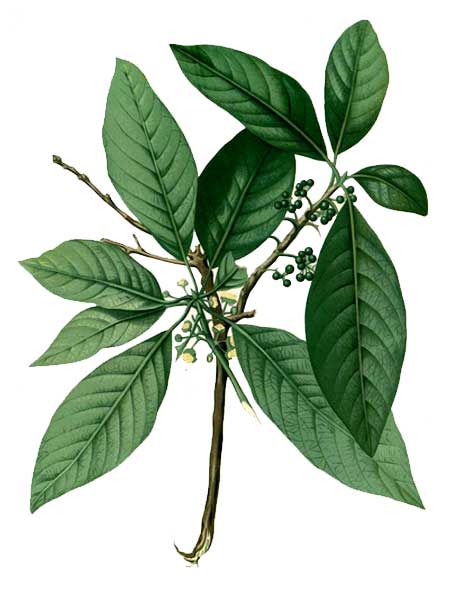 Distribution
- In secondary forests at low and medium altitudes throughout the Philippines.
- Also occurs in India to southern China, through Malaya to tropical Australia.
Constituents
• Seeds contain a slightly aromatic, tallowlike oil (49%); 85% of which is laurostearin; the rest, olein.
• Study yielded volatile oil constituents from the leaf and fruit. The major constituent from the leaf was phytol, caryophyllene, thujopsene and B-myrcene; from the oil, lauric acid, a-cubebene and caryophyllene. Phytol, the main component of the leaf is totally absent from the fruit; and lauric acid, found in the fruit oil, is absent from the leaf oil.
• Study isolated a water-soluble arabinoxylan (d-xylose and l-arabinose) from the mucilaginous bark.
• Study extracted mucilage polysaccharides from the leaves, 12.0%.
• Study yielded a new abscisic derivative, litseaglutinan A and a new arylnaphthalene-type lignan, together with nine known lignans.


Properties
• Leaves are considered antispasmodic, emollient, wound healing.
• Roots considered emmenagogue.

Parts used
Roots, bark, leaves, seeds

Uses
Folkloric
- In Jolo, decoction of roots used as emmenagogue.
- In the Visayas, poultice of roots and leaves used for sprains and bruises.
- Decoction of bark used for intestinal catarrh.
- In Singapore, seeds are pounded and applied to boils.
- Poultice of freshly grounded bark used for wounds and bruises.
- In the Dutch Indies, leaves used as poultices.
In Bangladesh, leaves are used for diarrhea and dysentery, for excessive semen flow in young boys, poultices for wounds and bruises. Also, used for insomnia and neurosis.Oil from berries used for rheumatism.
• In India the bark is used as demulcent and as mild astringent in diarrhea and dysentery. Also, the paste of bark applied to wounds to facilitate wound healing.
• In Mauritius, in a concoction for intestinal parasitism, 3 leaves of LG is combined with 3 leaves of Psidium guajava and 6 pieces of Phymatodes scolopendria rhizomes. For dysentery, the combination of P scolkopendria and L glutinosa. source
• In India, leaves are used for nausea, vomiting and diarrhea. Decoction of bark applied to sores, scabies and to aches and pains. Juice of crushed leaves applied to sore eyes. Bark preparations also used for pain and arousing sexual capability.
Others
- Soap Making: Seed oil used by the Chinese in making of white soap.
- Wood: Used for light construction; firewood and charcoal.
Studies
• Antibacterial: In a study of the antibacterial activity of some Indian medicinal plants, LG showed highest activity against S aureus and lowest with P aeruginosa. (2)
• Hypotensive: Study showed the essential oil to reduce blood pressure when given intravenously to rats. Effect was attributed to ligustilide, a main component.
• Antioxidant: In a study of ethyl acetate and methanol leaf extracts showed antioxidant activity.
• Phytochemicals: Study of extract of leaves and twigs yielded two new aporphine alkaloids: litseglutine A and B, with two known aporphine alkaloids, boldine and laurolitsine.
• Antioxidant / Wound Healing / Anti-Inflammatory: Phytochemical screening yielded flavone glycosides, reducing sugars, aminoacids and tannins. Results showed the extracts have significant antioxidant, anti-inflammatory and wound healing activity and supports the traditional use of the plant for some painful and inflammatory conditions.
• Larvicidal / Mosquito Control: In a study, Litsea glutinosa delayed the molting of larvae into pupae resulting in the abnormal development of mosquitoes at later stage The results suggest a significant potential in vector control.
• Antibacterial / Phytochemicals: Various dried extracts yielded alkaloids, glycosides, flavonoids, saponins, tannins, and phenolic acids. The bark extracts showed antibacterial and antifungal activities against Staph aureus, P aeruginosa, Salmonella typhi, E coli, A fumigatus and C albicans.
• Leaf Oil Composition: Steam distilled fresh leaves produced an oil in 0.15% yield. The essential oil yielded 78 compounds, 95.18% were terpenoids. The major components were (E)-b-ocimene, b-caryophyllene, and bicyclogermacrene.
• Glutin / Flavon Glycoside: Study yielded a new 2'-oxygenated flavone glycoside, glutin, along with four known compounds.
• Analgesic: Study of an ethanol extract of the bark of L. glutinosa showed a significant increase in pain threshold.

Availability
Wild-crafted.