Botany
Ramie is an erect, branched, monoecious perennial shrub, 1 to 2 m high, with a single cylindrical stem, hairy branches and petioles. Leaves are long-petioled, alternate, broadly ovate, 10 to 18.5 cm long, 6 to 14 cm wide, with tapering pointed tips, coarsely toothed margins, the upper surface green, roughened with few scattered hairs, the lower surface white, except the nerves, and densely covered with appressed, matted, white hairs. Flowers are small and clustered; the clusters arranged in axillary panicles shorter than the petioles; unisexual, apetalous. Staminate (male) flowers have 4 calyx lobes which are green in color. Stamens are 4.
Distribution
- Naturalized in Batan and Babuyan Islands.
- Cultivated in Mindanao and other parts of the Philippines for its fiber.
- A nativeof southern China; also, cultivated in many tropical and subtropical countries.

Constituents
- Bast contains lignin, 1.46%, and cellulose, 65.9%.
- Ash of leaves contains SiO2, 42.5%; CaO, 34.2%; K2O, 4.1%; NaO, 0.9%; MgOm 6.5%; P2O5, 4.8%; SO3, 1.84%; Cl2, 1%.
- Leaves contain chlorogen acid.
- Study on chemical constituents of leaves yielded: kiwiionoside, eugenyl beta-rutinoside, uracil, beta-sitosterol glucoside, 3-hydroxy-4-methoxy-benzoic acid, cholesterol, alpha-amyrin, and nonacosanol.
Properties and constituents
- Mildly bitter and sweet tasting.
- Considered antipyretic, cooling, demulcent, diuretic, and resolvent.
- Like the common nettle of Europe, possesses styptic properties.
Parts utilized
Roots, stems and leaves
Propagation through cuttings from the rhizomes and by seeds.
Uses
Folkloric
· No known folkloric medicinal use in the Philippines.
· In China roots are reputed to be quieting to the uterus and recommended in threatened abortion.
· Pounded fresh leaves may be used as poultice for swelling pains caused by sprains.
· Regulates placental movement, hemostatic; for cold fever, urinary tract infection, nephritic edema, edema among pregnant women, abnormal placental movements, and excessive menstrual flow: 15.6 to 31 gms dried material in decoction.
· Used in wounds from poisoned arrows, for snake and insect bites.
· In decoction, used as local application in rectal disease.
· Leaves used in wounds and fluxes as astringent.
· Decoction of roots and leaves used as tonic in cases of dysentery.
· In Taiwan, used in folk medicine for hepatoprotection and hepatitis treatment.
· Malays used the leaves for pouticing boils.
· Used for treatment of fluxes and wounds, prevent miscarriages and promote drainage of pus.
Others
· Fiber: A source of fiber or a constituent of fabric with cotton, wool or silk. It is one of the oldest texttile fibers, used in mummy cloths in Egypt around5000-3300 BC.
• Papermaking: Also used for production of papers, bank notes and cigarette papers.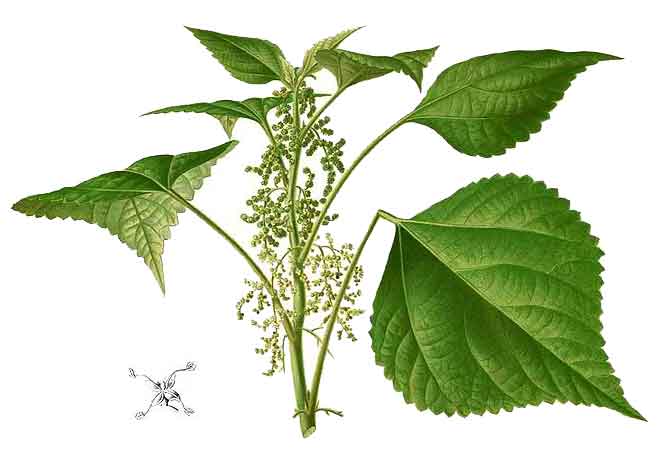 Studies
• Anti-Hepatitis B: (1) The study on the BN extract exhibited potential anti-HBV activity in the animal model of HBV viremia. (2) BN extract significantly inhibited HBeAg and particle-associated HBV DNA secretion in an anti-HBV machinery different from the nucleoside analogues.
•Antioxidant / Hepatoprotective: In a study of carbon tetrachloride-induced liver injury, results suggest the hepatoprotective and antioxidative effects of BN probably involving mechanisms related to free radical scavenging.
• Pollen-Induced Bronchial Asthma: B nivea has been established to be a cuase of asthma. The study showed no cross-reactivity with Parietaria and suggests that ramie may be a new independent allergen.
• Safety Study for Embryonic Development: With its traditional use in treating miscarriages, study was done in pregnant mice to examine safety for embryonic development. Study of extract showed no significant embryotoxicity or maternal toxicity in mic, although it might cause cytotoxicity in cultured embryonic stem cells.
• Free Radical Scavenging Activity: Study of ethyl acetate and n-butanol fractions of the root showed profound free radical scavenging activities.
• Benefits for T2 Diabetes / Cancer / Neurodegenerative Diseases: Ethyl acetate extract showed maximum B-glucosidase inhibition. Leaf extract demonstrated the highest B-galactosidase inhibitory activity. The plant also exhibited notable BChE and moderate AChE inhibitory activity.Results suggest the whole plant provides strong biochemical rationale for the treatment of T2 diabetes, cancer and neurodegenerative diseases.

Availability
Wild-crafted.