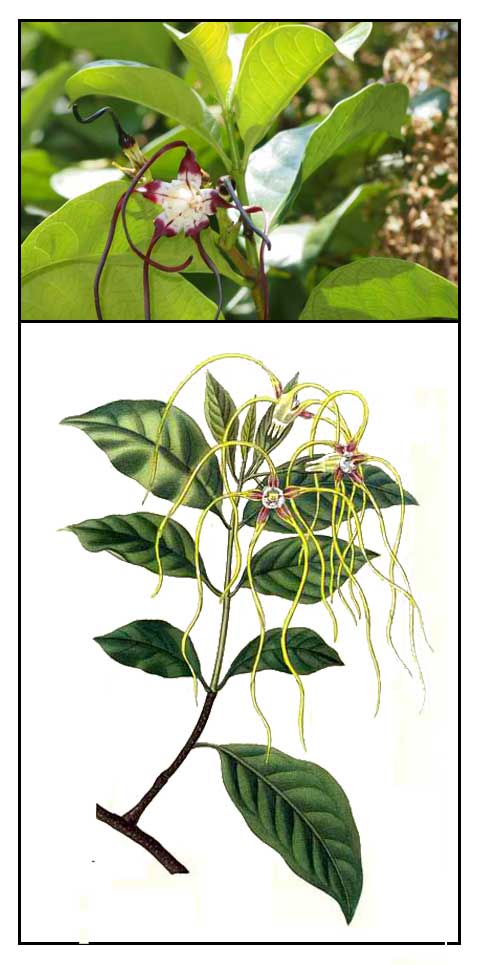 Gen info
• Strophantus is a genus of 35-40 species of flowering plants in the Apocynaceae family
• Strophos anthos, "twisted cord flower," derives from the long twisted threadlike segments of the corolla. (4)

Botany
Sarasara is an erect, somewhat climbing shrub about 3 meters high. Leaves are oblong-elliptic, 8 to 13 centimeters long, 3 to 5 centimeters broad, and pointed at both ends. Flowers are white. Sepals are lanceolate, about 4 millimeters long. Corolla tube is 10 to 12 millimeters long; the corolla lobes are continued into a slender, tail-like projection, about 10 millimeters long. Fruit consists of a double follicle, each about 15 to 17 centimeters long and 4 centimeters wide, with a pointed tip. Follicle is somewhat woody and contains numerous seeds, each of which terminate in a long, slender projection with numerous, long hairs.

Quisumbing's compilation publishes S. letei as closely allied to S. cumingii, differing only in its smaller flowers and smooth filaments. The Plant List lists both S. letei and S. cumingii as synonyms of S. caudatus. (see: Abuhad-baging / Strophanthus cumingii)
Distribution
- Found in La Union Province, growing in thickets at low altitude.
- S. caudatus is reported in E. Asia- Philippines, southern China, Myanmar, Thailand, Cambodia, Laos, Vietnam, Malaysia, Indonesia, New Guinea.
Constituents
- Bark of roots and stems yield saponin, 2.1% in roots, 0.9% in bark. It is somewhat similar to pseudostrophanthin . In animal studies, the saponin, in the form of an amorphous powder, increases the tone and augment heart contraction and increases blood pressure. By mouth, the drug produces emesis.
- In biological assay, the powder was found to possess one-twentieth the strength of ouabain.
Properties
- Bark of roots.

Parts used
Bark.s

Uses
Folkloric
In the Philippines, bark is employed as an effective arrow-poison.
Studies
• Glycosides: The glycosides of Strophanthus cumingii A. DC. were compared with cardiogenic glycosides (digitoxin, ouabain, and strophanthin) by paper chromatography. (2)
• Cardioactivity / Bark: Study evaluated the cardioactivity of bark extract of S. cumingii and its sub-fractions on isolated frog hearts. The hexane fraction was the most cardioactive with maximum 30.58% increase in force of contraction and 38.24% increase in frequency of contraction. The non-polar fraction of the crude extract from bark elicited a positive inotropic and negative chronotropic effect. (3)

Availability
Wild-crafted.