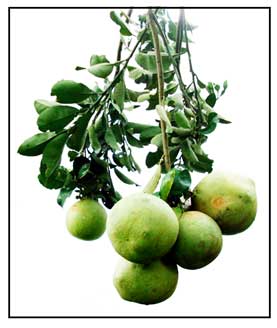 Botany
A small tree, 6 to 13 meters in height. Spines, solitary, sharp and long. Flowers are white, fragrant, and crowded in short axillary racemes. Fruit is large, obovoid to spherical, up to 20 cm in diameter. Pulp is pale yellow, pink or red, with large distinct vesicles.
See:
Dalanghita
Distribution
Found throughout the Philippines, usually planted.

Constituents
• Leaves - volatile oil, 1.7% - dipentene, 25%; linalool, 15%; citral, 3.5%; a-pinene, 0.5-1.5%; d-limone, 90-92%.
Pericarp - saccharose, reducing sugar; organic acid.
• Juice - insulin like substance; lycopene; vitamin C; peroxidase; sugar, 14.3%; acid, 1.1%; fat, 0.33%; cellulose, 1.3%; nitrogenous substances, 1.6%
• Rind - crystalline glycosidal bitter principle, naringin (peviously reported as hesperidin), 0.2-1.6% ; , 10%; pectin, 10%; peroxidase.
• Phytochemical studies of various Citrus spp. yielded naringin, hesperidin, diosmin and naringenin.
• Phytochemical study of the peel of the grapefruit isolated five compounds: friedelin, b-sitosterol, limonin, cordialin B, and a previously unreported compound, 7(3',7',11',14'-tetramethy)pentadec-2',6',10'-trienyloxycoumarin. source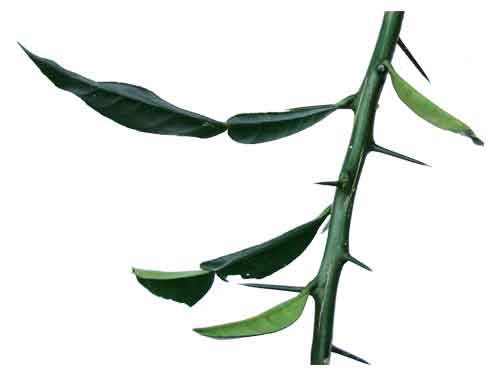 Parts used and preparation
Leaves and fruit.

Uses
Nutritional
Food - Fresh fruit and preserved rind.
Fresh fruit ia good source of vitamin B, iron and calcium.
Folkloric
Nausea and fainting: Squeeze rind near nostrils for patient to inhale.
Aromatic baths: Boil leaves in water.
Infusion or decoction of flowers and leaves for nervous affections, coughs, ulcers.
Peel or rind, dried or in decoction, for dyspepsia.
Boiled seeds in a gallon of water can be used for sitz-baths.
In the Himalayas, fruit juice recommended for ulcers; used in diabetes; and mixed with black pepper and a little rock salt, used for malaria. Fruit juice with its pulp, with honey, is given to improve urinary flow. source

Studies
• Interaction of with Cytochrome P450 Enzymes: Study of the relationships of plant constituents and CYP450 enzymes, such as grapefruit with CYP2A6.
• Antimicrobial: Grapefruit seed extract (C paradisi) was found effective against P aeruginosa. The active ingredient was naringenin.
• Anthelmintic: Alcoholic extract of the rind of Citrus decumana showed good in vitro anthelmintic activity against human Ascaris lumbricoides.
• Antioxidant / Anti-inflammatory / Analgesic: Study of peel extract in four solvent systems showed sgnificant dose-dependent antioxidant activity, a significant decrease in paw volume and pain. Resuts suggest the peel extract may be a useful as a natural antioxidant in the treatment of inflammation and pain.
• Antioxidant / Free Radical Scavenging: Fresh red pummelo juice is an excellent source of antioxidant compounds and showed great efficiency in scavenging different forms of free radicals including DPPH, superoxide anion, and hydrogen peroxide radicals.
Caution !
• Drug interactions / Impaired Absorption
(A) P-Glycoprotein / Organic Anion Transporting Polypeptide: Concerns have been reported on drug-grapefruit interactions because of the ability of grapefruit juice to inhibit the metabolism of some drugs. Grapefruit weakly inhibits the intestinal wall P-glycoprotein (p-GP), an efflux pump in enterocytes which is responsible for the intestinal secretion of many drugs. Another transport system affected by grapefruit is the OATP, organic anion transporting polypeptide; drugs handled by this sytem may suffer decreased absorption.
(B) Furanocoumarins / Bergamottin: Grapefruit contains furanocoumarins, the most common are bergamottin and 6'7'-dihydrobergamottin which irreversibly inhibits cytochrome P450 3A4 isoenzymes in the intestinal wall, which may affect the metabolism of certain drugs consumed up to 72 hours of grapefruit consumption.
Some Drugs that should be avoided with grapefruit (incomplet list)
| | | |
| --- | --- | --- |
| amiodarone (Cordarone) | colchicine | quinidine (Quinaglute) |
| atorvastatin (Lipitor) | lovastatin (Mevacor) | sildenafil (Viagra) |
| budesonide (Entocort) | mifepristone (Mifeprex) | simvastatin (Zocor) |
| buspirone (BuSpar) | pimozide (Orap) | sirolimus (Rapamune) |
Some Drugs that should be used with caution with grapefruit (incomplet list)

| | | |
| --- | --- | --- |
| albendazole (Albenza) | diazepam (Valium) | losartan (Cozaar) |
| aripiprazole (Abilify) 5 | erythromycin | nifedipine (Procardia) |
| bupropion (Wellbutrin) | felodipine (Renedil, Plendil) | simvastatin (Zocor) |
| dextromethorphan | fexofenadine (Allegra) | triazolam (Halcion) |
For a complete list of food to be avoided with grapefruit, go to:
powernetdesign.com
Availability
Commercial cultivation.