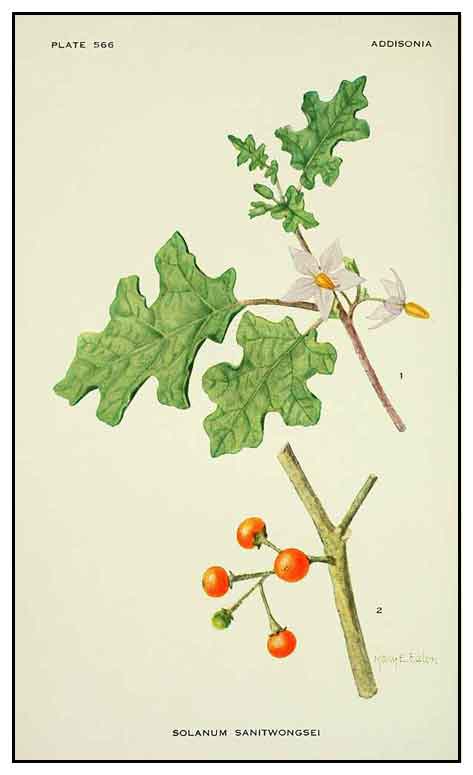 Botany
Talong-Siam is a half-woody shrub growing 0.5 to 1 meter high. Leaves are oblong-ovate, 5 to 9 centimeters long, 3.5 to 8 centimeters wide, blunt at the tip, heart-shaped, square-shaped or pointed at the base, lobed in the margins, and hairy underneath. Flowers are bluish, on 8- to 15-millimeter stalks, and borne on racemes. Calyx is oblong-triangular, about 4 millimeters long. Corolla lobes are oblong-lanceolate, about 8 millimeters long and 5 millimeters wide. Fruit is yellow or yellow-orange, smooth, somewhat rounded, and up to 1 millimeter in diameter. Seeds are compressed, pale, copiously punctulate, and 2 millimeters in diameter.
Distribution
- Limited cultivation in Manila.
- Seeds originated from Bangkok, Siam.
Properties
Fruits considered anti-diabetic, diuretic and expectorant.

Parts used
Fruit.

Uses
Edibility
- In Bangkok, the berries are regular market produce fare.
Folkloric
- Used in Siam for diabetes. Ingestion of the berries with each meal used for both cure and prevention. The discovery of the use of the plant by made by the late Dr. Yai S. Sanitwongse. His early study suggested a correlation between the used of the fruit as condiment with meals in diabetics, with a marked effect in sugar lowering
Availability
Cultivated.
Seeds in the cybermarket.