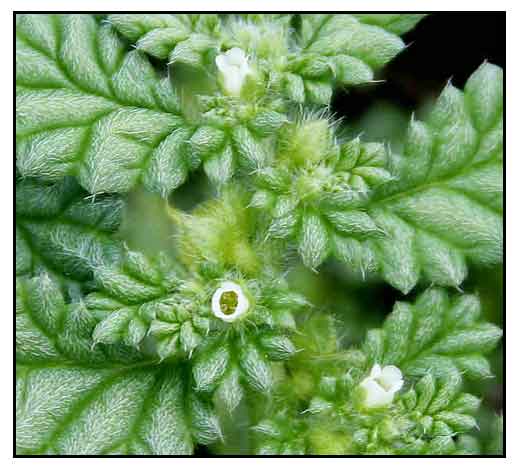 Botany
Tapiasin is an annual, hairy herb. Branches are procumbent, spreading flat on the ground, and growing as long as 25 centimeters. Leaves are elliptic to oblong-obovate and 1.5 to 2.5 centimeters long, with coarsely toothed margins, blunt tip, and a very unequal base. Flowers are white and small, and borne in the axils of the leaves. Sepals are four, narrow, with four lobes which are imbricate in bud. Fruit is conical, 3 to 4 millimeters in diameter, containing four 1-seeded pyrenes.
Distribution
- Found in Cagayan, La Union, Pangasinan, Zambales, Pampanga, and Rizal Provinces in Luzon; and in Mindoro, in dry open places, fallow rice paddies, etc. at low and medium altitudes.
- Now, pantropic.
- Widespread in tropical and subtropical Africa, Asia and Australia.

Parts used
Leaves, juice, aerial parts.

Uses
Folkloric
- In the Philippines, leaves are applied as poultice to mature abscesses.
- Dried leaves, when pulverized, provoke sneezing.
- In India, fresh leaves are ground up and applied to rheumatic swellings. Leaves applied externally to cause suppuration of boils. Leaves also used for fever, piles, and scorpion stings. Powdered roots are included in formulations used for leucorrhea and menorrhagia. Root decoction used as aid for digestion.
- In Tamil Nadu, juice of leaf taken orally to prevent white discharge in women.
- In southern India, a herbal concoction made with a mixture of leaves of C procumbens, flowers of Ixora coccinia, leaves of Centella asiatica and stem bark of Madhuca longifolia is boiled in water and the decoction applied topically with coconut oil for wound healing.
- Decoction of aerial parts used for tendonitis.

Studies
• Antidiabetic: Study of C. procumbens on alloxan-induced diabetic rats showed the test drug to have good hypoglycemic effects. Results showed reduction of blood glucose, triglycerides and cholesterol levels.
• Anti-Inflammatory: Ethanolic extract of the aerial parts of C. procumbens exhibited significant anti-inflammatory activity with inhibition of carrageenan-induced rat paw edema and inhibition of leukocyte migration and reduction of pleural exudates in the cotton pellet granuloma method.
• Antibacterial: (1) Study of aqueous extract showed antibacterial activity against B. subtilis, S. aureus, E. coli, P. aeruginosa, P. vulgaris and K. pneumonia in comparison with standard drug ciprofloxacin. (2) Ethanolic extracts of leaf of C. procumbens showed significant antibacterial activity against S. aureus, Strep pyrogenus.
• CNS Depressant Effects / Analgesic: Alcoholic extract of whole plant produced central nervous system depression and significant prolongation of pentobarbitone sleeping time. The extract also exhibited significant analgesic effect.
Availability
Wild-crafted.