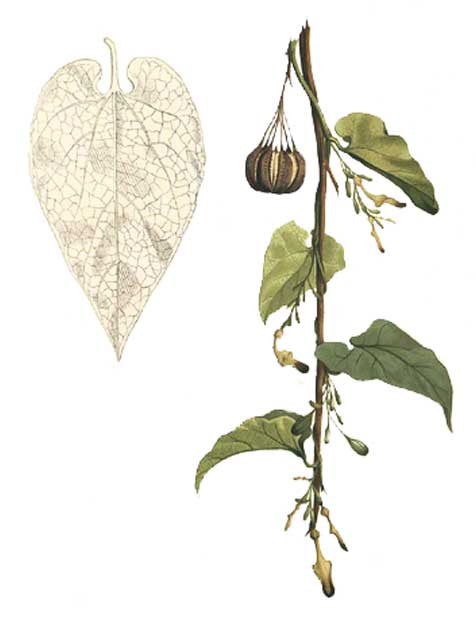 Gen info
Etymology: Birthwort derives its name from the similarity of the the curved flower to a womb. Likewise, "dutchman's pipe" is shape-derived. Aristolochia is derived from two Greek words: cristos (noble) and locheia (childbirth).
Taxon : Aristolochia tagala is now known as Aristolochia acuminata Lam. (J.Bosser, Adansonia Ser.3, 19(1):169-170(1997)
Botany
The plant is a twining, half-woody, nearly smooth vine. Leaves are simple, alternate, ovate to oblong-ovate, 6 - 25 cm long, 4 - 10 cm wide, with a tapering pointed tip and prominent heart-shaped base. Flowers are borne in axillary racemes, 3 to 3.5 cm long, with purplish, slender perianths. The inflated globular base of the flower narrows into a curved, cylindrical tube, the tip opening into a large and oblique yellow and purple-rimmed mouth. Capsule is pendulous, ovoid, obovoid or oblong-ovovoid, 2 to 4 cm long with a long stipe.
Distribution
Throughout the Philippines in thickets, at low and medium altitudes.
Parts utilized
Roots, leaves.
Properties and constituents
• Powdered roots are considered tonice, carminative and emmenagogic.
• Roots probably contain the alkaloid aristoloquin and a yellow bitter principle isoaristolochic acid and allantoin.
Uses
Folkloric
• For infantile tympanites, powdered and pulverized roots are applied to the abdomen.
• Used for snake bites and malaria.
• For fever, the Malays apply the pounded leaves to the forehead.
• In Indonesia, poultice of leaves used for swollen abdomen and limbs.
• In India, roots are used for bowel complaints. Oil from leaves applied to the skin at night to prevent snakebites.
• In China, used for dysentery, hypertension, beriberi and swollen feet.

Studies
• Aristolochic Acid / Toxicity Concerns: Nephrotoxic aritolochich acid is found in man Aristolochia species and used in many regions of the world for abominal problems and snakebites. In China and Europe, species of Aristolochia have been associatged with nephropathy. (2) In mice treated with aristolochic acid 1, the acute toxic manifestations were tachycardia, increases respiratory rate, ataxia, sedation and marked vasodilation.
• Antioxidant / Radical Scavenging Activity: In a study of five Aristolochiaceae species for antioxidant properties, Aristolochia tagala showed the highest antioxidant activity, with the highest reducing power and amount of total phenolic compounds.
• Aristolochic Acid / Toxicity Study: (1) In a 1970 study, mice treated with aristolochic acid 1, the acute toxic manifestations were tachycardia, increases respiratory rate, ataxia, sedation and marked vasodilation. Short-term chronic toxic effects included hepatotoxicity, marked renal damage and mild hematologic dyscracias. (2) Aristolochic acide nephropathy, a progressive renal interstitial fibrosis, was reported in more than 100 patients after taking a Chinese herb, Aristolochia fangchi. Another report of a series of more than 2000 Indian patients from a population that used more than 7500 plant species raises the question that some of them could be related to Aristolochia species, including A bracteata, A tagala and A indica.
• Antimicrobial: In a study of 61 Indian medicinal plants belonging to 13 families used for various infectious disorders and screened for antimicrobial activity, Aristolochia indica was one of 10 crude extracts that exhibited significant antimicrobial activity.
• Larvicidal Acid: Bioefficacy of leaf and root extracts of Aristolochia tagala was evaluated on its effects on Spodoptera litura's feeding, larvicidal and pupicidal activities. Dose-dependedt effect of test extracts were observed. Results suggest a potential for a new botanical formulation in pest management.
Availability
Wild-crafted.