Botany
Toston is a weed; a smooth or nearly smooth, prostrate, somewhat succulent herb, with branches up to 60 centimeters in length, with a rounded, tapering base and apiculate apex. Flowers are axillary, solitary, and stalkless, with pink, overlapping, oblong, mucronate calyx-lobes, 4 to 5 millimeters long. Capsule is truncate, 5 to 6 millimeters long. Seeds are about 10, small, black and kidney-shaped.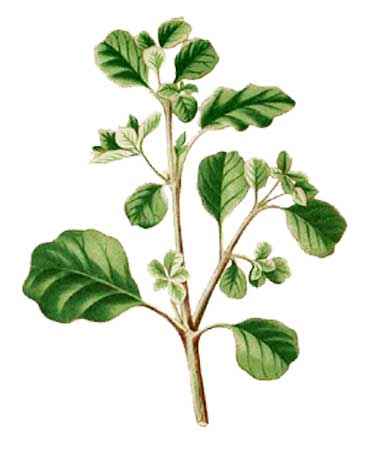 Distribution
- Common weed throughout the Philippines at low and medium altitudes.
- Abundant in recently disturbed soil.
- Pantropic.
Constituents
• Root contains a glucoside with saponin-like properties.
Properties
• Roots considered emmenagogue and cathartic; abortive in large doses.
• Plant considered lithotriptic, diuretic, analgesic, stomachic, laxative and alterative.
• Roots are sweet when fresh. Others report it as bitter and nauseous.
Parts utilized
Roots

Uses
Edibility
• Eaten as a leafy vegetable.
• Good source of iron and calcium; an excellent source of phosphorus.
Folkloric
• Roots used as emmenagogue in ammenorhea; abortive in large doses.
• Powdered roots with ginger is cathartic and irritant.
• Infusion used for constipation, jaundice, strangury, dropsy, asthma.
• Root applied to the eye to treat corneal itching, inflammation and decreasing vision.
• Herb decoction used as vermifuge and for rheumatism.
• In the Gold Coast, plant applied as a dressing or as poultice.
• In India, used for edema of the liver and spleen, uteralgia and cough. Plant is considered lithotriptic for the kidney and bladder. Also used as diuretic.

Studies
• Hepatoprotective: (1) Study of ethanolic extract of Trianthema portulacastrum showed a significant dose-dependent protective effect against paracetamol and thiocetamide-induced hepatotoxicity in albino rats. (2) Study of ethanolic extract of T portulacastrum showed histopathological studies that supported hepatoprotective activity against aflatoxin-induced hepatotoxicity.
• Anti-Cancer: Trianthema portulacastrum was tested in a chemical rat hepatocarcinogenesis model in male Sprague-Dawley rats. A decrease in the percentage of liver parenchyma occupied by foci seems to suggest the anticarcinogenic potential of the plant extract in DENA-induced hepatocarcinogenesis.
• Antioxidant: Study suggests the hepatoprotective effect of T portulacastrum appears to be related to the inhibition of lipid peroxidative processes and prevention of GSH depletion.
• Hypoglycemic / Antihyperglycemic / Hypolipidemic: Study of the methanol extract of Trianthema portulacastrum produced dose-dependent hypoglycemic, antihyperglycemic and hypolipidemic activity in rats, comparable with glibenclamide.
• Anti-Atherosclerotic Hepatorenal Protection: Study investigated the protective effect of a methanolic extract of T. portulacastrum plant in an atherosclerotic diet induced renal and hepatic changes in rats. Treatment produced a marked reduction in elevated serum lipid levels and protected against the glomerulosclerosis or fatty changes in hepatocytes induced by the atherosclerotic diet.
• Anthelmintic: Study evaluating the anthelmintic effects of T. portulacastrum (whole plant) and M. paradisiaca (leaves) against gastrointestinal worms of sheep showed both possess strong anthelmintic activity in vitro and in vivo, thus, justifying their traditional use in Pakistan.
Availability
Wild-crafted.