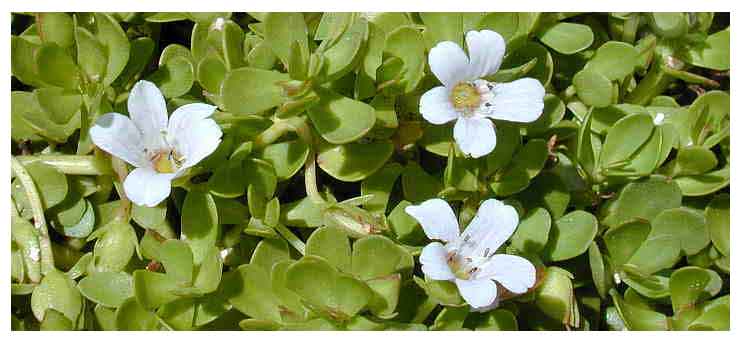 Botany
Ulasimang-aso is a creeping, smooth, somewhat fleshy plant, with branches 5 to 20 centimeters long. Leaves are stalkless, entire, oblong-ovate to spatulate, 8 to 15 millimeters long, up to 4 millimeters wide, widest near the blunt tip, and tapering toward the base. Flowers are borne singly in the axils of the leaves, on stalks which are usually as long as the leaves or longer. Calyx is about 5 millimeters long, the outer sepal being oval and the others ovate-lanceolate or lanceolate. Corolla is 8 to 10 millimeters long; the tube, which is nearly as long as the calyx or quite as long, has white or pale violet lobes. Capsules are ovoid and shorter than the calyx. Seeds are numerous and pale.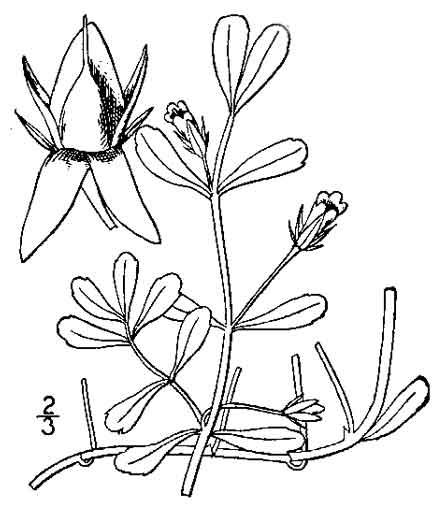 Distribution
- In open wet places at low altitudes, especially within the influence of salt and brackish water.
- In Cagayan, Ilocos Norte, Rizal and Laguna Provinces in Luzon.
- Pantropic.
Constituents
- Plant yields the presence of a trace of oil matter, two resins, organic acid, tannin and an alkaloid principle.
- Indian study yielded alkaloids, Brahmine and hespestine, saponins d-mannitol and hersaponin, monnierin.
- Yields betulic acid, stigmasterol, beta-sitosterol, bacosides and bacosaponins.
Properties
- Considered aperient, adaptogenic, anti-anxiety, anti-epileptic, antipyretic, analgesic, anti-ulcer, anti-asthmatic, antidepressant, antispasmodic, antioxidant, diuretic, immuno-modulating, memory enhancing, neurotonic.

Parts used
Entire plant.

Uses
Folkloric
- In the Philippines, decoction of entire plant utilized as diuretic.
- Hindu physicians use it as nervine tonic; used for insanity, epilepsy and hoarseness.
- Teaspoon of leaf juice used for vomiting and purging.
- In India, used as diuretic, aperient, and nervine tonic.
- In prehistoric times, used as nerve tonic for rejuvenating mental health and memory enhancement.
- Used to enhance memory, learning and concentration.
- In India and Pakistan, used as cardiac tonic, digestive aid, and to relieve bronchoconstriction.
- In Ayurveda, used for anxiety, mental retardation, depression, psychosis and epilepsy.

Studies
• Cognitive Enhancing Effects: (1) Study results suggest only chronic administration of extract is associated with cognitive-enhancing effects. (2) Study showed evidence B. monnieri has potential for safely enhancing cognitive performance in the aging.
• Antianxiety: Study on rat model with extract with 25% bacoside A showed an anxiolytic effect comparable to benzodiazepene anxiolytic drug, lorazepam.
• Epilepsy: Study in mice showed hersaponin provided protection against seizures. Study in mice using high doses of Bacopa extract demonstrated anticonvulsant effect, an effect not observed with lower doses.
• Asthma: Study showed Bacopa extract to have a relaxant effect on chemically-induced bronchoconstriction.
• Spasmolytic: In vitro studies demonstrated direct spasmolytic activity on intestinal smooth muscle through inhibition of calcium influx across cell membrane channels.
• Gastroprotective: Animal and in vitro studies suggest a protective and curative effect on gastric ulcers.
• Memory: A double-blind randomized, placebo-control study on 76 adults aged 40 to 65 showed a significant effect of Brahmi on a test for retention of new information, with decrease in rate of forgetting of newly acquired information.
• Antioxidant: Study of B. monniera extract on rat brain showed dose-related increases in SOD, CAT and GPX activities, suggesting a significant antioxidant effect after subchronic administration. The increase in oxidative free radical scavenging activity by BM may explain, in part, the cognitive-facilitating action noted in Ayurveda practice.
• Antifertility: Study in mice showed antifertility effects with reversible suppression of spermatogensis and fertility without any apparent toxic effects.
• ADHD / Attention Deficit Hyperactivity Disorder: A double-blind, placebo controlled, randomized trial of 36 children with ADHD showed a significant benefit at 12 weeks, with improvement in sentence repetition, logical memory and paired associate learning tasks.
• Antistress: (1) A study in adult male Sprague Dawley rats on the antistress effect of bacosides of Brahmi showed B, monnieri has the potential to modulate the activities of Hsp70, P450 and SOD, to prepare the brain to act under adverse conditions such as stress. (2) Study showed the standardized extract of B. monniera possesses a potent adaptogenic effect.
• Anti-Inflammatory: Study showed Bacopa monniera possesses anti-inflammatory activity through inhibition of COX and LOX and down-regulation of TNF-alpha.
• Pollutant Detector: Study showed the plant to be considerably tolerant to heavy metals, even accumulating trace quantities of these metals during growth. Analytical study showed considerable amounts of Al, As, Cd, Cr, Cu, Fe, Hg, Pb, etc. in different parts of the plant. Its use as ingredient in many Ayurvedic medicines and food supplements on one hand and bioaccumulation potential and phytoremediation efficacy are paradoxical.
• Serotonin Receptor Activity / Antidepressant: Study concluded Bacopa extract decreased cAMP production in cells with 5HT1a receptors, suggesting an agonistic effect. The effect was similar to results of a previous study where Bacopa displayed antidepressant effects comparable to imipramine.
• Antioxidant Response Modulation: Study evaluated the protective effect of B. monnieri on tissue antioxidant defense system and lipid peroxidative status in streptozotocin-induced diabetic rats. Results showed Bm extract modulates antioxidant activity, and enhances the defense against ROS generated damage in diabetic rats.
• Cu and Cd Pollution Mitigation: Study showed a capability to accumulate both copper and cadmium in single and mixed metal treatments. Copper accumulation was stimulated by the presence of Cd whereas uptake of Cd was inhibited by Cu. Results suggest the potential of using the plant for mitigating Cu and Cd pollution in the aquatic environment.
Availability
Wild-crafted.
Capsules, teas and extracts in the cybermarket.