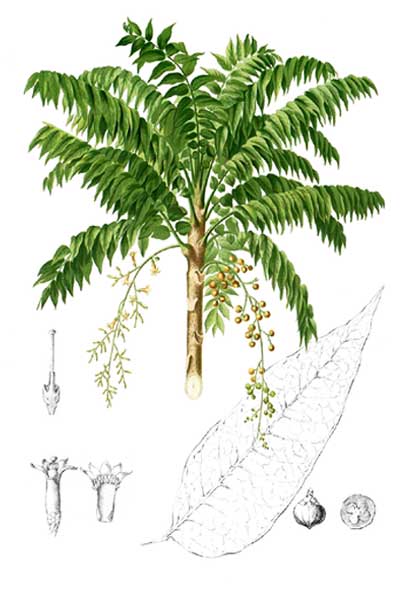 Botany
Igiu is a tree reaching a height of 10 to 20 meters. Leaves are crowded at the ends of the branches, 20 to 60 centimeters long, pinnate with 10 or more pairs of leaflets. Lower leaflets are usually ovate, less than 10 centimeters long; the median and upper ones are oblong, 20 centimeters or more in length. Flowers are pale yellowish, hairy, about 1 centimeter long, 5-parted, borne in axillary drooping panicles which are about 40 centimeters long. Fruit is yellow, hairy, depressed-globose, about 1.5 to 2 centimeters in diameter, containing red seeds.
Distribution
- In thickets and forests at low altitudes from Cagayan to Sorsogon in Luzon, and in Mindoro, Palawan, Masbate, Leyte, Negros, Mindanao, and Basilan.
- Also occurs in Java to New Guinea.
Constituents
- Juice of fresh bark is bitter.
Properties
- Juice of fresh bark is bitter.
- Bark considered febrifuge, emmenagogue, and emetic.

Parts used
Bark, sap, leaves.

Uses
Folkloric
- Decoction of bitter fresh bark is given for coughs.
- Powdered bark, with water, used as febrifuge; with wine, used as emmenagogue.
- Powdered bark also used as emetic.
- In Java, juice of bark used as emetic; also, externally, as an astringent.
- In Vanuatu, the juice expressed from 10 leaves with some water, used to facilitate childbirth. As abortifacient, strong decoction made up from 12 sun-dried leaves.
- In Papua New Guinea, the leaves and bark are used for treating rigid limbs, facial distortion in children, lumps under the skin, skin irritations, and sexually transmitted diseases. Also used for fish poisoning and convulsions. Decoction of chopped leaves used as cure for aches and pains; also for lung hemorrhage. (4)

Studies
• Dysoxylins / Antiviral: Study yielded 4 new compounds, dysoxylins A-D and were found to exhibit potent antiviral activity against respiratory syncitial virus (RSV). (1)
• Spasmolytic Activity: In an ethnobotanical survey of reproductive behavior in Vanuatu, five plant species, including D gaudichaudianum, were selected. Preliminary screening was done to identify possible estrogenic activity as well as effects on isolated rat uteri. D gaudichaudianum presented most interest with its spasmolytic activity. (2)
Availability
Wild-crafted.