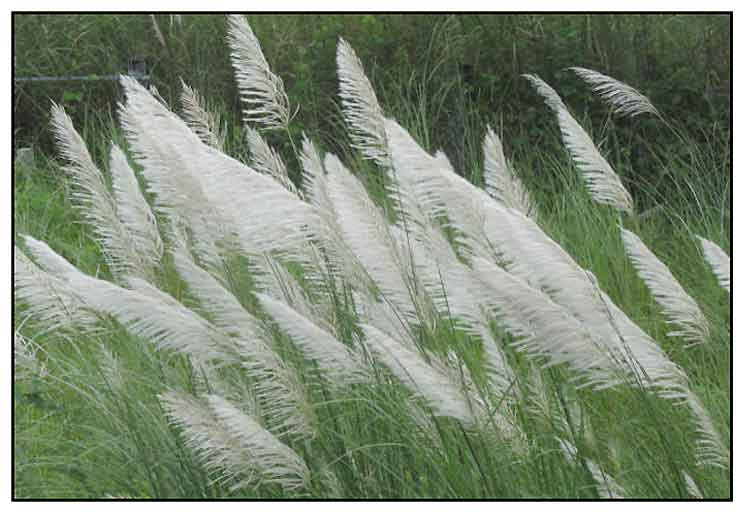 Botany
Talahib is a coarse, erect, perennial grass, usually more or less tufted, with stout underground rootstock, growing to a height of 1 to 3.5 meters. Leaves are harsh and linear, 0.5 to 1 meter long; 6 to 15 millimeters wide. Panicles are white and erect, measuring 15 to 30 centimeters long, with slender and whorled branches, the joints covered with soft white hair. Spikelets are about 3.5 millimeters long, much shorter than the copious, long, white hairs at the base.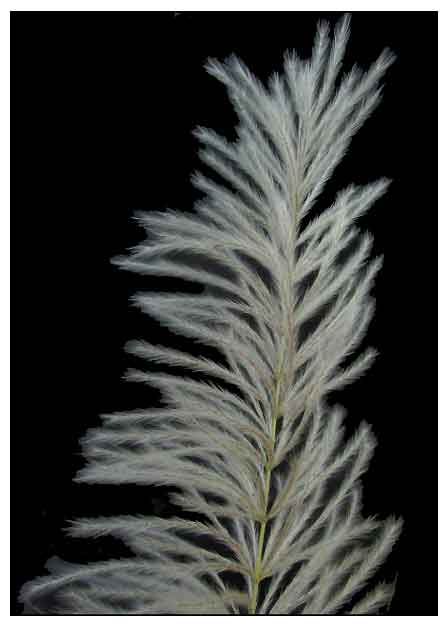 Distribution
- In open areas at low and medium altitudes, ascending to 1,500 meters, often gregarious, occupying large areas throughout the Philippines.
- Perennial grass native to South Asia.
- Occurs from India to southern China and through Malaya to Polynesia.
Constituents
- Phytochemical screening of stem extracts yielded quinones, terpenes, alkaloids, flavonoids, saponins, tannins, carbohydrates, protein, coumarin, phenol, steroids and glycosides. (3)
- Various root extracts yielded terpenoids, steroids, glycosides, tannins, flavonoids, carbohydrates. (9)

Properties
- In Ayurveda, roots are considered sweet, astringent, emollient, refrigerant, diuretic, lithotriptic, purgative, tonic, aphrodisiac.

Parts used
Roots and stems.
Uses
Folkloric
- In the Philippines decoction of the roots used as a diuretic.
- Decoction of roots used for fever.
- Warmed poultice of the stem pulp applied to painful areas in the leg and in cases suffering from beri beri.
- In Pakistan, used as laxative, phthisis, burning sensations and disease of the blood.
- In Bengal, roots used as galactagogue and diuretic.
- In India, fresh juice of stems used to treat mental illness and mental disturbances by the Vaidhiyars. - In Ayurveda, used for dyspepsia, piles, sexual weakness, respiratory problems and gynecological troubles. Roots considered astringed emollient, refrigerant, diuretic, lithotriptic, purgative, tonic, aphrodisiac.
- In Bengal, roots used as galactagogue and diuretic. (1)
- Used for teeth whitening.
- In Siddha, the whole plant is used for diseases of vatam and pittam, vomiting and various abdominal disorders, mental diseases, dyspnea, anemia and obesity. In Uttar Pradesh, paste prepared from equal quantities of fresh roots of Cynodon dactylon and Saccharum spontaneum is given with cow's milk and sugar for leucorrhea, early morning for one month.
Studies
• Phytochemicals: Screening yielded the presence of quinines, alkaloids, tannins, carbohydrates, protein, coumarin, phenol, steroid and glycosides.
• CNS Depressant / Antipsychotic Activity: Study in rats showed reduction in motor activity, more pronounced in the ethanol and aqueous extracts. The aqueous extracts showed mild antipsychotic activity. The psychopharmacologic effects were attributed to the alkaloids, tannins, steroids and glycosides.
• Antimicrobial / Cytotoxic / Antioxidant: Chloroform extract showed antioxidant activity with IC50 value of 51.04 ug/ml (vs ascorbic acid 41.04). Crude extract showed cytotoxic activity using Brine shrimp lethality assay with LC50 of 6.63 ug/mL (vincristine 10.64). Antimicrobial activity was exhibited against gram-positive and gram-negative pathogenic bacteria and against three tested fungi. (2)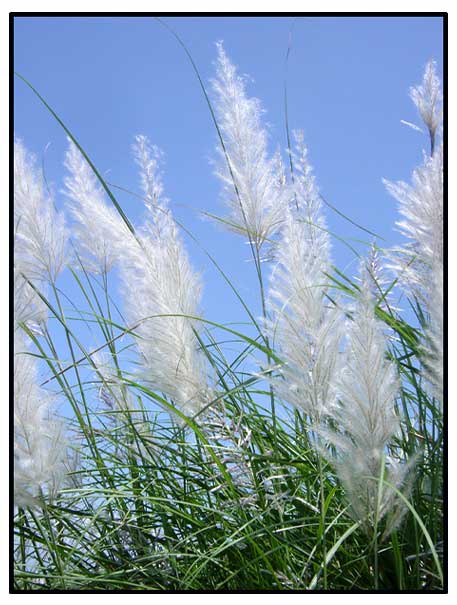 • Antimicrobial / Trinpanchmool / Herbal Combination: Study on the antimicrobial activity of trinpanchmool drugs - a combination of Kush (Desmotachya bipinnata), Darbh (Imperata cylindrica) and Kas (Saccharum spontaneum) showed promising antimicrobial activity against different microorganisms (gram-positive, gram negative and fungal strains). The drugs in combination were more active than individual extracts. (14)
• Pulp and Paper Making: Study showed S. spontaneum is a bulky material with lower extractives and lignin content and higher holocellulose content with a good response towards multistage bleaching sequence and a pulp of high brightness ceiling. (6)
• Cellulase Production: Study showed S. spontaneum can be utilized as a substrate in solid state fermentation for economic production of cellulase. Cellulases are the third largest industrial enzyme in the world. (8)
• Antioxidant Activity: Study of extracts of S. spontaneum roots showed antioxidant activity similar to standard drugs used in the experiment. Methanolic extracts showed higher phenolic and flavonoid content. (10)
• Antiurolithiatic Activity: Study evaluated an ethanolic extract of roots for preventive effects on calcium oxalate calculi in rat. Results showed urinary stones could be dissolved with the extract and recurrence could also be prevented. The antiurolithiatic activity was attributed to the ability to reduce the supersaturation of urine with calculogenic ions, diuretic property, and antioxidant potential. (11) Study evaluated an ethanolic extract of whole plant for antiurolithiatic activity against calcium oxalate stone induced by rats fed with a calculi-producing diet. Results showed potential as curative agent for urolithiasis. (19) Study showed an ethanolic extract of roots has curative effect on stone formation in rats with lithiasis induced by ethylene glycol. (22)
• Antibacterial: Study investigated the antibacterial property of extracts of leaves and roots against Staphylococcus aureus. Results showed the root extract to have a significant effect on S. aureus. (12) Study evaluated the antibacterial potential of S. spontaneum against human pathogenic bacterial strains. Whole plant extracts showed significant zone of inhibition against S. aureus, S. pneumoniae, B. cereus, B. pumilus, E. coli, K pneumonia, P. aeruginosa and C. freundii. (18)
• Saccharum Spontaneum Biomass for Releasing Reducing Sugars: Kans grass (Saccharum spontaneum), a perennial grass native to South Asia, is a low cost, renewable and prevalent source of reducing sugars. Study investigated the effect of H2SO4 concentration, biomass loading and reaction time for releasing reducing sugars from the grass. Results showed that under controlled conditions Kans grass biomass can be effectively utilized as a potential source of reducing sugars, which can be used as starting material for production of various chemicals by microbial conversion process. (13)
• Potential as Laundry Detergent / Roots: Study evaluated the potential use of S. spontaneum as laundry surfactant for removing clothes stains. Results showed the surfactant to be capable of removing stains. , with more efficiency than commercial products, and ecofriendly to boot. (16)
• Acute and Subacute Toxicological Studies: Study evaluated the toxicity of ethanol root extract of S. spontaneum at doses varying from 100 - 500 mg kbw in male wistar albino rats. Results showed no alterations in hematological and biochemical parameters and suggest a potential safe alternative for various severe infections. (17)
• Denitrification of Drinking Water: There is a global concern regarding the increasing pollution of natural water bodies by nitrate secondary to anthropogenic activities. Results showed the potential to obtain high yields of denitrification using organic carbon released from S. spontaneum. Study results contribute to the knowledge on the use of NOSS (natural organic solid substances) as alternative sources of carbon for denitrification. (20)
• Anti-Obesity: Study investigated the anti-obesity effect of ethanol extract of S. spontaneum in male Wistar strain albino rats. Results showed the whole plant extract exerted significant anti-obesity activity in rats fed with a high fat diet. (21)
• Antidiarrheal / CNS Depressant: Study of S. spontaneum for antidiarrheal activity in castor oil induced diarrhea in mice showed a dose dependent decrease in the total number of faecal droppings. In an evaluation for CNS effects, depressant activity was showed with dose dependent reduction of the onset and duration of pentobarbitone-induced hypnosis, reduction of locomotor and exploratory activities in open field and hole cross tests. (23)
• Biodiesel: Study showed Talahib grass at full maturity can produce 18 to 28% oil which can be converted to biodiesel by a processor at 100% yield. (24)
• Removal of Municipal Waste Water: Study showed the although municipal waste water inhibit the growth of aquatic plants (T. patifolia and S. spontaneum), these plants have the potential for use in the phyto-reduction process of COD, BOD, and TSS from wastewater. (25)

Availability
Wild-crafted.