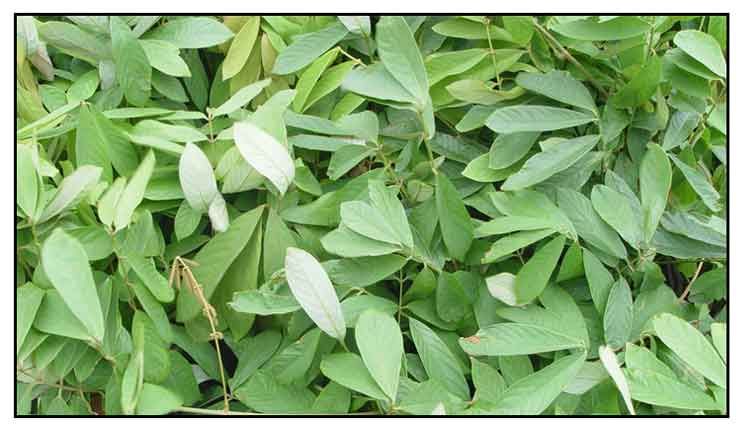 Botany
Tubli is a rambling climber, with branches covered with brown hairs. Leaves are pinnate and 30 to 50 centimeters long. Leaflets are usually oblong, 9 to 13, when matured smooth above, and subglaucous and silky beneath, 10 to 15 centimeters long, and about half as broad. Racemes are lax, 15 to 30 centimeters in length, with reddish flowers in stalked clusters. Pods are 5 to 8 centimeters long and contain 1 to 3 seeds, flat and reniform, olive, brown or black.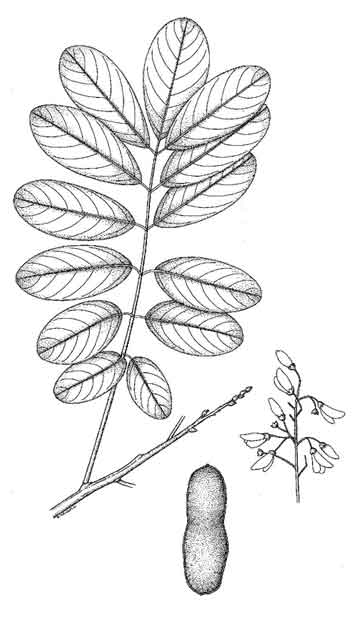 Distribution
- Abundant in thickets along streams, in secondary forests at low and medium altitudes from northern Luzon to Mindanao.
- Also occurs in Chittagong through Malaya to New Guinea and the Bismark Archipelago.
- Reported to be invasive in Fiji and western Polynesia. (12)
Constituents
- Root reported to contain rotenone, derrid, anhydroderrid, derrin, tubotoxin, and tubain.
- A 1933 study reports isolating pure rotenone, as well as tephrosin and toxicarol.
- Study yielded two new rotenoids–4',5'-dihydroxy-6a,12a-dehydrodegueline and 11,4'5'-trihydroxy-6a,12a-dehydrodeguelin–along with known rotenoids, rotenone and deguelin.
- Study yielded seven rotenoids. (See Studies)
- Study yielded four lipid constituents, including three ceramides and a poly-hydroxyl octadecenoic acid, 12, 13, 15-trihydroxy-9-octadecenoic acid.
Properties
- Insecticidal from the rotenone in the roots.
- Toxicity / Historical notes: Since early times, the root has been used as fish poison in the Philippines, the Dutch East Indies, and the Malay Peninsula.
- Rotenone has selectivity bioactivity, low environmental hazard, and relative non-toxicity to plants and mammals. (20)
- Studies have shown mosquito larvicidal, acaricidal, insecticidal, antioxidant properties.
Parts utilized
Leaves, stems, roots.
Uses
Folkloric
- Malay women reported to use a scrap of the root with a little opium as abortifacient, placing it in the vagina all night for successive nights.
- Infusion or decoction of roots with coconut oil applied to itchy lesions.
- Plaster of the root used for abscesses and leprosy.
- Used by Ifugao-migrants for wounds and skin disease.
- Kalanguya tribe in Tinoc, Ifugao, Luzon, Philippines apply crushed leaves on scabies. (19)
- In Thailand, used as emmenagogue. Stems used as blood tonic. (12) Creeping stems used as anti-tumor. (15)
Others
- Insecticidal / Poison / Rotenone: (1) Roots are insecticidal; rotenone from roots is raw material for insecticides against plant pests. (2) Since early times, the root has been used as fish poison in the Philippines, the Dutch East Indies, and the Malay Peninsula. The Chinese and Malay gardeners have used the root decoction as an insecticide. (3) Rotenone has also been found effective against plant lice, leaf beetles, aphids, flies, caterpillars, ticks, chicken lice, red spiders and other insects. (4) It has been reported to be more effective than potassium cyanide or nicotine and equally effective as pyrethrum. (5) In the Philippines, cattle have been reported to die after eating the leaves. (6) Humans have been reported to use it for suicide and murder. (7) Because of toxicity, rotenone as insecticidal is being phased out in many eco-conscious countries.
- Fish / Arrow poison: White milky sap from pounded roots used as fish poison. Malay indigenous people also use the sap as arrow-poison for hunting. The sap, combined with Antiaris toxocaria, used in Borneo as an ingredient of the Kayan dart and arrow poison or blow-dart poison for hunting. (•) Considered the strongest fish poison in South East Asia. Rotenone is used in fisheries in the Philippines, Bangladesh, and India to eliminate predatory and undesired fish from rearing pods. (25)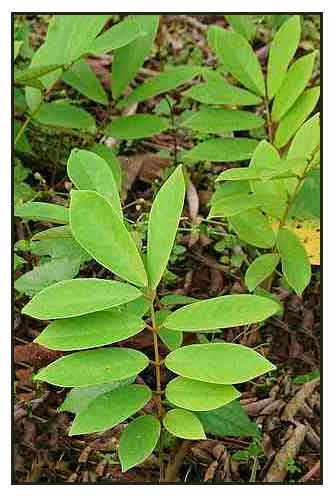 Studies
• Larvicidal: In a study of 96 ethanolic extracts,44 showed activity against the larvae of A aegypti, Derris elliptica one of six that showed high larvicidal activity. (2)
• Rotenone / Pest Control: Derris elliptica extracts containing rotenone have been long used as natural insecticide. Preliminary testing show that Derris emulsifiable concentrate was more effective than Derris water-dispersible granules in controlling spodoptera litura. (3)
• Natural Piscicide: Derris elliptica twigs and roots have been used as natural piscicides in artisanal fisheries and aquaculture ponds in Nigeria. In the study, ethanolic extracts of dried roots elicited a toxic reaction by fish with discouration, gulping of air, erratic swimming, loss of reflex, settling at the bottom motionless. Histological exam of O. niloticus fingerlings showed pathological changes.
• Rotenoids: Study yielded seven rotenoids: (1) 7′-hydroxy-6a, 12a-dehydrodeguelin, (2) 6-hydroxy-6a, 12a-dehydrodeguelin, (3) (6aR, 12aR, 4′R, 5′S)-4′, 5′-dihydro-4′, 5′-dihydroxytephrosin, (4) 6′-hydroxy-6a, 12a-dehydrorotenone, (5) (-)-rotoic acid, (6) (-)-deguoic acid, and (7) 12-deoxo-12α-acetoxyelliptone. (7)
• Rotenone Liquid / Mosquito Larvicidal Activity: Study evaluated the mosquito larvicidal activity (LC50) of the plant root. A concentrated liquid crude extracts of methyl chloride: methanol (1:1) which contained the highest rotenone content exhibited the lowest treatment concentration of 0.024 mg/ml to achieve 50% mortality within 3 hours of treatment. (11)
• Extraction of Rotenone / Pressurized Liquid Extraction Compared to Maceration: Study compared the conventional maceration and pressurized liquid extraction (PLE) techniques for efficient extraction of rotenone from stem and root of Derris elliptica and Derris malaccensis. Results showed the PLE was considerable less time and solvent consuming than conventional maceration techniques. (13)
• Evaluation for Cytotoxicity and Genotoxicity: The genotoxicity and toxicity of eight ethnomedicinal Philippine plants, including Derris elliptica, were evaluated using Vitotox assay. In this study, the medicinal plants tested were not genotoxic nor cytotoxic, except for R. communis and P. cablin, which showed toxicity at high doses (low dilution) in the absence of S9. (14)
• Antioxidant / Inhibition of Heinz Body Induction: Study screened aqueous extracts from 20 medicinal plants in Thailand for antioxidant activity and inhibition of Heinz body induction caused by oxidants. Percent inhibition of Heinz body inhibition activity were highest from Terminalia citrina, Cassia timoriensis, and Derris elliptica. Total antioxidant activity was highest from T. citrina followed by Ficus pubitera, Derris elliptica, and others. Derris elliptica showed 100% Heinz body inhibition activity and 18.397 mM/g total antioxidant activity. (15)
• Alternative Green Additive to Increase Rotenone Yield / Roots: Study evaluated the potential of alcohol-based DES (deep eutectic solvents) as an extraction medium for rotenone extraction from Derris elliptica roots. Results showed a combination of the DES with a selective organic solvent has similar potential and efficacy as ILs in extracting bioactive constituents in the phytochemical extraction process. (16)
• Insecticidal / Control of Kola Weevil / Root Powder: Study evaluated the root power for activity against Balanogastric kolae on kola nut. Root powder application at 10g and 15g concentration gave the highest mortality during exposure period. (17)
• Extraction Kinetic / Normal Soaking Extraction Method / Effect of Exposure / Roots: Study investigated the independent and dependent variables of the exhaustive extraction process by evaluating the kinetic equilibrium phase of the NSE method. Proper insulation is essential. Rotenone is light and heat sensitive, and with prolonged exposure to extreme environments and lack of proper extraction system, there can be a major loss of bioactive compounds and less effectiveness of insecticidal action. (20)
• Biopesticidal Alkaloid / Root: Study of root of Derris elliptica isolated an alkaloid from a methanol extract with concentration of 0.1% which can act as a biopesticide agent against Scotinophara coartata E. (21)
• Embryotoxicity and Teratogenicity on Fish Embryo: Study evaluated the embryotoxicity and teratogenicity effects of leaf extract of Derris elliptica against zebrafish embryos )(Danio rerio). Treatment with a 0.05% extract showed reduced hatchability rate, lower heartbeat, and delayed formation compared to control. Dose of 0.50% showed severe adverse effects with undeveloped head and tail regions, coagulation, and death of embryo. Teratogenic and lethal effects increased with dose concentration. (22)
• Acaricidal / Brown Dog Tick / Root: Study evaluated the acaricidal property against Rhipicephalus sanguineus (brown dog tick) of air-dried and macerated Derris elliptica roots formulated into a spray in three different concentrations i.e., 1.5, 1.6, 2.0%. Results showed total loss of motility on the test organisms. While the positive control, Propoxur, exhibited greater efficacy, the formulated spray can be an alternative for commercially available acaricides. (23)
• Mixture of Tubli and Nami / Alternative Rodenticide: Study evaluated the mixtures of tubli (Derris elliptica) and nami (Dioscorea hispida) as an alternative rodenticide. Results suggest the combination of the two plants are effective in killing rat/mice, and presents a potential as natural and cheap source of rodenticide. (24)

Availability
Wild-crafted.