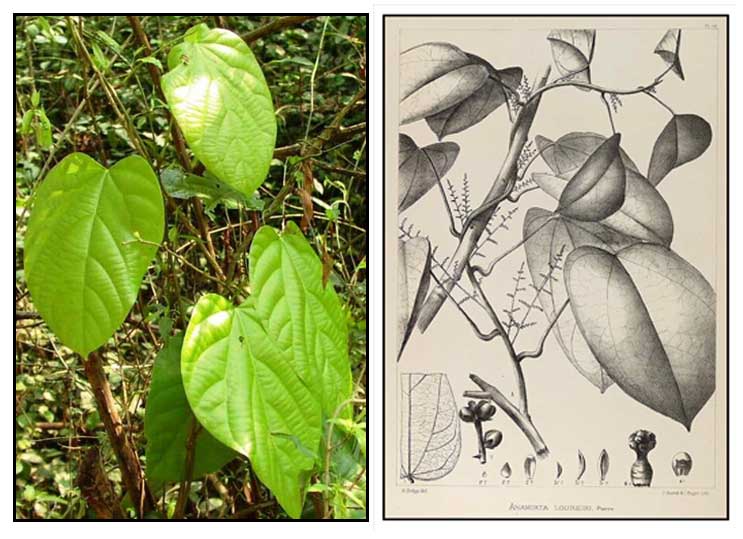 Botany
Suma is a forest liana, ie, a woody, perennial, climbing plant with a very long stem growing from the ground level to the canopy of trees. Old stems are about 5 centimeters thick, with a gray bark and yellow wood. Leaves are leathery, smooth, broadly ovate, 16 centimeters wide and 16 centimeters long, the tip abruptly pointed, the base obtusely round or subtruncate, with 5 veins radiating from the base, with one or two lateral nerves arising from the midvein above the middle. Inflorescence is axillary, pendulous and spicately panicled, usually clustered along the stems. Flowers are fragrant, yellowish, crowded and stalkless. Exterior perianth segments are 3, and small; interior ones are 6, oblong, much longer, and spreading. Fruit is nearly spherical, about 2 centimeters in diameter, green or yellowish green.
Distribution
- Scattered in thickets and forests at low and medium altitudes from the Batan Islands to Palawan and Mindanao.
- Widely distributed from China, Indo-China, Malaysia, Borneo, the Moluccas to New Guinea.
Constituents
- Stems yield a yellow dye, berberine, the active principle in barberry.
- Study showed the stems contain approximately 4.8 percent pure alkaloid.
- The plant yields several alkaloids: berberine, the principal alkaloid, with jatrorhizine, columbamine and shobakunine.
- A single plant has been reported to yield one kilo of berberine.
- Roots yielded a furanoditerpenoid, fibaruretin B.

Properties
Considered antimalarial, germicidal, tonic, stomachic, febrifuge, emmenagogue, abortive, antiperiodic, diaphoretic (much of these due to the berberine).

Parts used and preparation
Bark, roots, and stems.

Uses
Folkloric
• Decoction of wood used for cleansing wounds; used as a cure for itches and tropical ulcers.
• Decoction or infusion of plant used as stomachic and febrifuge.
• Decoction of roots and stem used as febrifuge, tonic and emmenagogue. Also used as abortive.
• In Zambales used as expectorant in bronchial affections.
• In Malaya, decoction taken internally for jaundice, indigestion and as vermifuge.
• Smoke used as inhalant for mucous membrane affections of the nose and mouth.
• In Indo-China used as antidiabetic drug.
• In East Asian traditional medicine, used as bitter tonic and for jaundice, infectious diarrheal disease and skin abscess.
• Used for treatment of malaria and dysentery and as a tonic.

Others
- Dye: Stems used for its yellow dye (berberine), a single plant yielding as much as one kilo of berberine.,
- Germicide: Popular in the Philippines as a germicide.

Studies
• Antioxidant / Cytotoxic: Antioxidant and cytotoxic activities of A. flava, C. blumeanum and F. tinctoria: A study showed alkaloids extracts showed of A. flava showed antioxidant activity and pronounced cytotoxic activity against human cancer cell line MCF-7 (breast adenocarcinoma). Berberine, palmatine and jatrorrhizine were isolated from A. flava.
• Antimalarial / Cytotoxic: Antimalarial and cytotoxic activities of ethnopharmacologically selected medicinal plants from South Vietnam: A study showed Arcangelisia flava as one of 49 plants showing antiplasmodial activity.
• Phytochemical Study: Study yielded four new furanoditerpenes plus fibraurin, fibleucin, and 6-hydroxyfibraurin.
• Antibabesial Activity: Study isolated palmatine, berberine, jatrorrhizine, dihydroberberine and 20-hydroxyecdysone. Four compounds caused significant inhibition of Babesia gibsoni, an intraerythrocytic parasite that causes hemolytic anemia in wild and domesticated dogs. The mechanism was possibly through prevention of parasite invasion of erythrocytes and inhibition of growth.
• Genotoxicity: In a study of 138 medicinal plant preparations used in the Philippines were studied for genotoxicity. 12, including A. flava exhibited detectable genotoxicity.
• Furanoditerpenoids / Fibaruretin: Furanoditerpenoids are secondary metabolites found in Menispermaceae plants, found to possess anti-inflammatory and antimalarial activities. Study of the roots of A. flava isolated a furanoditerpenoids compound, fibaruretin.
• Protoberberine Alkaloids / Anti-Babesial:Stems yielded palmatine, berberine, jatrorrhizine, dihydroberberine and 20-hydroxyecdysone. Compounds 1-4 showed growth inhibiting effects on Babesia gibsoni in culture. (B. gibsoni is an emerging pathogen in dogs.)
• Berberine: A. flava yields the plant alkaloid berberine. Review lists its physiological effects: anti-diarrheal, anti-malarial, anti-tumor, stimulates cardiac contractility and anti-arrhythmic, anti-inflammatory and antihepatotoxic.

Availability
Wild-crafted.
Capsules, supplements, tea bags in the cybermarkets.