Additional info
• English name "Marigold" is derived from "Mary's gold", a name first applied to a similar plant native to Europe, Calendula officinalis.
• Tagetes is a genus of 56 species of annual and perennial, mostly herbaceous plants in the sunflower (Asteraceae) family. (21)
Botany
Ahito is an ornamental plant, a rather coarse, erect, glabrous branched, rank-smelling annual herb, 0.4 to 1 meter high. Leaves are 4 to 11 centimeters long, very deeply pinnatifid, with lanceolate lobes, coarsely and sharply toothed, 1 to 2.5 centimeters long. Heads are solitary, 2.5 to 3.5 centimeters long, 2 to 4 centimeters in diameter, long-peduncled, with the peduncle thickened upward. Involucre is green. Flowers are pale to deep yellow. Ray flowers are 1-seriate, female, the ligule entire or 2-toothed, short or long. Disk flowers are perfect, regular, tubular limb usually somewhat enlarged, 5-fid. Fruits are achenes, linear, narrowed below, compressed or angled, 6 to 7 millimeters long.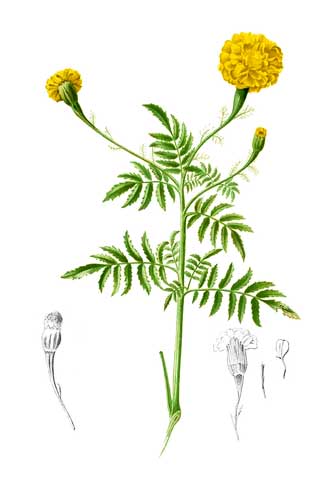 Distribution
- Ornamental cultivation throughout most of Philippines,
- Spontaneous and naturalized in some localities.
- Flowering all year.
- Now planted in all warm countries.
Constituents
• Marigold is the richest and purest source of lutein.
• Phytochemical studies isolated flavonoids, carotenoids, xanthophylls and polyketides. with antimutagenic, phytotoric, nutritional, anticarcinogenic and ophthalmologic agents. (Link)
• Study of stems and flowers characterized: ß-caryophyllene, terpinolene, (E)-ocimenone, ß-ocimene, piperitenone and Z-ocimene, and limonene.
• Flowers contain a volatile oil and a yellow coloring-matter, quercetagetin.
• Screening of phytochemical profiles of T. patula and T. erecta leaf and flower extract showed the presence of alkaloids, flavonoids, steroids, tannins, and phenolic compounds as major secondary metabolites. (22)
Properties
- Considered anthelmintic, aromatic, digestive, ophthalmic, sedative, stomachic, tonic, carminative, emmenagogue.
- Roots considered laxative.
Parts utilized
Flower and leaves.

Uses
Edibility / Culinary
• Petals of some varieties are edible; used in salads and for flavor and color.
• Yellow dye from the flower used as saffron substitute for food coloring and flavor.
• Condiment.
Folkloric
• A plant of medicinal use since prehistoric times.
• Used for anemia. irregular menstruation, abdominal pain during menstrual period, rheumatic muscular and bone pain.
• Leaves applied to boils and carbuncles; juice used for earaches.
• Internally, used for indigestion, colic, severe constipation, coughs and dysentery.
• Externally, used for sores, ulcers, eczema, sore eyes and rheumatism.
• Decoction of flowers used for colds, conjunctivitis, mumps, sore eyes.
• Decoction preparation for coughs: Boil a handful of the herb in a liter of water and drink a glass 3x daily.
• In India, juice of the flowers occasionally used as blood purifier and as remedy for piles.
• Infusion or decoction of plant used for colds, rheumatic pains, bronchitis.
• In Brazil, infusion of leaves and flowers used as vermifuge.
• In Mexico, decoction of flowers and leaves used as diuretic and carminative.
• In Aztecs used for carbuncles and eye infections.
• In Brazil and Mexico, used for joint pains and muscle spasms. Also, used for allergic contact dermatitis.
• Elsewhere, used in folk medicine for eye diseases, colds, coughs, conjunctivitis, hemorrhoids and ulcers.
Others
• Repellent: Insecticide, repellent.
• Rituals: The Aztecs used it for ceremonial purposes.
• Dye: Flowers yield a natural dye.

Studies
• Antioxidant / Analgesic effect / Flowers: Study evaluated Aztec marigold (T. erecta) flower extract for in vitro antioxidant activity and in vivo analgesic effect on acetic acid-infuced abdominal writhing. Results showed pronounced antioxidant potential and dose-dependent analgesic effect in keeping with its folkloric medicinal use as antiinflammatory and analgesic. (2)
• Wound Healing Activity / Leaves: Ethanolic extract of Tagetes erecta leaves was evaluated on adult albino rats. Results showed significant wound healing activity, comparable to the nitrofurazone control. The study supports the wound healing properties of the leaves as claimed in folkloric literature. (3) Study evaluated the comparative wound healing ability of T. erecta leaves and Centela asiatica aerial parts on excision incision, and dead space wound model in albino rats. Results showed T. erecta extract showed more potent wound healing in different wound parameters. (24)
• Carotenoid / Lutein / Nutritional Supplement: Flower extract was found to contain biologically useful lutein compounds and studied for use as nutritional supplement and as poultry food colorant. (4) Lutein from T. erecta is produced from marigold oleoresin. Marigold oleoresin is extracted from dried marigold flower petals with hexane and yields lutein, lutein esters, and other carotenoids and waxes. Lutein is intended for use as a coloring agent (baked goods, mixes, beverages, dairy desserts and mixes, sauces, candies, soup mixes, etc) and a nutrient supplement. (25)
• Keratolytic / Anti-verrucae / Podiatric Use: Its use for plantar hyperkeratosis was first described in the early 80s. Marigold paste has been used for painful hyperkeratotic lesions in the UK. Studies yielded tagetone, d-limonene, acimene, linalyl-acetate, linalol, and other terpenes. Tagetone acts as catalyst in inhibiting the production and transmission of keratinocytes. Marigold also showed benefit in the treatment of topical verrucae. Study shows promised for continued investigation for use of marigold therapy for various podiatric conditions. (6)
• Toxicological Study: Study showed the chloroform extract of T erecta had no toxic effects and validates its traditional use in indigenous systems of medicine. (7)
• Essential Oil: Study of essential oils of T erecta yielded piperitone (50.7%), piperitenone, (E)-ß-ocimene from the leaf oil and 1,8-cineole (23.1%), a-pinene, a-terpineol, piperitone and sabinene from the flower oil. (8)
• Antinociceptive / Anti-Inflammatory: Study of T. erecta alcoholic extracts showed significant antinociceptive activity and significant anti-inflammatory activity comparable to the Diclofenac sodium.  (9)
• Insecticidal: Study of crude extracts and fractions of flower of T erecta was tested for insecticidal activity against stored product insect pest, Trilobium castaneum. The chloroform extract showed highest toxicity against both larvae and adults of T castaneum. (10)
• Essential Oil / Antioxidant / Camphor and Methyleugenol: Study of essential oil for antioxidant activity using a DPPD assay, free radical scavenging activity and oxidation of deoxyribose assay. Analysis yielded 18 components; b-caryophyllene, limonene, methyleugenol, (E)-ocimene, piperetone, piperitenone and ?-terpinolene were the main components. Results demonstrated significant antioxidant activity, less than a-tocopherol. The activity was attributed to the presence of camphor and methyleugenol, both naturally occurring in a variety of herbs and spices. (11)
• Antioxidant / Flowers: An ethanolic extract of flowers was studied for antioxidant activity. Phytochemical yielded alkaloids, flavonoids, proteins, steroids, and tannins. Results showed antioxidant activity in all in vitro assays -- DPPH, reducing power, and superoxide radical scavenging activity , with better reducing power than standard ascorbic acid. (12)
• Antidiabetic: Study of hydroalcoholic extract in peritoneally streptozotocin-induced diabetic rats showed increased glucose levels after 30 minutes, and hypoglycemia only after 120 minutes. (13)
• Antihyperlipidemic Effect: Study of hydroalcoholic extract in induced hyperlipidemic showed a significant decrease in all hyperlipidemic parameters. Lovastatin was sued as standard. (14)
• Antimicrobial: Study of various extracts evaluated the antimicrobial activity of T. erecta and T. pistula flowers. Methanol extract of T. erecta was found to have better inhibitory activity than cold and hot aqueous extracts. Results showed the extracts of both species possess potential broad spectrum antibacterial activity. (15) Leaf extracts of Tagetes erectus showed very satisfactory inhibitory activity when tested against various gram negative and gram positive bacteria and fungi. (18)
• Antibacterial: Study showed the leaf and flower of T. erecta to show a broad spectrum of antibacterial activity. The flower extract showed significant activity against S. lutea, E. coli, B. circulence. (16)
• Mosquitocidal / Flowers / Cx quinquefasciatus: Study evaluated the mosquitocidal effects of ethanolic extract of flowers of Tagetes erecta and its fractions against the larvae of Culex quinquefasciatus. Results showed the flowers of T. erecta to be a very effective natural larvicide. (19)
• Dyes from Waste Flowers: A huge amount of marigold are collected as waste flowers from temple offerings in India. The petals yield a natural dye, the colorants consisting mainly of carotenoid-lutein and flavonoid-patuletin, with crude extracts used for dyeing textiles. The study describes an innovative dyeing process with net enhancement of dye uptake due to metal mordanting. Thesuperiority of solvent extraction over conventional extraction was established in the study. Results suggest a potential for industrial application. (20)
• Comparative Antifungal Activity: Study made a comparatiive analysis of the mycostatic activity of leaf and flower extracts of T. erecta and T. patula in ethanol. All extracts showed inhibitory effect on the growth of of C. albicans, A. niger, S. cerevisiae and A. flavus. T erecta leaf extract showed the highest antifungal activity among all four extracts tested. (22)
• Subacute Toxicity Study / Flowers: Study investigated the subacute toxicity of a chloroform fraction from ethanol extract of T. erecta flowers on Long Evan's rats at 200 and 400 mg/kg doses. Results showed no toxic effects i.e., no significant alterations on hematological and biochemical parameters and no detectable histopathological changes in the liver, kidney, heart, and lungs of treated rats. (23)
• Elastase and Tyrosinase Inhibitory Activities / Flowers: Study evaluated the cytotoxicities of ethanol and ethyl acetate extracts of marigold flowers and their inhibitory effects on elastase and tyrosinase enzymes. The extracts were nontoxic to H460 lung cancer and Caco-2 colon cancer cell lines. Elastase inhibition activity of the ethanol extrat was significantly higher than negative control. Study also showed tyrosinase inhibition activity. Results suggest potential properties for cosmetic development. (26)
• Marigold for Podiatric Skin Conditions: Marigold therapy offers a non-invasive and gentle treatment for difficult to treat plantar verruca, painful hyperkeratotic lesions, and inflamed bursa secondary to hallux abducto valgus. (27)

Availability
Ornamental cultivation.
Wild-crafted.
Extracts, oil, and other products in the cybermarket.