Botany
Alas cuatro is an erect, nearly or quite smooth, branched plant, about 20 to 80 centimeters in height. Leaves are narrowly ovate, 4 to 10 centimeters long. Involucres are crowded, calyxlike, about 1 centimeter long or less, with one flower. Perianth is white, purple, or yellow, 3 to 4 centimeters long, with a cylindrical tube which is slightly enlarged and upward, and with a spreading limb. Fruit is narrowly ovoid, about 8 millimeters long, black and finely ribbed.
Distribution
- Throughout the Philippines in settled areas.
- In cultivation; also frequently spontaneously.
- Introduced from Mexico by the Spaniards>
- Now pantropic.

Constituents
- Roots contain oxymethylanthroquinone.
- Plant contains trigonelline, an alkaloid, that possess a purgative action.
- Also contains galactose and arabinose.
- Phytochemical screening yielded steroids, alkaloid, flavonoid, carbohydrates, glycosides, and proteins in the total alcoholic extracts.
- Phytochemical screening yielded ten compounds: chrysophanol, physcion, stigmasterol, mirabijalone A, boeravinone C, Aurantiamide acetate, glycerin monoeicosate, β-sitosterol, 4-hydroxy-3-methoxybenzoic acid.

Properties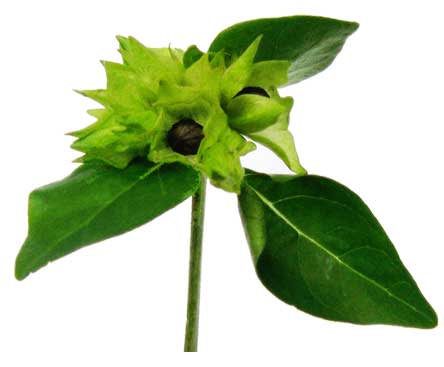 Considered diuretic, purgative, vulnerary.
Tubers are weakly purgative and emetic.
Root is believed to be aphrodisiac; also reported to be purgative, emetic and cathartic.
Parts used
Leaves, roots, tubers.
Uses
Folkloric
- Juice of leaves are soothing when applied to areas of urticaria.
- In India and Java bruised leaves used as poultices for boils and abscesses, and the juice used for uterine discharges.
- Juices of leaves used internally for gonorrhea.
- Infusion of leaves used as a diuretic and for dropsy.
- Roots used as mild purgative, emetic and cathartic.
- Leaves are anti-inflammatory. Decoction used for abscesses.
- Leaf juice used for wounds.
- In Peru, root decoction used as diuretic.
- In India and Java, bruised leaves used for poulticing boils and abscesses; juice used for uterine discharges.
- In Brazil, Kayapo indians inhale the powdered dried flowers for headaches; the Assurani Indians grate the tuberous seeds and drink it for intestinal parasites. Poultice of leaves and flowers used for eczema, skin infections and itching.
- In Mexico, the decoction of entire plant is used vaginal discharge, dysentery, diarrhea, abdominal colic and muscle pains.
- In South Africa, used as a purgative.
Nutrition
Leaves are used as emergency food.
Condiment.
Crushed seed used as pepper substitute.
Others
• Colorant: Edible crimson dye from flowers; used as colorant for cosmetics, cakes and jellies.
• Cosmetics: Pounded seeds used in Malaya, China and Japan for making cosmetic powder. Powdered root, likewise used for cosmetic preparations, mixed with rice powder and sandalwood. In China, flowers are also used for cosmetic purposes.

Studies
• Antispasmodic: Extract of Mirabilis jalapa exhibits an inhibitory effect on gut smooth muscle contractility probably through a serotoninergic mechanism interacting with other adrenergic systems.
• Antimicrobial: (1) The ethanol extract of Mirabilis jalapa tested against five pathogenic bacterial strains (E. coli, S. aureus, S. typhi, B. cereus, K. pneumoniae) and toxins showed antimicrobial activities comparable to conventional antibiotics suggesting a potential as agents for biocontrol and chemotherapy. (2) The methanol extract of MJ showed stronger and broader spectrum of microbial activity compared to other extracts, using amikacin as the standard bacterial agent.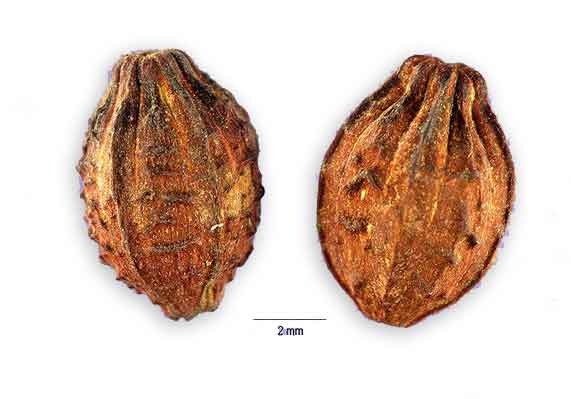 • Cytotoxicity / Antitumor / Anticancer: (1) Study of protein fractions with ribosome-inactivating protein (RIP) properties from the leaves of MJ showed cytotoxic activity6 against a breast cancer cell line. (2) Study isolated from the leaves of MJ, a 30 kD protein fraction named MI-30, with the properties of a ribosome-inactivating protein. It produced cytotoxic effect, more toward breast and cervical cancer cells as compared to normal mononuclear cells.
• Antibacterial: Study of roots showed antibacterial activity against diarrhea-causing pathogens: Staph aureus, Strep pyogenes, E coli, Enterobacter sp., V cholera, Shigella flexner and S typhi.
• Phytochemicals / Pharmacognosy: Study yielded the presence of triterpenoids, alkaloids, glycosides and flavonoids. Diagnostic features are multicellular trichomes, anisocytic stomata and calcium oxalate.
• Analgesic / Antinociceptive Activity: Study demonstrated antinociceptive activity in mice, supporting its folkloric use as an analgesic.
• Protein Biochemical Properties / Anticancer / Antibacterial: Study of crude proteins showed to be active against B subtilis. Proteins also exhibited anticancer activity to permanent cell lines L929 (mouse fibroblasts).
• Antiviral / Antiproliferative / Abortifacient: Purified protein from the root tubers of Mirabilis jalapa exhibited antiviral, abortifacient and anti-proliferative activities.
• Anti-Inflammatory: Total alcoholic extract exhibited significant anti-inflammatory activity in the carrageenan-induced paw edema model.

Availability
Wild-crafted.
Powders and other formulations in the cybermarket.