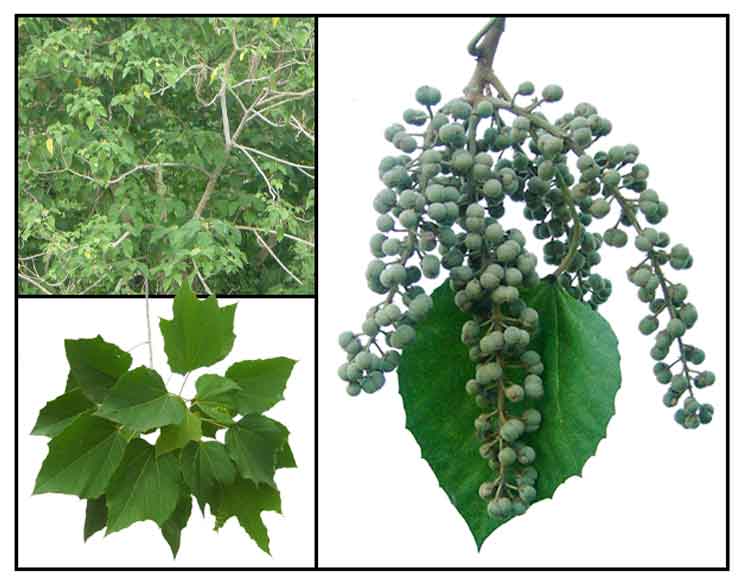 Botany
Alim is a shrub or small tree, 4 to 10 meters high, with stellate hairs giving a velvety appearance. Leaves are large, orbicular-ovate, 10 to 25 centimeters long, very broad, with a heart-shaped base, pointed at the tip, and often deeply three- to five-lobed, with coarsely toothed margins. Flowers are greenish yellow. Fruit is a capsule, about millimeters each way, smooth and consisting of 2 or 3 parts.
Distribution
- Common in thickets and secondary forests at low and medium altitudes throughout the Philippines.
- Occurs in Indo-China to Taiwan, Sumatra, Java, Borneo, New Guinea, and to the Marianne Islands.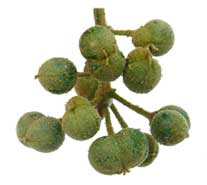 Constituents
- Roots have yielded triterpenes viz. friedelin, a-amyrin-acetate, oleanic acid, olean-12-en-3'-beta',28-diol, as well as steroids including campesterol, stigmasterol, ß-sitosterol, campesterol-3-O-beta-D-glucoside, stigmasterol-3-O-beta-D-glucoside, beta--sitosterol-3-O-beta-D-glucoside, 5-alpha-stigmastan-3,6-dione, stigmast-4-en-3-one, stigmast-4,22-dien-3-one and 6-beta-hydroxystigmast-4-en-3-one.
- Methanolic extract of roots yielded friedelin, oleanolic acid, olean-12-en-3β,28-diol, β-amyrin acetate, 6β- hydroxystigmast-4-en-3-one, stigmast-4-en-3-one & stigmast- 4,22-dien-3-one, 5α-stigmast-3,6-dione, phytosterols (campesterol, 11.44%; stigmasterol, 52.00﹪; β-sitosterol, 36.56%), phytosterol-3-O-β-D-glucosides (campesterol-3-O-β-D-glucoside , 14.91%; stigmasterol-3-O-β-D-glucoside, 47.54%; β-sitosterol- 3-O-β-D-glucoside,37.55% ) and D-sucrose. (10)
- Dichlormethane extracts yielded taraxeryl fatty acid esters (1), squalene (2), (E)-3-alkenoic acids (3), ß-carotene (4), a mixture of ß-sitosterl (5a) and stigmasterol (5b), long-chain fatty alcohols (6), and long-chain hydrocarbones (7) from leaves; and 7,triacylglycerols (8) and long-chain saturated fatty acid esters (9) from the twigs. (11)
Properties
- Sudorific, vermifuge, antiviral.
- Studies have suggested antiviral properties.
Parts utilized
Bark, leaves, flowers.
Uses
Edibility
- In Sumatra, leaves mixed with tape (fermented flour from cereals) to sweeten the taste.
Folkloric
- In the Philippines, bark leaves, and flowers, fresh or slightly heated, applied to the skin as sudorific for chest pains and fever.
- Bark used fore sore throat by the Subanons of Zamboanga del Sur. (8)
- In Peninsular Malaysia and Indonesia, leaves, sometimes in a mixture with ginger, used as a poultice against different kinds of scurf.
- In Peninsular Malaysia and Sumatra, decoction of leaves used as vermifuge.
- In Sulawesi, decoction of leaves used for cough; in Sabah, bark decoction used for the same.
- Decoction of leaves used as vermifuge.
- Bark used for chest pains; leaves or flowers on the wrist for fever.
- In Papua, New Guinea, one of the plants used to treat centipede and snake bites. Bark is chewed, juice swallowed or rubbed on affected area. (3) Glue-like sap applied to new cuts to stop bleeding. Bark used against lice. (9) Infusion of crushed dried leaves in cold water drunk to treat constipation, chest affections and tuberculosis.
- In Taiwan, roots used as anti-infection, diuretic, and insecticide. (4)
Others
- Dyeing: Ashes of old leaves used as additive to Bixa orellana in dyeing.
- Wood: Wood makes good firewood.
Studies
• Anti-Viral / Hepatitis C Virus / Stem: Study evaluated the ethanol extracts of 21 samples from 17 species of medicinal plants for anti-HCV activities using Huh7.5 cells and HCV strains of 9 different genotypes. Results showed four of 21 samples including M. multiglandulosa stems showed antiviral activities against HCV genotypes. MM stem showed dose-dependent anti-HCV activity with IC50 17.1 µg/ml. (6)
• Methyl Esters / Biodiesel / Seed Oil: Study reports on the preparation of nethyl esters (biodiesel) from the seed oil of Melanolepis multiglandulosa under standard conditions. The methyl esters generally meet the biodiesel standards. (11)

Availability
Wild-crafted.