Botany
Alim is a shrub or small tree, 4 to 10 meters high, with stellate hairs giving a velvety appearance. Leaves are large, orbicular-ovate, 10 to 25 centimeters long, very broad, with a heart-shaped base, pointed at the tip, and often deeply three- to five-lobed, with coarsely toothed margins. Flowers are greenish yellow. Fruit is a capsule, about millimeters each way, smooth and consisting of 2 or 3 parts.
Distribution
- Common in thickets and secondary forests at low and medium altitudes throughout the Philippines.
- Occurs in Indo-China to Taiwan, Sumatra, Java, Borneo, New Guinea, and to the Marianne Islands.
Constituents
- Roots have yielded triterpenes - friedelin, alfa-amyrinacetate, oleanic acid, olean-12-en-3'-BETA',28-diol, as well as steroids including campesterol, stigmasterol, 'BETA'-sitosterol, campesterol-3-O-'BETA'D-glucoside, stigmasterol-3-O-'BETA'D-glucoside, 'BETA'-sitosterol-3-O-'BETA'D-glucoside, 5'ALFA'-stigmastan-3,6-dione, stigmast-4-en-3-one, stigmast-4,22-dien-3-one and 6'BETA'-hydroxystigmast-4-en-3-one.
Properties
Sudorific, vermifuge.
Parts utilized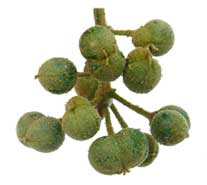 Bark, leaves, flowers.
Uses
Edibility
In Sumatra, leaves mixed with tape (fermented flour from cereals) to sweeten the taste.
Folkloric
In the Philippines, bark leaves, and flowers, fresh or slightly heated, applied to the skin as sudorific for chest pains and fever.
In Peninsular Malaysia and Indonesia, leaves, sometimes in a mixture with ginger, used as a poultice against different kinds of scurf.
In Peninsular Malaysia and Sumatra, decoction of leaves used as vermifuge.
In Sulawesi, decoction of leaves used for cough; in Sabah, bark decoction used for the same.
Decoction of leaves used as vermifuge.
Bark used for chest pains; leaves or flowers on the wrist for fever.
In Papua, New Guinea, one of the plants used to treat snake bites. Infusion of crushed dried leaves in cold water drunk to treat constipation, chest affections and tuberculosis.
Others
- Dyeing: Ashes of old leaves used as additive to Bixa orellana in dyeing.
- Wood: Wood makes good firewood.

Availability
Wild-crafted.