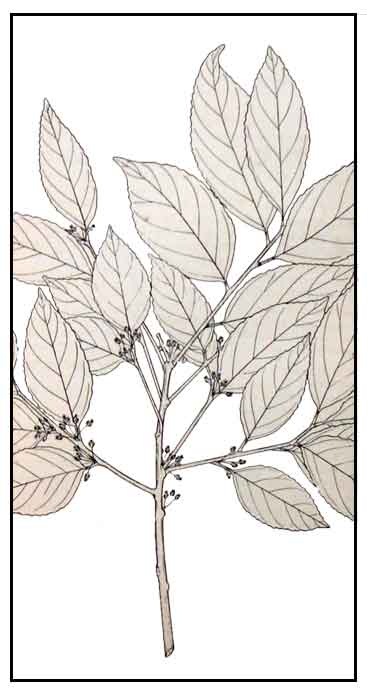 Botany
Amaiit is an erect tree reaching a height of 20 meters. Leaves are oblong-ovate to elliptic, 5 to 18 centimeters long by 5 to 7 centimeters wide, pointed tips, pointed or rounded base, and toothed margins. Flowers are small and greenish, occurring in clusters in the axil of leaves. Fruit is somewhat rounded, 2 to 2.5 centimeters in diameter, light green to dark red, fleshy, subacid and pleasing in flavor. The wild forms are sour.
Distribution
- In forests at low and medium altitudes in the provinces of Benguet, Pangasinan, Zambales, Laguna, Quezon, Bataan, Rizal and Sorsogon; in Mindoro, Negros, Cebu and Mindanao.
- Also occurs in the Malay Peninsula and Archipelago.
Constituents
- 100 g of edible flesh yield 94 kcal, 0.5 g protein, 0.6 g fat, 24.2 g carbohydrate, 1.2 g fiber, 33 mg calcium, 0.7 mg iron, 17 mg phosphorus, 171 mg potassium, 5 mg vitamin C, 0.01 mg thiamine (B1), 0.2 mg riboflavin (B2), 0.4 mg niacin (B3), and 30 IU vitamin A.
Properties
- Considered appetite stimulant, digestive, diuretic, depurative, refrigerant, alexipharmic.

Parts utilized
Roots and leaves.

Uses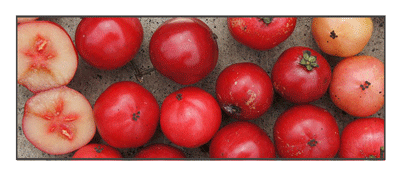 Edibility
- Fruit of the cultivated form is edible; eaten raw.
- Used in making jams and pies; also pickled.
- Young leaves and red young shoots are eaten raw in salads and side dishes.
Folkloric
- Decoction of roots taken internally by women after childbirth.
- Juice of the young fruit is astringent, used for diarrhea and dysentery.
- Fruit is also used for dysmenorrhea.
- Juice of the leaves is applied to inflamed eyelids.
- In Mindanao, Philippines, the Higaonon tribe of Rogongon, Iligan City, decoction of roots is drunk three times daily for relief of muscle pains over fatigue of "bughat" in women, stomach ulcer, lung infection, to enhance menstruation in women after birth, and for anemia. (3)
- In Java, dried leaves are pounded and applied to wounds.
- In Sabah, roots used for abdominal colic; leaves used for headaches.
Others
- Wood: Wood, hard and strong, used in making household utensils and small furniture.
Studies
• No studies found.

Availability
Wildcrafted.