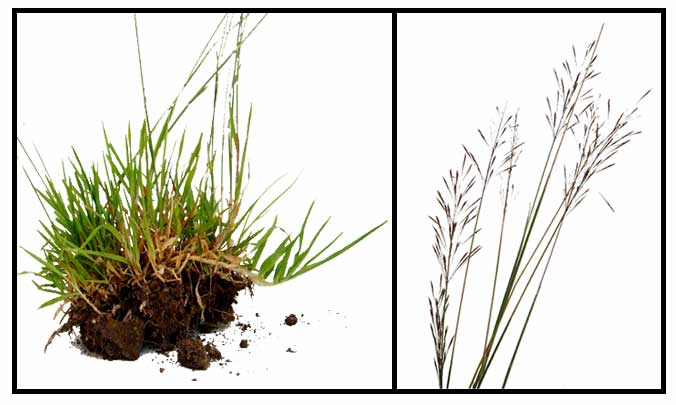 Etymology
Common name "love grass" comes from the seeds produced by inflorescences which adheres to objects, clothing, humans and animals. It can also penetrate the skin.
Botany
Amor-seco is a dense, leafy perennial grass, creeping and branching below, with short horizontal stems. Flowering stems are erect, 20 to 60 centimeters high. Leaves are short, linear-lanceolate, 3 to 10 centimeters long, 4 to 6 centimeters wide. Panicles are purplish, open, with few whorled branches, 5 centimeters long, or less, bearing few-flowered spikes. Sessile spikelet is very narrow, about 3 millimeters long; callus is elongated, barbed; fourth glume is linear, acuminate, with a short scabrid awn.
Distribution
- Found throughout the Philippines in open places at low and medium altitudes.
- A troublesome pest of a weed on lawns and golf courses, the seeds adhering to trousers and dresses.
- Also occurs from India to China and southward through Malaya to tropical Australia and Polynesia.

Constituents
- Study suggests substantial amounts of sterols and terpenes in the flowers.
- Phytochemical screening of methanol extract yielded saponins, tannins, phenols, terpenoids, and phytosterols, while an n-hexane extract yielded tannins, terpenes and phytosterols. (see study below) (6)
Properties
- Antidiarrheal, diuretic, antidotal, antirheumatic.
Parts utilized
Entire plant
Uses
Folkloric
· In the Philippines decoction of root is used for diarrhea.
· In Ternate decoction used for those who might have swallowed poison.
· Decoction of entire plant as a diuretic.
· In Indonesia, plant used as poison antidote.
· In Bangladesh, root juice used for liver pain.
· Ashes of burned roots taken internally for rheumatism.
· In ancient Hindu medicine, one of several plants – Curcuma longa, Berberis asiatica, Ocimum basilicum, Trichosanthes dioica, Azadirachta indica, among others, ground and mixed in equal proportion and applied over the body as an ointment for pruritus, skin eruptions, urticaria, and tumescence. Also mixed with other herbal plants as a purgative, pustulant and anodyne.
· In Bangladesh, leaves of Chrysopogon aciculatus, Saraca asoca and Vitex negundo are warmed and applied topically to areas of pain and paralysis, 2-3 times daily. (8)
· In India, fresh rhizome along with 3-5 black pepper is crushed into a paste and taken every morning for one month on an empty stomach for gastric disorder or stomach aches. (11)
Others
· Livestock: In Bangladesh, whole plant used for cattle leg swellings.
· Weaving: Straw used for weaving hats, mats, etc.
Studies
• Antibacterial: Study evaluated phytochemicals and antimicrobial activity of methanol and n-hexane extracts of Andropogon aciculatus. A methanol extract of A. aciculatus showed antimicrobial activity against gram-positive bacterium Bacillus subtilis. (see constituents above) (6)
• Aciculatin / Cytotoxic / Anti-Inflammatory: A new flavone-glycoside aciculatin from Chrysopogon aciculatus have been shown to have cytotoxic, anti-inflammatory and antiarthritis activity. Limited availability from natural sources have limited further biologic studies. Study reports on the total synthesis of aciculatin with an overall yield of 8.3%. (7)
• Aciculatin / Anti-Cancer: Aciculatin, a natural compound from Chrysopogon aciculatus has shown anti-cancer potency. Study showed that aciculatin induces cell death in human cancer cells and HCT116 mouse xenografts due to G1 arrest and subsequent apoptosis. Results suggest the induction of cell cycle arrest and apoptosis occurs via inhibition of MDM2 expression, thereby inducing p53 accumulation without significant DNA damage and genome toxicity. (9)
• Aciculatin / Inhibition of Granulocyte Colony-Stimulating Factor / Anti-Arthritic Potential: Study shows aciculatin inhibits IL-1ß-stimulated G-CSF expression and the subsequent neutrophil differentiation, suggesting it might have therapeutic potential for inflammatory arthritis. (10)

Availability
Wild-crafted.