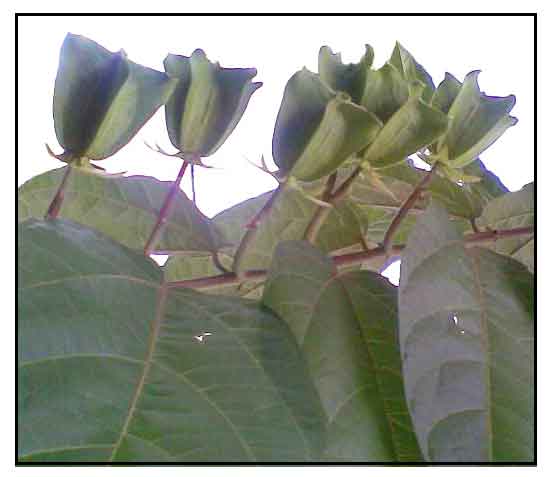 Botany
Anabo is a shrub or small tree, growing 2 to 3 meters high. Branches and branchlets are downy. Leaves are alternate, ovate, 10 to 15 centimeters in length, 10 to 12 centimeters wide, with a pointed tip, heart-shaped base, and toothed margins. Flowers are bisexual, about 5 centimeters across, yellowish with purple bases. Fruit is a capsule, obpyramidal, about 3.5 centimeters in diameter, covered with irritating hairs, ultimately smooth, with five prominent angles or wings, which are 4 to 7 centimeters across. Seeds are subellipsoid, numerous and finely punctate.
Distribution
- Found from the Batan Islands and northern Luzon to Mindanao.
- In thickets, waste places, and open secondary forests at low and medium altitudes.
- Also reported from India to southern China to Malaya.
Constituents
- Root contains a fixed oil, resins, an alkaloid in minute quantity (0.01%), and water soluble bases.
- Study of roots yielded some alkaloid bases, reducing sugars and some phytosterols.
- Study reported a large amount of magnesium salts in combination with hydroxy acids, gums, resins and other organic residues.
Properties
- The presence of magnesium salts with some hydroxy acids have made it valuable as a styptic for use in uterine hemorrhages.
- Considered emmenagogue.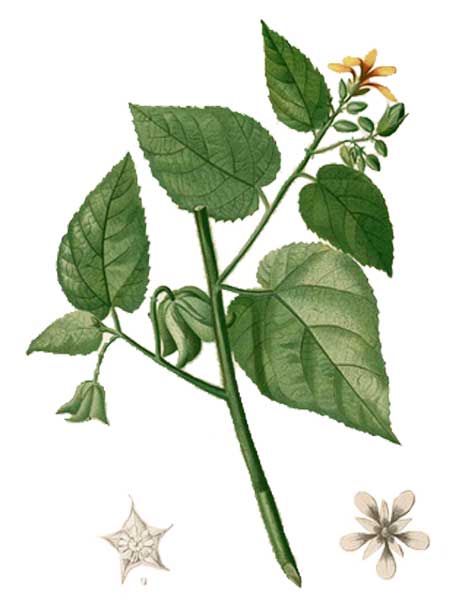 Parts used
Root, bark, sap.

Uses
Folkloric
- Root used as efficient emmenagogue.
- Infusion of fresh stems and leaves in cold water is a demulcent and used in gonorrhea.
- In Ayurveda, used for chronic dysfunctional uterine bleeding.
- In Bangladesh, leaves and stems used for menstrual disorders and diseases of the uterus; bark and roots for leucorrhea and menstrual problems. Also, used for stomachaches, diabetes, dermatitis, and whitish urinary discharge in men.
- In India, used for dysmenorrhea.
- In Indonesia, used for scabies.
- Fresh viscid sap is useful in congestive and neuralgic varieties of dysmenorrhea. Used as a regulator of menstrual flow and as uterine tonic.
Others
- Fiber: Bast fiber is silky and valued for its strength. In the Philippines, used for making rope, twine, fish-lines, pouches, etc. A favorite clothes-line material because it does not stain.

Studies
• Hypoglycemic / Hypolipidemic: Study of aqueous extract of Abroma augusta on alloxan diabetic rats showed both hypoglycemic effects with gradual and significant fall in fasting glucose and improvement in glucose tolerance. It also showed lowering of total and LDL cholesterol.
• Combined Herbal Effects / Hypoglycemic / Hypolipidemic / Antioxidant: Study showed on the hypoglycemic, hypolipidemic and antioxidant effects of Curcuma longa and Abroma augusta constituents on STZ-induced diabetic rats showed that the combination of herbal extracts showed better efficacy as compared to individual herbal plant extracts used.
• Anti-Diabetic / Comparative Study: A comparative study was made on the antidiabetic activities of methanolic extracts of Abroma augusta and seeds of Syzygium cumini in alloxan-induced diabetic rats. Results showed significant reduction of glucose level. The activity was attributed to inhibition of free radical generation and tissue damage induced by alloxan or potentiation of insulin effect. Comparatively, SC was more efficacious than AA.

Availability
Wild-crafted.