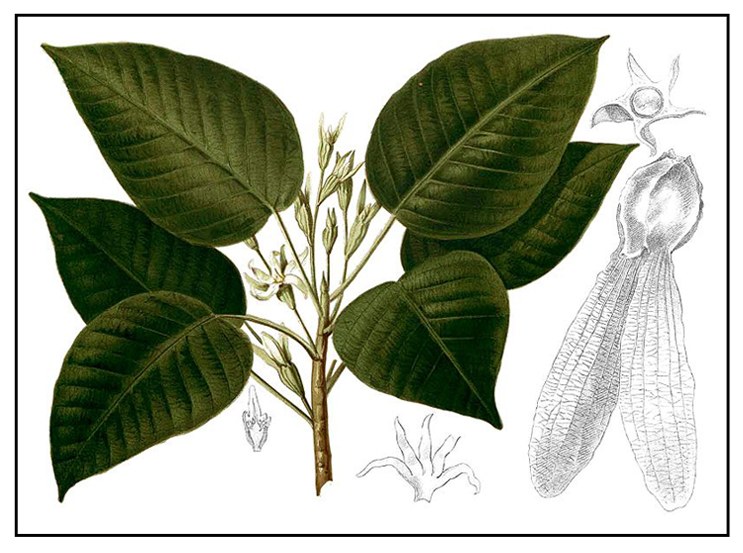 Botany
Apitong is a medium size to large resinous tree growing to a height of about 40 meters. Trunk is straight, cylindrical, branchless up to 30 meters, up to 125 centimeters in diameter. Buttresses are absent or few, up to 1.5 meters high and 1 meter long. Bark surface is light gray and slightly fissured, 6 to 8 millimeters thick, with a reddish inner bark. Leaves are alternate, ovate, leathery, glabrous, 10 to 20 centimeters long, 9 to 12 centimeters wide, with 15 to 17 pairs of secondary veins, pointed at the tip and rounded at the base. Petioles are 5 to 7 centimeters long, thickened at the end of the base. Flowers are large, about 5 centimeters long, rose-colored, and fragrant. Petals are large, oblong to narrowly oblong, creamy white with a prominent stripe down the center, stamens 30, ovary 3-celled, with the base enclosed in the calyx tube. Fruit is oblong, about 5 centimeters long, with five winglike projections from the sides.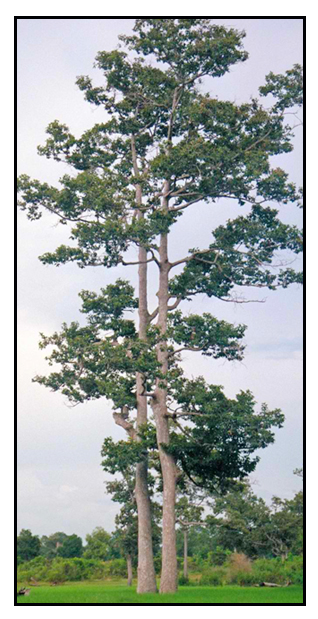 Distribution
- Found throughout the Philippines.
- Wilding blight caused by Lasiodiplodia theobromae and apitong wilt caused by Polysporus sp. are common problems for the natural reproduction of D. grandiflorus in the Philippines. (7)
- At one time, reputed to be the most abundant (ca. 20%) in commercial Philippine forests. (10)
- D. grandiflorus was declared critically endangered by the International Union for Conservation of Nature (IUCN) in 2006. (9)
- Also found in India, Indonesia, Malaysia, Myanmar, Singapore, Thailand and Vietnam.
Constituents
- Yields grandiphenols A, B, C and D.
- Stems yielded two new resveratrol trimers, (=5‐[(E)‐ 2 ‐(4‐hydroxyphenyl)ethenyl]benzene‐1,3‐diol) trimers, grandiphenols C (1) and D (2). (5)
- Study isolated the ascrobyl-resveratrol derivative shorealactone from the stem.
- Balau resin is obtained from the trunk of the apitong.
- Study of oleoresin for essential oil indicated it was mainly sesquiterpene hydrocarbon in nature. (10)
- Study of Philippine oil (% composition) yielded a-gurhunene 20, caryophyllene 4, allo-aromadendrene 50, a-humulene 20. (Bisset, 1966) (10)
- Study of stem yielded two new stilbene tetramers, grandiphenols A (1) and B (2), along with ten known stilbene oligomers and bergenin. (11)
Properties
- Bark is considered tonic.

Parts used
Bark.

Uses
Edibility
- Nut reportedly edible; boiled and eaten.
Folkloric
- Bark, soaked in water, used to treat dizziness.
- Bark considered tonic.
- Hot decoction of bark used to treat rheumatism and liver complaints. (7)
Others
- Fuel: Wood makes a good quality charcoal. (3)
- Fiber: Pulp used for paper production. (3)
- Timber: Used for medium and heavy construction; making toys and agricultural implements.
- Gum or resin: Wood yields large quantities of oleo-resin (balau or minyak keruing), used as coat for waterproofing paper, caulking baskets and boats, varnishing walls and furniture. (3) Resin also used as torch fuel.
- Tannin or dyestuff: Tannin-formaldehyde adhesive produced from bark extracts. (3)
- Tree used in erosion control programs.
- Oil: Oil has been extracted through water distillation from the balau resin and found to be a potential substitute for diesel fuel. Oil yield is around 38% to 40%. (8)
Studies
• Fiberglass from Sap: Study evaluated the potential for apitong sap as a source for making fiberglass. Air-drying a boiled mixture of the Apitong sap and acetone caused hardening, turning the mixture into "fiberglass." (4) Durability of the fiberglass was conducted by breaking the product. Based on the data and T-test computation at 0.5 level of significance with degree of freedom, T-value is -0.91959 lesser that the P-value which is 2.306. Results suggest is significant difference between the experimental fiberglass and commercial fiberglass. (6)
• Resveratrol / Stem: Study isolated two new resveratrol (=5-[(E)-2-(4-hydroxyphenyl)ethenyl]benzene-1,3-diol) trimers, grandiphenols C (1) and D (2) from the stems. (5)
• Essential Oil from Oleoresin: The wood yields large amounts of oleoresin. Study evaluate the chemical composition of essential oil obtained from water distillation of the oleoresin of D. grandiflorus. Distillation method yielded 38-40% oil from the oleoresin. Oil was light yellow, turning slightly darker on standing, with an aroma akin to gurjun balsam. It was insoluble in water, but very miscible with gasoline, diesel oil, and kerosene. Aside from sesquiterpenes reported on previous studies on D. grandiflorus essential oil, study identified copaene, ß-elemene, germacrene D, and y-gurjunene for the first time. (see constituents above) (10)

Availability
Wild-crafted.
Herbal teas and supplements in the cybermarket.