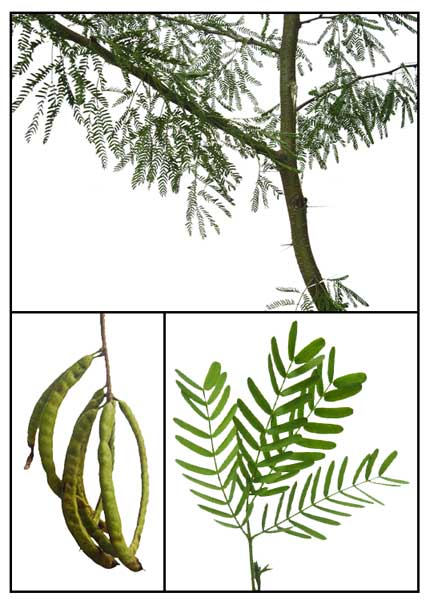 Botany
Aroma is a much branched, spiny shrub or small tree, reaching a height of 2 to 4 meters. Branches are more or less zigzagging, lenticellate, with sharp stipular spines, 1 to 4 centimeters long; branchlet spines are smaller. Leaves are bipinnate, 5 to 8 centimeters long. Pinnae are usually 10 to 12. Leaflets are linear-oblong, 15 to 40, and 4 to 7 millimeters long. Heads are axillary, solitary or fascicled, rounded and about 1 centimeter in diameter. Flowers are numerous, yellow and fragrant. Pods are smooth, brown, nearly cylindrical, 5 to 7 centimeters long, 1 1.5 centimeters wide, straight and curved. Seeds in two series, embedded in dry spongy tissue.
Distribution
- Open grasslands and thickets at low and medium altitudes, especially common in regions with long dry season.
- Native of tropical America.
- Introduced from Mexico by the Spaniards.
- Pantropic.
Constituents
- Bark yields a gum, resembling gum arabic. The oil contains benzaldehyde, benzyl alcohol, a ketone with odor of methone, anisic aldehyde, decyclic aldehyde, and cuminic aldehyde.
- Some studies suggest an alkaloid in the bark gum.
- Yields a greenish yellow and viscid essential oil. Oil contains 30.9 % salicylic acid methyl ester.
- The oil, deprived of its phenols, yields benzaldehyde, benzyl alcohol, a ketone with the odor of menthone, anisic aldehyde, decyclic aldehyde, and cuminic aldehyde. The presence of geranionl and linalool is probable.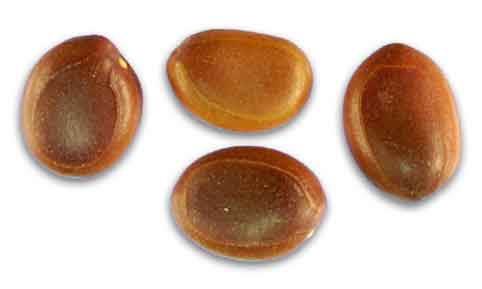 - A study show the oil contains 30.9% of salicylic acid methyl ester.
- The pod contains a tannin which is a glucoside of ellagic acid.
- The bark likewise is reported to contain a tannin.
- Study yielded a novel diterpene glycoside from the seeds—the β-d-glucoside of a diterpene bearing a novel skeleton [formally a 7(6→1)-abeo-ent-kaurene]. (23)
- Preliminary phytochemical analysis of ethanolic extract of pod wall (P) and seeds (S) A. farnesiana yielded alkaloids (PS), amides (PS), amines (PS), carbohydrates (P), carboxylic acid (PS), flavonoids (PS), glycosides (P), phenol (PS), proteins (PS), reducing sugar (P), steroids (PS), tannin (PS), terpenoids (PS), and amino acids (PS). (27)
Properties
- Odor of the perfume smells like violet, but more intense.
- Bark is considered astringent and demulcent.
- Fruit is astringent.
- Studies suggest antioxidant, anti-inflammatory, antimicrobial, antihyperglycemic, antimalarial, antidiarrheal, bronchodilatory, antiulcer, phytoremediative, antifungal properties.
Parts utilized
Bark, flowers, leaves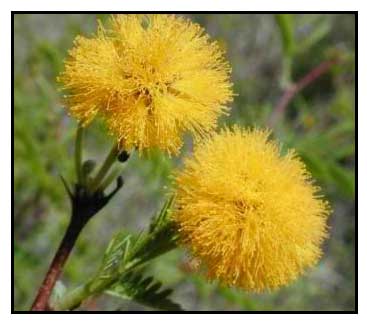 Uses
Edibility
- Roasted pods used in sweet and sour dishes.
- Flowers used in preparing tea.
- Ripe seeds put through a press to make oil for cooking. However, there are anecdotal reports of seeds used to kill rabid dogs, the activity attributed to an unnamed toxic alkaloid.
Folkloric
- In the Philippines, the aroma bark is considered astringent, in decoction is used in the treatment of prolapse rectum and as an injection for leucorrhea.
- Poultice of young leaves used for ulcers and sores previously washed by a decoction of same leaves.
- In San Luis Potosi decoction of roots has been used in the treatment of tuberculosis.
- Lotion of leaves used sores and skin afflictions.
- In Martinique, the flowers used as stimulant and antispasmodic.
- In West Tropical Africa, the roots, containing gum, is chewed for sore throat.
- In India, decoction of bark with ginger used as astringent wash for teeth; also used for bleeding gums. Also used for coughs and cold.
- Bruised tender leaves taken with water for gonorrhea.
- Pulverized dried leaves applied as dressing for wounds.
- Leaves prescribed for affections of the bladder.
- Lotion of leaves is applied externally for sores and skin diseases.
- Internally, leaves used for diarrhea.
- In Martinique, used as stimulant and antispasmodic.
- In Java bark is used as an emetic.
- In Costa Rica infusion of bark is astringent.
- In Uruguay, a decoction of flowers used for diseases of women.
In Mexico, ointment from flowers are used for headaches; as infusion, for dyspepsia.
- Decoction of the green pods used for dysentery and skin inflammations.
- Decoction of fruit used for dysentery and inflammation of the skin and mucous membranes.
- Oil employed as adjunct to aphrodisiacs in spermatorrhea.
- Flower infusion used as aphrodisiac.
- In Uruguay, decoction of flowers used for female diseases.
- In Guatemala, flower infusion used as stomachic; also used for dyspepsia and neuroses.
- In Columbia, bark decoction used for bathing in typhoid.
- In Costa Rica, decoction of gum from trunk used for diarrhea; the pod infusion for diarrhea, leucorrhea and uterorrhagia.
- Elsewhere, decoction of root used in hot baths for stomach cancer. Plaster from pulp used to alleviate tumors.
- In the Andro village of Manipur, India, decoction of leaves used for piles. (32)
- In medieval Persian medicine, plant derived drug used orally and topically for treatment of impotence. (33)
Others
- Gum arabic: Bark exudes a gum similar to gum arabic. Mucilage can be prepared from the gum.
- Perfume: Flowers known commercially as cassie flowers. Tree is grown extensively in France for the flowers fragrant perfume. Cassie perfume used for bouquets and hair pomades. Diluted with other odors it imparts a true flowery fragrance.
- Toothbrush: Woody branches used in India as tooth brushes.
- Tanning: The tannin-rich bark is used for tanning leather.
- Dye: A black dye is obtained from the pods. In some parts of India, the bark and pods are used as dye-stuff and for tanning.
- Feed: In Mexico, the pods studied as alternate feed for sheep. source

Studies
• Anti-Inflammatory / Cytotoxicity: Study yielded four new diterpenes–acasiane B, farnesirane A, farnesirane B with three known diterpenes and eight flavonoids. Some of the compounds exhibited cytotoxicity to human cancer cell lines while some showed moderate anti-inflammatory activity. (

1

)
• Vibrio cholera inhibition: Study of 32 medicinal plants showed the ethanolic extracts of A farnesiana and Artemisia ludoviciana effectively inhibited bacterial growth of Cholera vibrio strains, effects on enterotoxin production and adhesion were also studied. (

3

)
• Natural Herbicide: In a study screening 6 potentially allelopathic plant species, the seed extract of A. farnesiana exhibited 32% inhibition of growth of L. aequinoctialis. (

4

)
• Anti-Inflammatory: (1) A study of 14 plants of the Mexican medicinal flora was studied for its anti-inflammatory activity. Acacia farnesiana plant extract showed activity against induced hind-paw edema. (2) Study of ethanolic extract showed significant anti-inflammatory activity in both carrageenan-induced paw edema and cotton pellet-induced granulation models.
• Antimalarial: In a study of 10 vegetal extracts, eight including Acacia farnesiana showed good activity against Plasmodium falcifarum. (

6

)
• Antimicrobial / Antioxidant: Study of ethanol extract showed a response to all antioxidant assays in a concentration dependent manner. The extract also exhibited antimicrobial activity against Bacillus subtilis and Saccharomyces cerevisiae. The extract yielded flavonoids galloylglycoside and flavonoids glycosides. (

10

)
• Antidiarrheal: Study of extracts of stems and leaves using a charcoal meal method showed inhibition of movement of gastrointestinal content. Results support the use of T. mucronatum and A. farnesiana as antidiarrheal agents. Extracts did not induce immediate toxicity in the experimental test conditions. (

13

)
• Antimicrobial: Study of various extracts of fruits showed the benzene, chloroform, methanol, and water extracts showed activity against Gram-positive bacteria (Bacillus cereus, Micrococcus roseus, Staphylococcus aureus), Gram-negative bacteria (E. coli and Pseudomonas aeruginosa) and fungal species (Candida tropicalis). (

14

)
• Antihyperglycemic Activity: Study evaluated an active fraction from an aqueous extract for anti-hyperglycemic activity in alloxan-induced diabetic rats. Results showed promising anti-diabetic activity. The active fraction was devoid of conspicuous toxic symptoms. (

15

) Study evaluated extracts of Acacia farnesiana for anti-hyperglycemic activity. A water extract significantly lowered the blood glucose level. Activity was found in the soluble fraction. Results suggest a direct stimulatory effect of the active fraction on glucose uptake without involvement of insulin, which may be the major mechanism. (

17

)
• Phytoremediation / Lead: Study showed the suitability of A. farnesiana for lead-phytostabilization purposes. Lead concentrations below 500 mg/L had no significant effect on lipid peroxidation and enhanced the glutathione content. (

16

)
• Defluoridation / Adsorbent: Study evaluated activated Acacia farnesiana carbon as adsorbent for removal of Fluoride ions from aqueous solution. Results showed effective removal of F ions by indigenously prepared activated carbon, and presents an alternative adsorbent as commercial activated carbon for water treatment for removal of Fluoride ions. (

18

)
• Antiulcer / Adsorbent: Study evaluated the ulcer healing activity of Acacia farnersiana methanol leaf extract against ulcer induced model in rats. Results showed the methanol extract significant reduced the ulcer index compared to control Ranitidine. (

19

)
• Acetylcholinesterase and NADH Oxidase Inhibitory Activity: Acetylcholinesterase catalyzes the hydrolysis of neurotransmitter acetylcholine and termination of nerve impulses in the cholinergic system. A methanolic extract of aerial parts exhibited significant AChE inhibitory and NADH oxidase inhibitory activity. (

20

)
• Anti-Inflammatory / Lectin-Like Protein: Study evaluated the anti-inflammatory activity of AFAL (Acacia farnesiana lectin-like protein) in a carrageenan model. AFAL binding to carrageenan can be explained by absence of sixth ß-strand (posterior beta sheets) and two ß strands in the frontal region. Study suggests AFAL probably has the capacity to interfere in the inflammatory process through reduction of IL-8 and simultaneously exert its activity of binding to carbohydrates as demonstrated by inhibition tests and competition with selectins. (

21

)
• Cyclopropenoid Fatty Acids: Study of seed oils yielded the presence of unusual fatty acids, cyclopropenoid fatty acids (CFA), characterized as 7-(2-octacyclopropen-1-yl) heptanoic acid (malvalic acid) (5%) and 8-(2-octacyclopropen-1-yl) octanoic acid (sterculic acid) (4%). The fatty acid profile suggests the possibility for potential industrial application. (

22

)
• Bronchodilator / Anti-Inflammatory: Study reports the smooth muscle relaxant and anti-inflammatory effect of a glycosidal fraction obtained from unripe pods of Acacia farnesiana. Results showed a direct relaxant effect on bronchial muscles and inhibition of carrageenan and formaldehyde induced inflammation. (

24

)
• Antioxidant / Protection Against Oxidative Induced Damage: The antioxidant protection of acacia pods extracts (Acacia shaffneri and Acacia farnesiana) suggest the possible transference of antioxidant components and protective effects to animal products (milk, meal, and by-products) from Acacia pods with this vegetation is included in the diet. (

26

)
• Antibacterial / Antioxidant / Anti-Inflammatory: In a study of ethanolic extracts of five plants viz., Acacia farnesiana, S. alata, S. grandiflora, S. cumini, and T. divaricata, all tested extracts showed antioxidant and antibacterial activity. All extracts exerted anti-inflammatory activity as evidenced by reduction of interleukin (IL)-6 secretion and/or tumor necrosis factor (TNF)-a production. (

28

)
• Damage to Membranes of Vibrio cholerae: Study evaluated the effects of various extracts of edible and medicinal plants on Vibrio cholerae cells. Results showed methanolic plant extracts (Ocimum basilicum, Opuntia ficus-indica, Artemisia ludoviciana, Acacia farnesiana) were most active with MBC (minimum bactericidal concentrations) ranging from 0.5 to 3.0 mg/ml. The extracts were able to disrupt the cell membranes of V. cholerae cells causing increased membrane permeability, decrease in cytoplasmic pH, cell membrane hyperpolarization, and decrease in cellular ATP concentration. Results suggest potential alternative for control of V. cholerae contamination in foods and diseases associated with the microorganism. (

29

)
• Essential Oil / Antifungal: Study evaluated the essential oils of two Thai medicinal plants: Frankincense oil (Boswellia carteri Bird.) and Cassio oil (Acacia farnesiana Linn.) against 7 species of economically important rice pathogenic fungi vis. A brassicola, A flavus, B oryzae, F moniliforme, F proliferatum, P arisea and R solani. Results showed the antifungal properties on both mycelial growth and spore germination. (

31

)

Availability
Wild-crafted.